Crystal shower box: design and elegance for your bathroom

The shower corner is an extremely important space of the bathroom and it must be designed and furnished with care, both as regards its functionality, so that it can be practical and comfortable, and from an aesthetic point of view, because in a small environment it is even more important that there is consistency of styles and materials.
The choices we make in the design phase will then affect our way of living and using this space of the house in everyday life, which is increasingly hyper-functional and technological.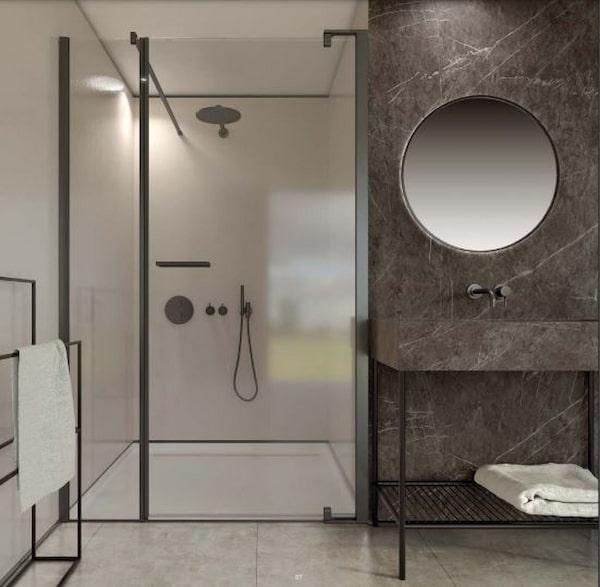 Leonardo Crystal shower box Leonardo by Cesana model

In terms of quality and aesthetics, a glass shower enclosure represents the top of the range of shower enclosures.
It is a solid, durable and valuable product, adaptable to any type of furniture. Thanks to its exclusive transparency, a crystal shower box allows you to enhance the space available by creating a seamless environment: a quality even more appreciable in this room of the house with usually rather small dimensions.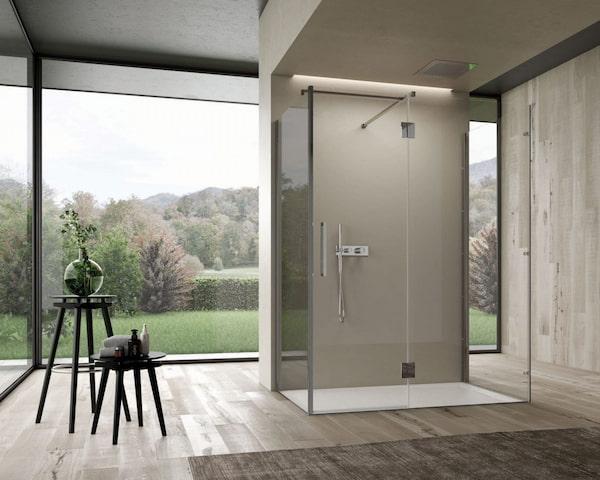 Easy model crystal shower box by Disenia

But what exactly is crystal and how does it differ from glass?



Glass shower and crystal shower enclosure: the differences

Glass and crystal are two very similar materials that differ in the presence of lead oxide in their chemical composition. In particular, crystals are defined as those glasses that contain at least 24% of their weight.
It is precisely the lead oxide that gives the shower glass those much appreciated characteristics that make it the ideal material for the shower enclosure in a contemporary bathroom.
In fact, lead increases the density of the material itself and consequently increases the refractive index which gives the shower crystal an effect of intense brilliance, and the effect is all the greater with the increase in the quantity of lead oxide in its composition.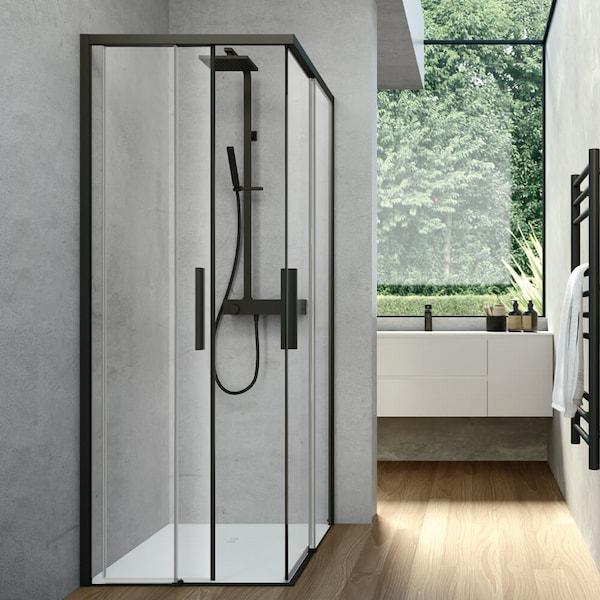 Crystal shower enclosure, Time model by Gruppo Geromin

Lead oxide in itself would give a yellowish hue to the glass, but through an appropriate correction of the other chemical components, the prerogative of the most skilled manufacturers, it is possible to give the crystal transparency and brilliance.
Behind a crystal shower enclosure, therefore, even more than a glass shower enclosure, there is a special processing of the material that makes it qualitatively more valuable.



Tempered glass shower enclosure

To make the crystal safer, it is possible to subject it to a further final thermal processing process, the quenching, which gives this material specific mechanical properties guaranteeing greater resistance.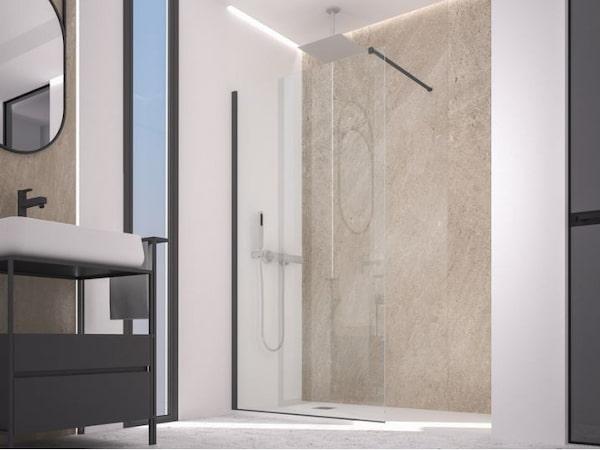 Walk-in crystal shower enclosure with anthracite profiles by Iperceramica

Following this procedure, in the event of violent blows or impacts, a tempered glass shower enclosure does not generate dangerous sharp splinters but crumbles into very small, not sharp pieces, preventing damage and harm to people or things.



Crystal shower enclosure: pros and cons

We have seen how these chemical-physical properties of the material make a crystal shower enclosure a valuable product, aesthetically very elegant, but also durable, resistant and safe.
Strengthened by the transparency and brilliance of a crystal shower enclosure, the shower space becomes a real design space, where you can indulge yourself with coverings and taps, to create your own dream shower!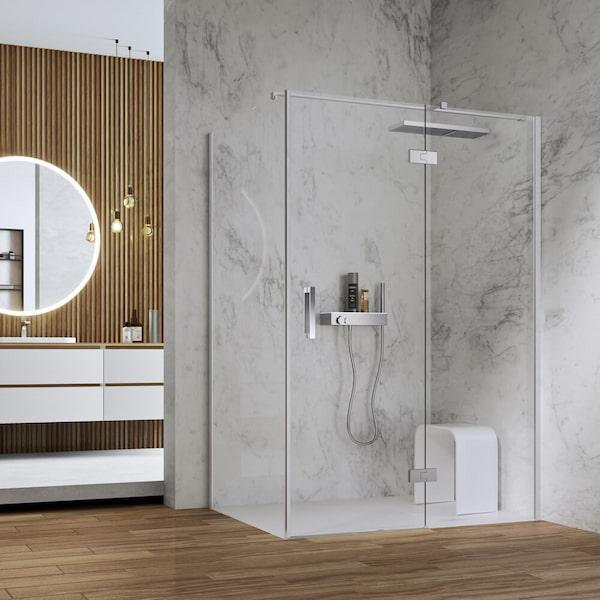 Crystal shower enclosure model Stylè by Gruppo Geromin


On the other hand, among the disadvantages we must first of all include the cost, which will certainly be higher than a glass shower and even more than an acrylic one.
However, it is also true that even among the crystal shower enclosures there are different product ranges and it is possible to choose the one that best suits your budget also taking into account the different thicknesses available on the market.
It starts from 3/4 mm to go to 6 mm and finally to 8 mm.
The greater weight is also another disadvantage, because it makes transport and installation less easy.



Crystal shower enclosure: standard types and design shapes

The choice of the shape and size of the space to be dedicated to the shower is closely related to the planimetric development of the bathroom, the presence of openings such as doors and windows, and last but not least, to other sanitary fittings or furnishings that are intended to be included in the environment.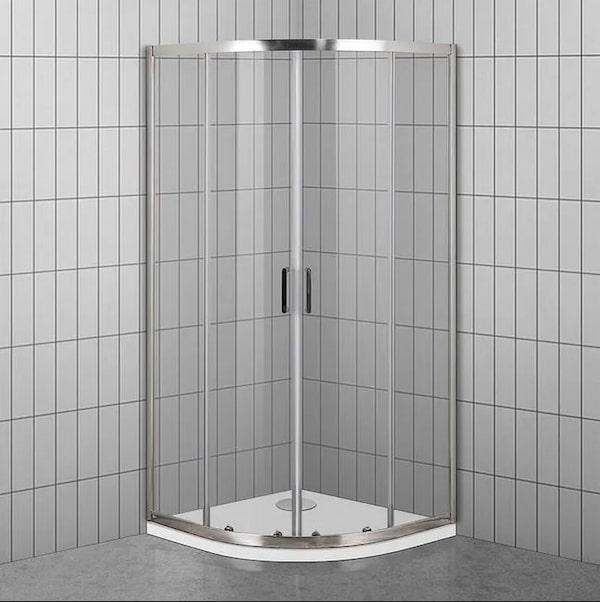 Crystal shower tray and shower cubicle with semicircular shape

The crystal shower enclosure and consequently the underlying shower tray can have different shapes, square, rectangular, semicircular or even more articulated (in the case of design models such as the Cesana Highlife walk-in corner shower enclosure).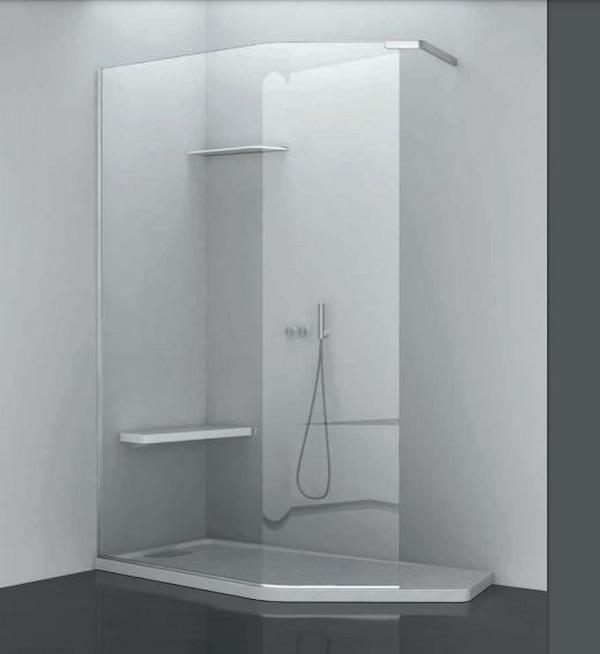 Highlife crystal shower cubicle by Cesana

The most common types of shower are those with a countertop or built-in shower tray, flush with the floor, walk-in, that is the semi-open shower, and with a multifunction shower cabin, such as spa, to be clear.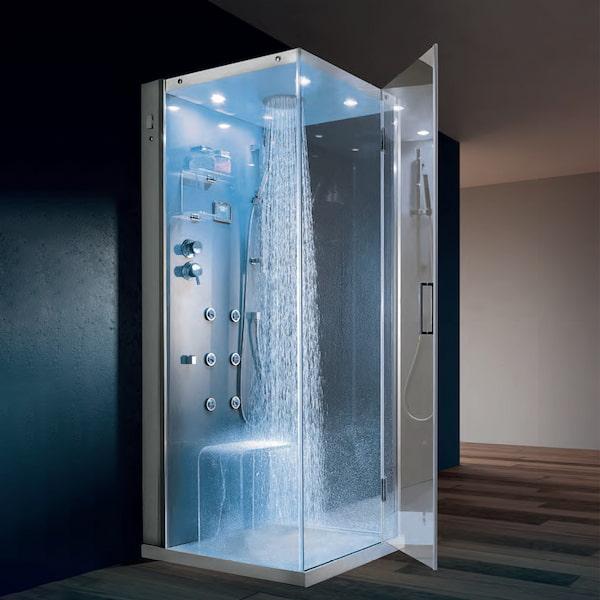 Tempo multipurpose cabin by Geromin Group with crystal shower box

For each glass shower enclosure, in relation to the shower space and the surrounding space, it is possible to choose the most suitable type of opening: sliding, ideal for flush-to-floor, hinged, folding installations, or without closing as in the case of the shower. walk-in that offers the most scenic solution, but not always very practical.



Fixing and adjusting a glass shower enclosure
The profiles of a glass shower enclosure are the fixing and adjustment elements.
Both from a stylistic and chromatic point of view, they greatly characterize the aesthetics not only of the shower corner, but of the whole bathroom environment and they do so with their presence, in the case of colored finishes, but also with their absence.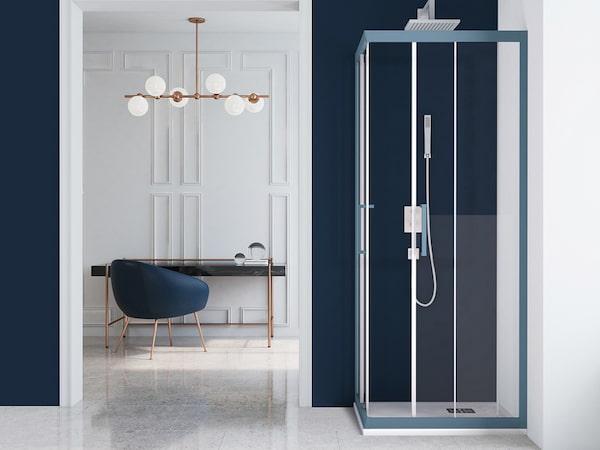 Crystal shower enclosure with blue-navy profiles Zen model by Iperceramica

The colored finishes of the shower profiles are currently very trendy, especially suitable for retro, neoclassical or industrial style houses.
In the more minimal style solutions, on the other hand, the tendency is to make the profiles disappear or reduce to a minimum, also choosing self-supporting glass.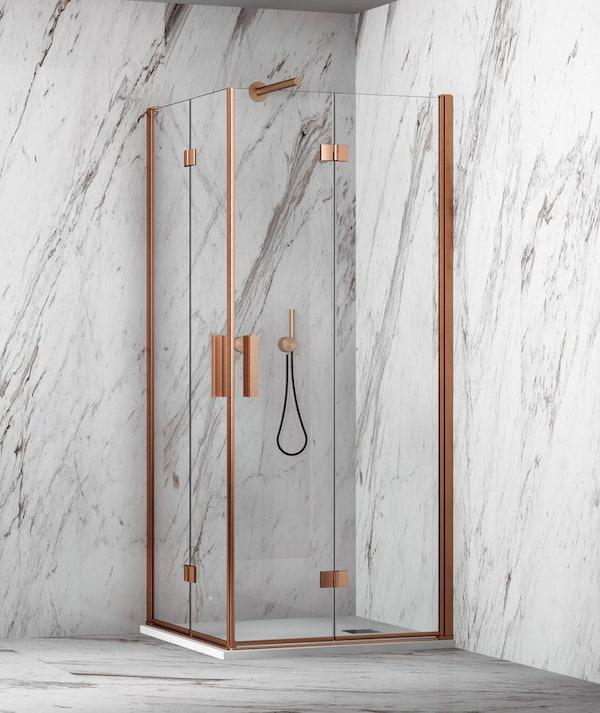 Crystal shower enclosure with copper-colored profiles - pinterest photo


The profiles of the crystal shower enclosures may be available for fixing on the cladding or for concealed installation.
In the most advanced fixing systems on cladding, a single profile houses the crystals without using silicone and the out-of-square angle of the walls is compensated for by a special adjustment system; in systems with concealed recess, the shelves of the glass shower cubicle arise directly from the walls thanks to anchoring brackets inserted inside.



Crystal shower box: the products of Made in Italy companies

The Made in Italy companies producing crystal shower enclosures are the best choice if you want to buy a quality and tailor made product, that is, tailor-made according to your needs and requirements.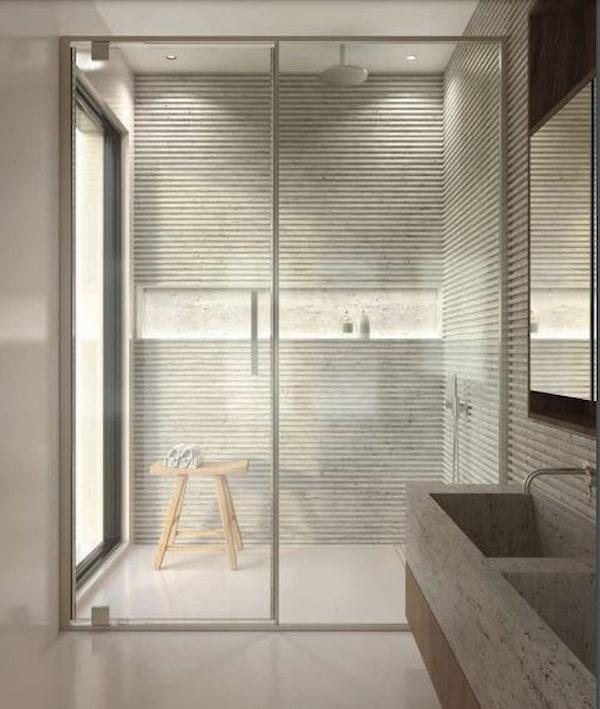 Crystal shower enclosure model Raffaello di Cesana

Cesana has been producing custom-made crystal shower enclosures for over 50 years and offers highly customized solutions. Its collections are characterized by the quality of materials, innovative design and excellent manufacturing.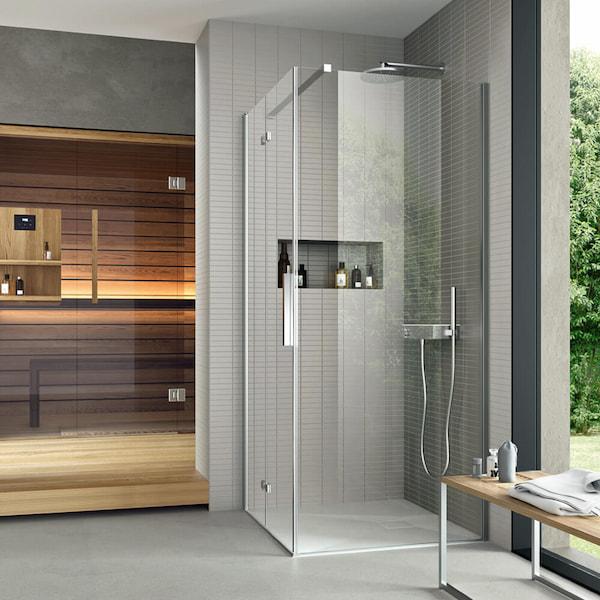 Crystal shower enclosure, Time model by Gruppo Geromin

Use of quality materials and cutting-edge technologies to design and build quality wellness and bathroom settings. This is the Geromin group, which welcomes the Hafro, Geromin and Saunavita brands, combining the culture of Made in Italy with research and innovation.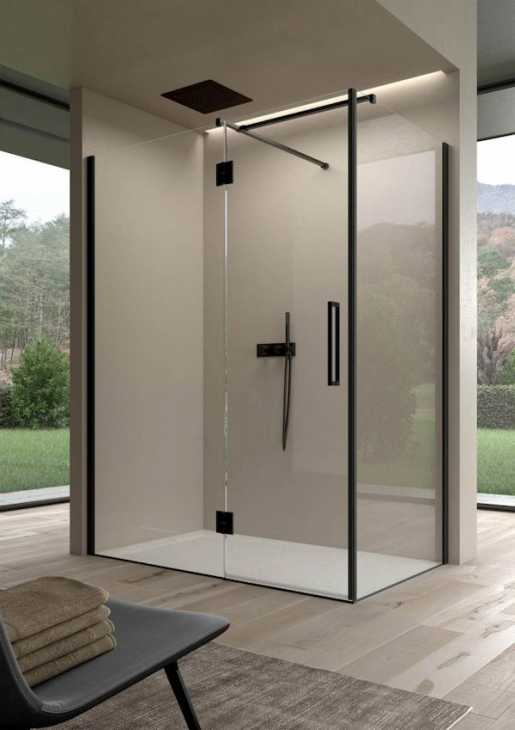 Easy model crystal shower box by Disenia

In its Easy line, dedicated to the crystal shower enclosure, Disenia Srl offers contemporary and design solutions, with particular attention to finishes, functional aspects and aesthetics, taking care of every little detail.



Shower enclosures prices of the chains of specialized retailers

In general, more commercial and standard-sized internationally sourced products are found in specialist retail chains.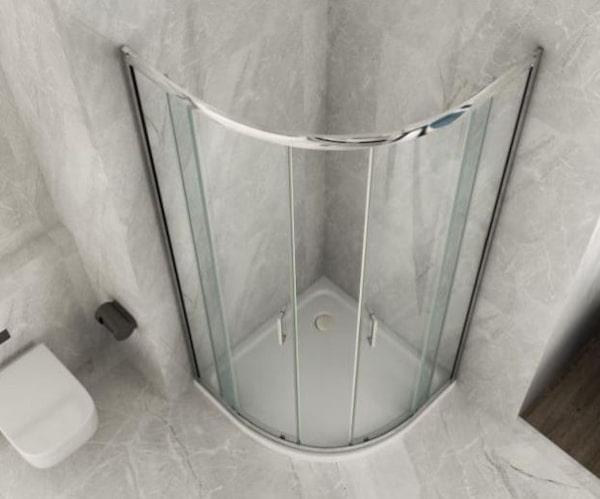 Semicircular shower enclosure by Leroy Merlin

It is also true that large chains such as Iperceramica and Leroy Merlin deal with products of all types and price ranges, perhaps not displayed in the showrooms but still orderable online, so it is possible to find both first-price crystal shower enclosures, both shower enclosures in crystal of the highest quality.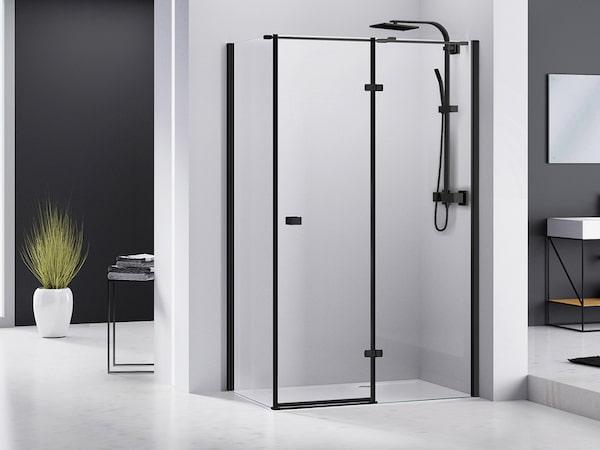 Chakra crystal shower box by Iperceramica

In addition, promotions for the complete shower enclosure or products are often offered at large specialized chains, even if it is almost never possible to request changes in sizes or oversize.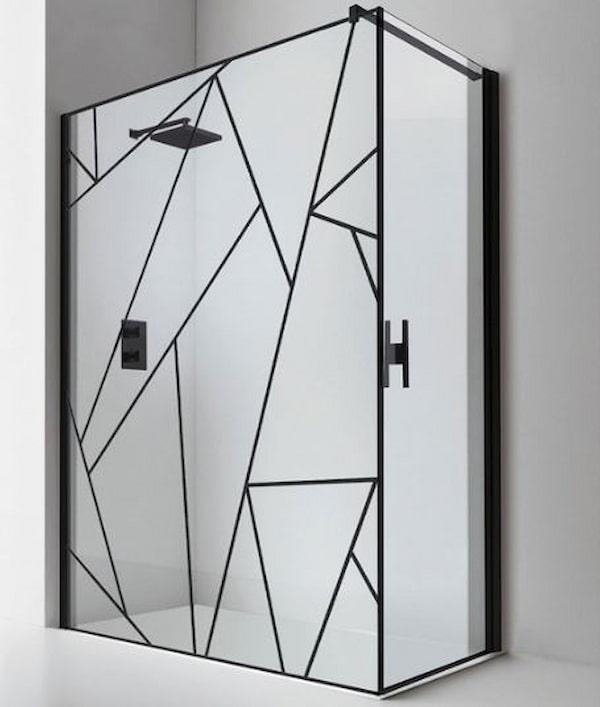 Segment screen printing - crystal shower enclosure by Iperceramica

The standard size most suitable for a bathroom that is not too large is the 80x80 cm shower enclosure, also available as an 80x80 cm corner shower enclosure. If, on the other hand, you have more space available, you can choose a 120x80 shower enclosure, or 80x120 if the wall space is inverted.



Descaling and cleaning treatment of a crystal shower box

Limestone is undoubtedly the worst enemy of a glass shower enclosure, whatever the material it is made of.


Fortunately, however, almost all manufacturers of crystal shower enclosures market products for which it is possible to choose the descaling treatment option for the shower tops at the time of purchase, where it is not already provided as standard.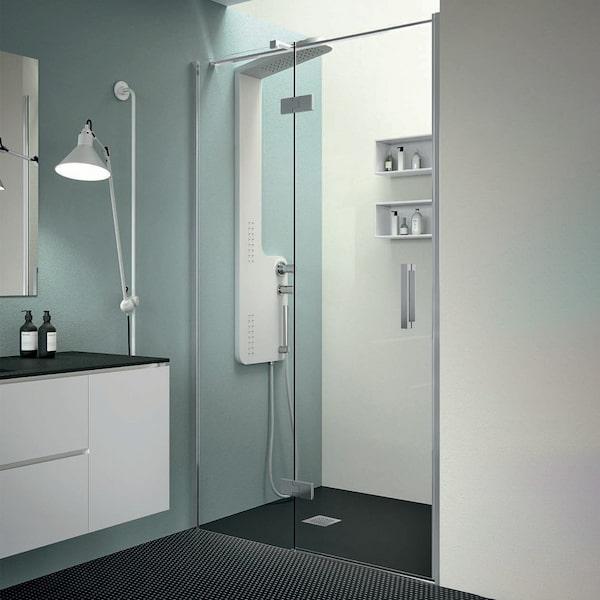 Crystal shower enclosure model Stylè by Gruppo Geromin

The treatment eliminates the natural porosity of the crystal by filling its surface structure with nanoparticles and thus allowing easier sliding of the water droplets on its surface.
In this way it is more difficult to form unsightly deposits of superficial limestone. But to ensure a long and optimal life of the glass shower enclosure it is important to dry it after each use with a glass wiper and a microfibre cloth.
Also, you must pay close attention to commercially available anti-limescale products, which could damage the profiles, shower trays and even the glass of the shower enclosure.
Better to use detergents with a neutral pH or, even better, natural products such as white vinegar diluted in hot water, ideal for its sanitizing and descaling properties.