There are many innovations in the field of sustainable materials, used in the production of items for the bathroom, thanks to a renewed commitment to research companies in the sector. From the cold ceramic composite flexible mineral, from steel made ??from recyclable materials to enamel glazes and coatings that repel dirt and water here is the latest proposals from leading German brand that belong to the Blue Responsibility , whose objective is the promotion of healthcare solutions eco-friendly.



Ceramics resistant to dirt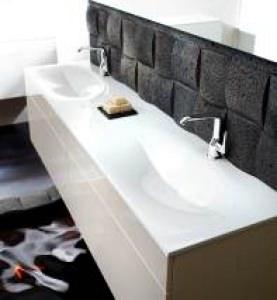 The dream of every housewife has become reality: finally a sanitary for the bathroom from the surface dirt-resistant easy to clean. We thought the German company Burgbad to make this miracle possible, not so much to please the home but with even more noble purpose: in this way, it will be possible to use less detergent which saves water. Ceramics shall also positive feelings guarantees Sabine Meissner, Head of Communications of Burgbad, cool and smooth surface of the ceramic is perceived as more elegant, a sound level conveys feeling and family has become synonymous with quality and luxury. The entire line of Pli Burgbad was conceived in this way: the sink, for example, has a sleek, linear characterized by the contrast between the grain of the veneer and the perfectly smooth surface of the composite ore which made ??health. It is available in three sizes.



Villeroy & Boch offers Ceramicplus, material which, thanks to a special surface treatment, is able to repel dirt particles: you can clean the surface using only a damp cloth and water, limiting the use of detergents particularly aggressive . In My Nature collection are made ??from this material innovative health: delicate shapes and relaxing resting on chestnut wood elements that make the bathroom an increasingly dedicated to wellness and relaxation.



Enamelled steel and acrylic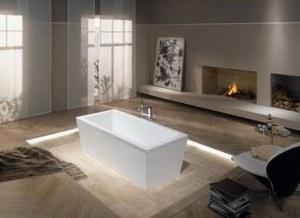 High resistance to abrasions and scratches as well as disinfectants for swimming, enamelled steel can also be produced with natural and recyclable materials: the German company Kaldewei has always been attentive to issues of sustainability, for its Coordinated Colours Collection has chosen using recycled steel to the extent of 20% of the total. The bathtub Conoduo exclusive design edited by Sottsass Associati, is characterized by architectural elements and geometric forms that create a clear-cut lines. Other features are hidden drain, complete with cap enamel, and the operating knob exhaust.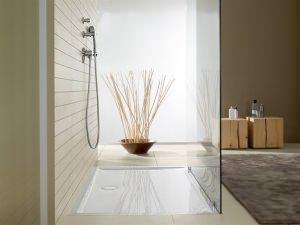 Research and new materials for Villeroy & Boch: Quaryl is an innovative, exclusive patent of the company, made ??up of acrylic and quartz sand extremely durable and easy to clean with a damp cloth. It is a non-slip material, heat insulation and sound absorbing, capable of ensuring stability and perfectly conceal scratches. The line of shower trays floor Flat Futurion truly represents the new frontier in the field: the use of Quaryl allows you to create precise edges against a very quick installation, in addition to the already described advantages in terms of hygiene, gloss and pleasant feeling of warmth to the touch. In this way, finally, it is possible to limit the moisture damage due to defective siliconizing.



Antibacterial surfaces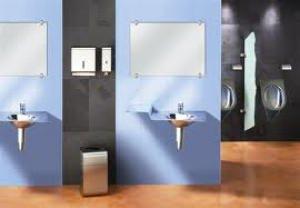 For a long time in the field of commercial and public spaces materials with antibacterial surfaces are easy to clean are preferred to traditional ones because they offer highly effective environmentally friendly solutions able to literally slip away dirt. The company specializing in sanitary towels Franke Washroom Systems proposes technology InoxPlus: it is a treatment which ensures extra hygiene thanks to the presence of microscopic nanoparticles that joining with the molecules of the stainless steel brushed to prevent impurities from attaching on the surface . In this way, even slight traces like fingerprints are quickly eliminated: the line Aquarotter stainless steel XINOX represents a good example.