Floor-level shower trays: why choose them


Floor-level shower trays are one of the most requested solutions in the bathroom furnishings, as they combine clean aesthetics and great functionality.
These models, characterized by a sober and elegant look, are versatile as they can be installed in any type of environment, from the most modern and purist to the most classic.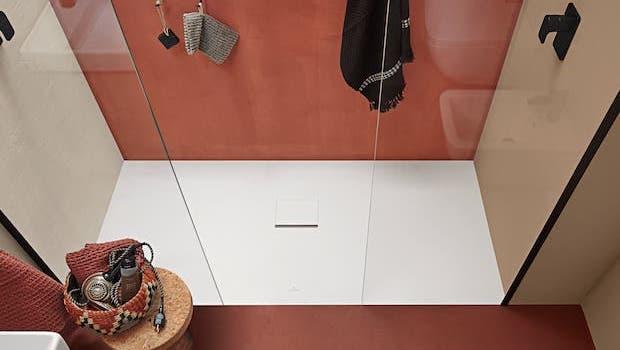 Squaro Infinity large shower tray - Photo: Villeroy & Boch

The flush-to-floor shower trays, which are usally placed on the same level as the flooring, have no protrusions and rises. They have reduced thicknesses, sometimes even less than 3 cm.

At the moment many companies specialized in the production of floor-level shower trays allow you to customize these products, both in shape and color. In fact, there is no shortage of models with lateral or central drains and edges, which adapt perfectly even to complex or small spaces.

Let's find out three design innovations related to ultra-thin shower trays.



Shower trays with coordinated wall panels

Tailoring and design: the floor-level shower trays proposed by Kinedo are functional and refined solutions, suitable for contemporary style bathrooms.

These products can be combined with coordinated wall coverings, now available in three new finishes: Ardesia Matt, Natural Stone Matt and Linear Matt.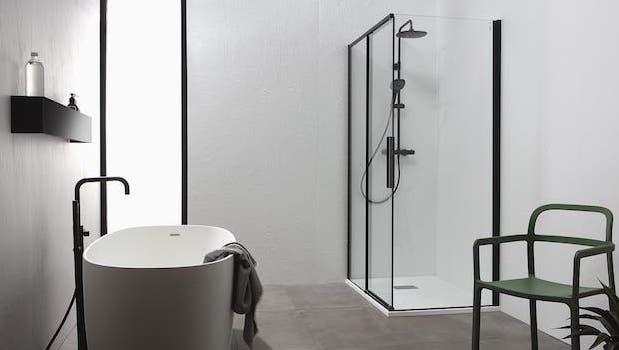 Natural Stone floor-standing shower tray - Photo: Kinedo

It is possible to customize the Kinedo reinforced shower trays, choosing their shape, texture, color and, if necessary, requesting custom cuts made directly during the production phase.

These non-slip shower trays (available in anthracite, gray, white, cream, greige and black shades) are made with innovative materials, including resin and acrylic, therefore, they are durable, hygienic and resistant.


Matt Ardesia resin shower trays

Thanks to a thickness of only 3 cm, the shower trays of the Ardesia Matt line allow you to obtain a sophisticated and modern bathroom area.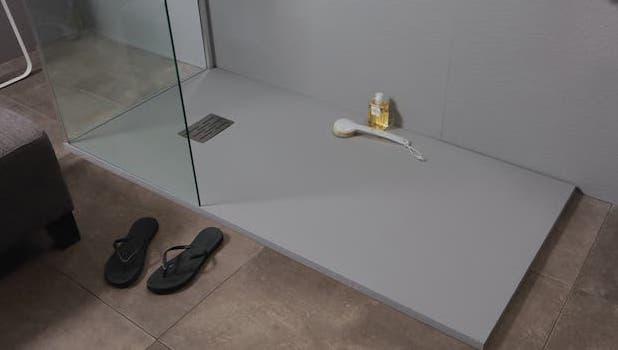 Colored shower tray and Matt Ardesia paneling - Photo: Kinedo

These products, made with natural minerals and resins, have a rough texture, pleasant to the touch and characterized by an elegant finish.

It is also possible to cut the shower trays according to the measurements of your bathroom, and add a frame on one or more sides.


Linear Matt and Natural Stone Matt shower trays

The peculiarity of Linear Matt shower trays is precisely the thickness, which only measures 2,6 cm.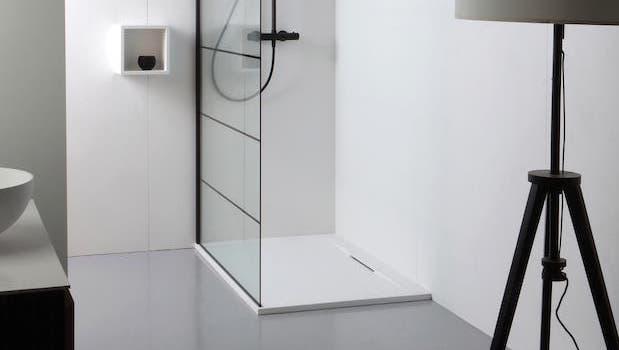 Low shower tray and Linear Matt cover - Photo: Kinedo

The construction materials in this case as well are composites of minerals and resins, worked in such a way as to give the elements a smooth and compact surface, ideal for a bathroom in a modern, minimal and contemporary style.

The Natural Stone Matt collection also includes colored shower trays with a thickness of 3 cm and a texture that recalls the look of natural stone.

These products, ideal for creating a design walk-in shower, are available in three installation modes: flush with the floor, above the floor or raised.


Furnish the bathroom with cladding panels matched to the shower trays

The solutions conceived by Kinedo include, in addition to the shower trays just described, also panels coordinated with them.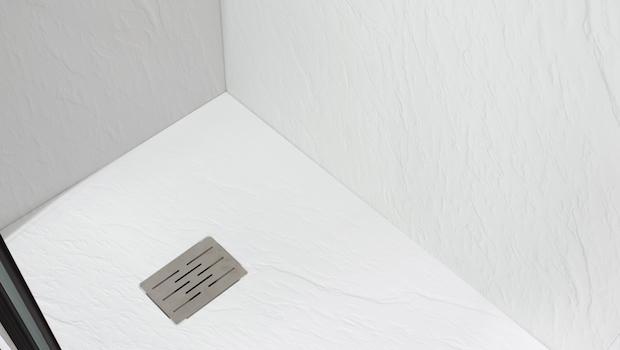 Natural Stone Texture on Thin Shower Tray and Wall - Photo: Kinedo

These coatings, suitable for both new installations and replacements, allow you to fully customize the bathroom area and are characterized by the same finishes as the shower trays.

The Linear Matt, Ardesia Matt and Natural Stone Matt cladding panels are impact resistant, antibacterial and stain resistant. In addition, they are an excellent design solution to further embellish the shower corner.
The slabs, with a thickness of 0.6 cm, are available in the size of 205x150 cm.



Slim, modern and innovative shower trays

The Squaro and Subway flush-to-floor shower trays, proposed by Villeroy & Boch and included in the Infinity collection, have a linear and contemporary design.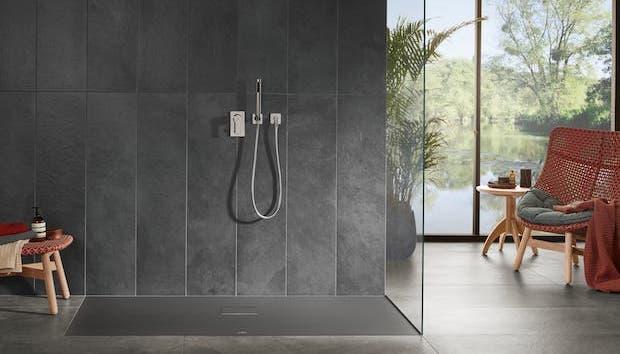 Custom size shower tray - Photo: Villeroy & Boch

These solutions allow a great freedom of furniture, above all, thanks to the ViPrint prints, consisting of particular decorations and graphics.


Squaro Infinity: the elegance and performance of Quaryl

The distinctive feature of the Squaro Infinity shower trays is the ultra-flat and borderless design, an element that allows them to be fully integrated into the bathroom area, without creating visual imbalances. This feature and the uniform surface and flush drain help to create a feeling of linearity.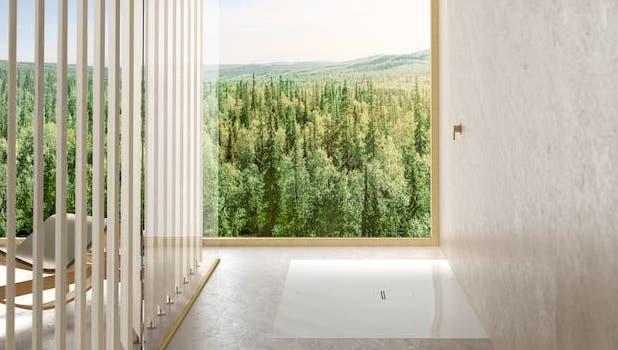 Squaro Infinity white shower tray - Photo: Villeroy & Boch

The products are made of Quaryl, a comfortable, stable and performing material with sound-absorbing properties, capable of reducing the sound of water jets.
In addition, thanks to a joint-free construction, it can be cleaned quickly and easily.

The Squaro Infinity shower tray is available in four opaque colors (in shades of brown, beige and black) and one bright (white); its size can be adapted according to your needs.


Versatility and design: the Subway Infinity shower tray

Subway Infinity is a slim ceramic shower tray ideal for spaces that are difficult to furnish, such as those with corners and columns.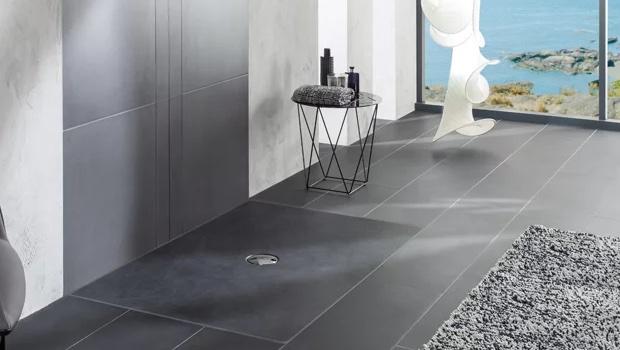 Subway Infinity ceramic shower tray - Photo: Villeroy & Boch

This product, made in 9 different versions characterized by ViPrint design decorations, can be selected in many sizes and shapes.
It is available in three installation variants: mounting on tiles or special supports and recessed.

In addition, the anti-slip properties of class A and B guarantee a high level of safety in use.


Slim shower trays and quick installation solutions

Restructuring the shower corner is one of the most complex operations that your bathroom might need because of the actual interventions and the choice of products and coatings to be used.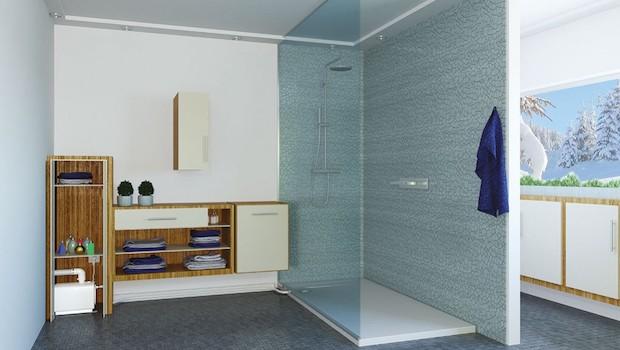 Sanifloor Plus Tray System - Photo: Sanitrit

Invasive interventions, which include demolitions and rebuilds, often need to be performed, which can also take quite a long time. Thanks to the Sanifloor Plus + Tray shower tray system, designed by Sanitrit SFA , it is possible to renovate the bathroom in a few simple steps, by means of a complete installation, which includes shower tray, drain and pump.

This solution makes it possible to create an integral shower area even in rooms of limited size, in which it is difficult to intervene, all without carrying out large-scale masonry works.





With the new Sanifloor Plus + Tray system, it is also possible to install an ultra-flat shower tray (with a thickness of 5.5 cm), using the principle of operation by suction and not by gravity.

The design shower tray is available in the sizes 80x90 cm, 90x90 cm, 100x80 cm and 120x80 cm.