Multifunction shower: practical and technological

If our house is small we might want to get rid of the bathtub and install a shower box, an element that is easier to maintain and above all, less bulky.
There are various types of products on the market, however, the multifunction shower enclosures are perfect solutions to transform the bathroom area into a real private spa.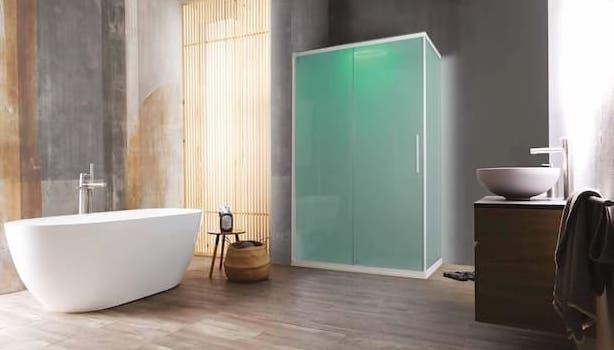 K1000 closed shower enclosure - Photo: Kinedo

Here are three models of innovative and modern multifunctional shower enclosures, ideal for any living environment.



Frame multifunctional shower by Jacuzzi

The shower enclosure of the Frame series, created by the designer Mario Ferrarini for JACUZZI, is a product that combines aesthetics and technology, thanks to the contemporary look of the profiles and the numerous integrated functions it is equipped with.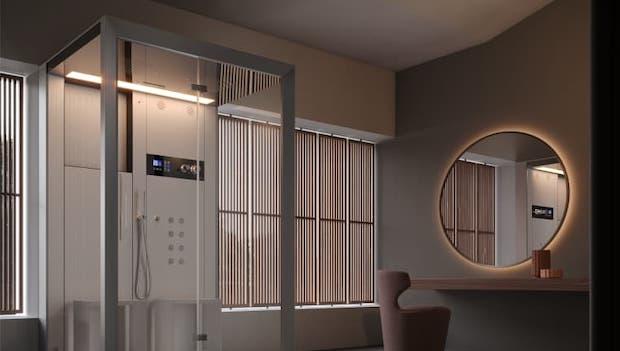 Hydromassage shower Jacuzzi Frame IN2 - Photo: Jacuzzi

The Frame line includes three models:


Frame 120, which measures 120x80x224 cm;


Frame 100,which measures 100x75x224 cm;


Frame IN2, a double module which measures 150x110x224 cm.


Frame multifunction shower: structure and components

The Frame multifunction shower enclosure is equipped with a large frame characterized by essential and modern lines, an equipped wall available with satin black or white finishes, a shower tray with Techstone® platform, a glass handle and a box with hinged walls, with Crystal Clear® treatment.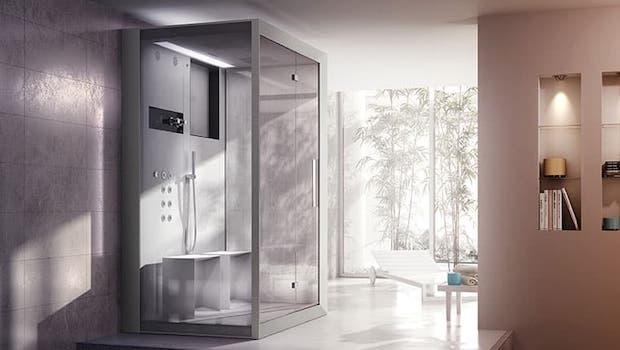 Frame IN2 hydromassage shower enclosure - Photo: Jacuzzi

This model can be installed in a simple and versatile way inside the bathroom area, but also in other types of environments: thanks to the elegant and minimal aesthetics, this hydromassage shower cabin is the ideal solution to create exclusive and luxurious bathrooms.


Jacuzzi Frame hydromassage cabin: programs and technology

Frame is equipped with the functions of Turkish bath, vertical, cervical and lumbar hydromassage, Shiatsu hydromassage (with the two Tonic and Relax programs) and sequential massage, which allows you to select the speed according to your needs.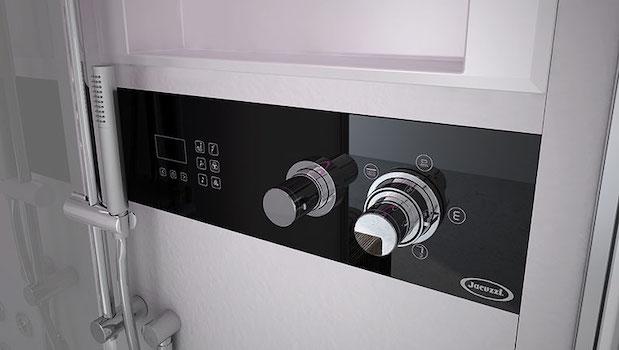 Jacuzzi Frame 100 hydromassage shower enclosure, control panel - Photo: Jacuzzi

In addition, the shower enclosure is equipped with Jacuzzi® Cromodream aromatherapy and chromotherapy systems (which allows you to select up to six different colors), shower functions (rain, tapping and nebulized) and energizing waterfall.

Each program can be activated and modulated via the intuitive control panel and the touch screen keyboard.



K1000 multifunction shower by Kinedo

K1000 is the new multifunctional shower enclosure created by Kinedo, whose distinctive features are its very clean and light design and its brightness.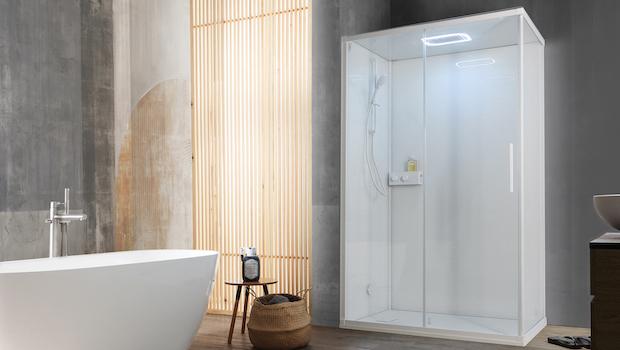 K1000 hydromassage shower enclosure - Photo: Kinedo

The contemporary and elegant look is also given by the use of the White Ultra White color for the walls, ceiling and shower tray.

In addition to the top-of-the-range K1000 shower enclosure, Kinedo presented other innovations for 2021, including the K500 and K750 shower enclosures.


K1000 equipped showers: structure and components

The K1000 cabin consists of:


aluminum profiles with sliding door and fixed side;


a shower tray with anti-slip stone effect texture (with a height of 2.5 cm), a
extra-white glass roof;
an integrated Big Rain showerhead;


a sliding shower;


a 6 mm thick tempered glass box.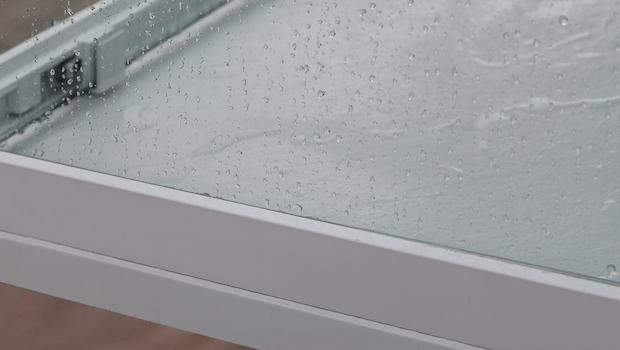 K1000 equipped shower enclosure, shower tray - Photo: Kinedo

The crystals are treated with the Easy Clean technology, specifically designed to prevent the formation of dirt on the surfaces and to clean the walls effectively and quickly.

The structure is also equipped with a storage box, an aromatherapy dispenser and Bluetooth and speakers integrated into the shower column.


K1000 hydromassage shower: functionality

The K1000 multifunction shower enclosure is elegant and practical to use.
The available programs are stripled chromotherapy (with diffused light) and double blade cascade, aromatherapy, Turkish bath and Bluetooth connection, thanks to which you can listen to your favorite music.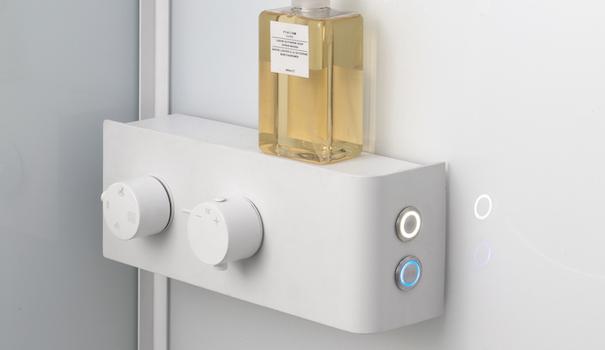 K1000 hydromassage shower enclosure, control panel - Photo: Kinedo

The functions can be set with the control panel, equipped with ON / OFF controls for chromotherapy and steam bath.



Tempo multifunction shower by Geromin

The Tempo multifunction shower enclosure created by Geromin, ideal for both classic and modern contexts, is equipped with a complete wellness set-up and can be installed on the wall, in a corner and in a niche.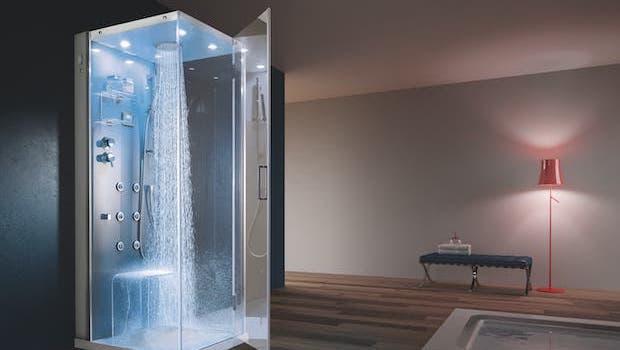 Tempo equipped shower cabin - Photo: Geromin

The Junior and Integra models, part of the Tempo range, are available in mocha, garnet red, white, gray, rust, ultramarine blue and black shades.


Tempo whirlpool box: Integra model

The Integra shower enclosure is composed of:


thermostatic mixer;


closing with hinged door and anti-limescale safety glass (thickness 8 mm);


Solid Surface shower tray with drain;


shower rod with hand shower;


six hydromassage jets with nebulizing, pulsed and raining functions;


roof with central raining shower head;


mirror and two-level storage shelf.


Shower enclosure with Tempo seat: Junior model

The Junior model, which is much more innovative, is also equipped with standard chromotherapy and starry sky chromotherapy systems. The latter is composed of a series of LED lights arranged in a scenographic way on the roof of the shower box.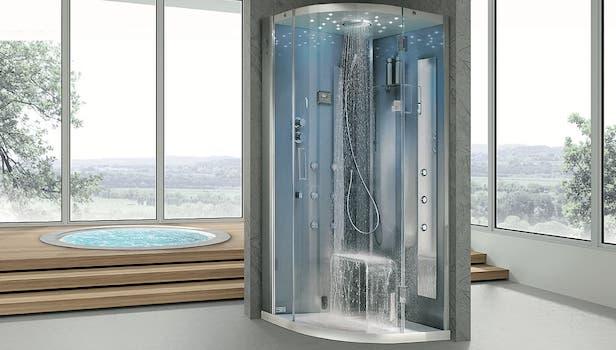 Tempo complete shower enclosure - Photo: Geromin

In addition to the elements present in the Integra model, the Junior multifunction shower cabin is equipped with an LCD digital display, a steam dispenser with aromatherapy and phytotherapy, a Turkish bath program with 2 kW temperature selection and a Scottish shower.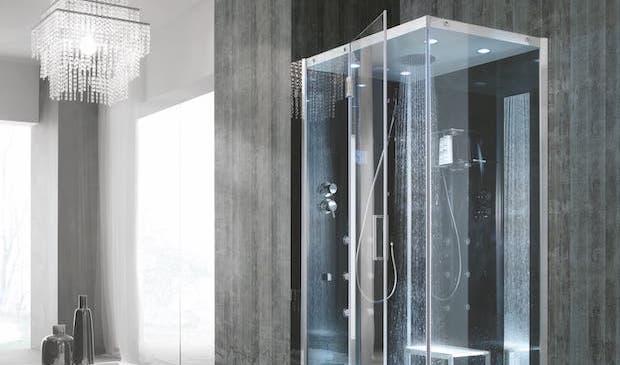 Tempo hydromassage cabin, chromotherapy - Photo: Geromin

The shower enclosure, in addition to these components, also features a radio with aux connection, a descaling and scheduled maintenance system and an alarm.


K1000 hydromassage shower: accessories and options

Tempo multifunction shower enclosures can be equipped with optional accessories. Some of these accessories are the Solid Surface or transparent acrylic seat, the steel and Corian® stool and the chromotherapy systems (only for the Junior model).


When it comes to the maintenance of the shower enclosures it is possible to purchase a kit which can be very useful to clean the windows.