Small bathroom fixtures: features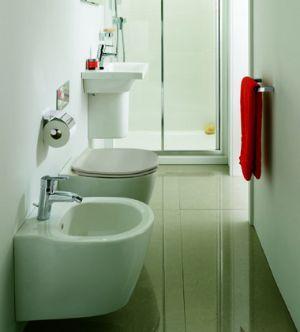 Small bathroom fixtures are essential within a bathroom of modest dimensions: being compact, they take up as little space as possible and, if well designed, however, appear to be functional and comfortable to use.

In an age in which more and more are designed studio apartments, or apartments with two rooms or anyway apartments of a few square meters, it is very important to produce versatile solutions, compact and specifically designed to decorate these spaces; precisely this reason, pushes companies to realize entire lines specially designed for such needs or for furnishing, for example, a second toilet room.

Before analyzing some solutions of bathroom fixtures of small dimensions on the market, we see the dimensions (width x depth) of standard bathroom fixtures:
- WC: 40 x 60 cm;
- Bidet: 40 x 55 cm;
- Single sink: 60 x 45 cm;
- Shower: 70 x 70 cm.

These dimensions are approximate, but will allow us to make a direct comparison with the small bathroom fixtures.

Beyond the size, comfort in using these elements is also in their shape: when the choice will therefore always have to pay attention to the depth of the basin, the quality of materials, operation, etc., that is all those features that make a bathroom fixture, a sink, a shower, an ergonomic and durable element.



Examples of small bathroom fixtures

The interior of a small bathroom is a challenge for companies that need to revise the forms, organize space and study solutions to make of the bathroom a friendly and accessible space, a space in which to take care of yourself and your body.
And it is for this reason that Ideal Standard, in the line Connect Space offers bathroom fixtures, sinks and even a shower tray perfect for decorating a bathroom of reduced size.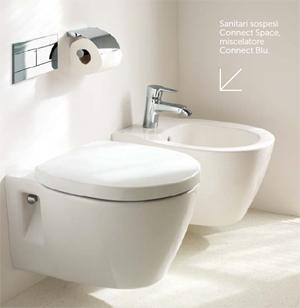 Designed by Robin Levien, the bathroom fixtures have a depth of 48 cm, but thanks to the careful study of the shape, offer a large inner basin; They can be installed on the floor or they can be wall mounted, thus adapting in all contexts, even in the event of restructuring.

For example, the company also provides a practical angle basin to make the most of every centimeter of the bathroom; in combination you can choose one of the practical handwashing with cabinet which, in just 25 cm, enables to equip the bathroom with all the elements necessary for hygiene.

But there are also basins of different sizes and installation: freestanding or built-in, with the possibility of having very useful furniture containers for storing linens, detergent, or any other object or tool you want.

Finally, the shower: in the line Connect it can be chosen in different sizes and types of opening; It is easy to assemble, to clean and perfect to enhance the space, even a reduced one.

The secret of success in these areas is managing the size but also the attention to detail: this is why a bathroom, furnished with these solutions, although small is cozy and functional.
The toilets are up to 6 cm smaller, but are perfectly combined with the most diverse design solutions, choosing finishes and colors, so as not to give up anything.

Not only are the small bathrooms to create some problems, but also those in attics, with an irregular plant or in a basement; even in these cases it is very important to plan carefully the available space and choose the best furniture.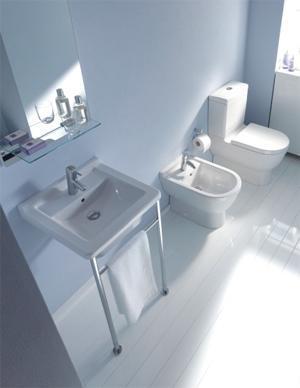 Duravit offers different ways to decorate with style these environments: the line Starck 3, for example, consists of over 50 models and 64 variants designed by Philippe Starck.
Among them are the basin and bidet of the Compact line: the toilet washdown has the dimensions of 36x48.5 cm, 36x47.5 cm bidet.
The basin is available both in built-in model and with the chrome metal support that also serves as a towel rack.

You clearly can complete the decor with mirrors and mirror cabinets, with or without illumination, soap dispenser, towel racks, etc. that enhance the aesthetics of the basin and are also practical and functional.

In short, it is indisputable that a large bathroom is the perfect place to enjoy a moment of relaxation during the day, but it is possible that, paying attention to the management of the space and to the interior design and of the bathroom fixtures, even a small bathroom can become so: with assistance during the design by a technical and choosing small but functional bathroom fixtures, also a small bathroom can become comfortable and welcoming.