Wellness and modern life

Once upon a time the spa

, a holiday destination of pure rest and self-care. Whether for a long enough period, or just for a weekend, this place/ myth of wellness at all costs was mostly the preservation of a certain social class, then considered a real status symbol for people who attended regularly.

Well, those days are just a memory. Fortunately, I might add. The search for personal well-being has become a priority for most people, and the term wellness translates well a real philosophy of life that arises, of course, the well-being of the person at the center of attention and that goes from body care to the care of the mind, for a perfect psychophysical balance.

Warning: this is not only a fashionable yet another attempt to be trendy... The variations are many, depending on the area where you want to put more emphasis, as well as the economic possibilities with which it has to do accounts.

On the other hand, it is just the kind of life we all lead we were exposed to extreme stress not only physical but also, and above all, psychological. We welcome, therefore, virtuous behavior that allow us to recover our physical and mental balance, both through slow sports and by following a proper nutrition is devoting more time to practice mental relaxation, still following their own schedule and needs.



Wellness at home

About time, always tight, and needs, the most diverse, most followed the trend currently is to have your own wellness area directly at home. The large selection in this field allows you to personalize the answer to the most varied demands, in a sector open to new production technologies and attentive to environment and sustainability.

Lead people to achieve a state of well-being, our products are born as balance between emotion, design and technique (cit.)

And this is the goal that has set Aquademy, young but established brand by the company Project Service, created in 2009 to distribute internationally a wide range of products for private and professional wellness.

Aquademy develops and designs every detail of every product, from hydraulic components to electronic ones, from design to functional aspects, for articles entirely Made in Italy, exclusively using materials such as brass and stainless steel as it does not produce chemical reactions potentially dangerous or eco-friendly silicon and aluminum only in the case of aesthetic parts visible.

Through the outpouring of essences and oils and activation of lights can improve the daily lives by easing stress, relaxing the nervous system or activating the concentration to increase efficiency. This is the philosophy behind the production of this company.

Among the different products, all with minimal design very elegant, are worth mentioning especially the heads, the showers and the multi-function, the body jets and columns steam with steam generator of the latest generation. In short: all the beneficial properties of water to add the benefits of color therapy, aromatherapy and music therapy, thanks to modern integrated systems, hi-tech design with integrated home automation solutions.




Among the proposals by Aquademy: Viva Hi-Steam, Easy Concept Spa and Spa. The shower column Viva Hi-Steam is an evolution of the previous models and is dedicated to those who want to create a very personal wellness at home.

This multifunction shower column allows for water spray or fog, vertical body jets, hand shower, a steam generator 2 kw recreating a domestic hammam, as well as aromatherapy and color therapy. To all this, easily operated by a touch screen keyboard, it adds a sound system integrated Wi-Fi for a complete feeling of well-being.

The Steam Door is the elegant closing door made in anodized aluminum and tempered glass, with silicone seals magnetic closure.

Evo Touch is the control system of the touch screen of the latest generation for the control of the multiple functions of all products Aquademy: adjusting the temperature and the flow rate of the water, the selection of the jets, color therapy, aromatherapy and the audio system. Evo Touch, linear design in brushed aluminum finish and user-friendly interface, home automation enters with the best performances in the technical and functional bath house.

Easy Spa is the collection of shower heads wall from refined and essential design, stainless steel finish Supermirror, it can seamlessly integrate into existing furnishings. They are equipped with different types of water jets and a system of aromatherapy with three fragrances (flower, energy and relaxation) and chromotherapy to 16 colors obtained from an integrated system of 4 spotlights LED RGB.

The simple installation makes these heads the best choice in case of restructuring, with a significant reduction of time for the realization and the absence of structural measures, also work with low voltage current and water consumption with low pressure.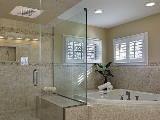 New rainshower signed by Aquademy called Concept Spa, a rainshower of new generation from low production costs with minimum water consumption and therefore ensures a reduced economic and environmental impact. Concept Spa is built and equipped with a rain shower, it provides for a system of color therapy with LED RGB 4 to 16 colors.

The environment is protected, prosperity is served ...



Wellness and color therapy at home

We have seen how the theme of color therapy is an applicant when treating topics related to wellness and, more so, when the wellness center is to be recreated at home, in the bathroom of the house, in fact.

We have also seen how even a simple shower head is enough to recreate the atmosphere worthy of a spa itself. Attention adjective simple, though, because the heads of the latest generation are hiding a hyper soul beneath an elegant, minimalist style.

Tender rain® has made of this minimalist approach from a formal point of view its own distinctiveness, managing to decline it perfectly in many versions of its products, without compromising on high technological standards.

No exception are the shower heads models for solutions of chromotherapy shower: The atmosphere created by the colors promote the emotions of mind and body in a triumph of polychrome (cit.). Here, then, that red feeds the energy, green harmony, balance the blue, purple meditation, the lively yellow and turquoise calm.

The shower head that I present is 0Z 190 1L, 255 mm diameter to 24 RGB LEDs, with several different control units available depending on color choice of color therapy, or multicolored. You can fix it recessed in the ceiling or mounted on the wall with horizontal arm plated, solid brass and rectangular section for color therapy.




This shower head solution is also provided in column, with diverter hand shower, hose and predisposition for chromotherapy, obviously, or with other accessories for the different power supply, in case of substitutions of ups and downs or for manual mixer.

Minimalist is also the head Hemisphere, design by Luca Sacchetti, matched to the various devices for ceiling, arm shower, recessed ceiling, with or without color therapy.