Elegant wooden bathtubs

Wooden bathtubs, thanks to the healing properties of the material they are made of, they can play a beneficial action to the health of body and psyche.
Made by hand in most cases, these tanks are also unique in style and design to give a significant aesthetic value to any decor.


Properties of wooden tubs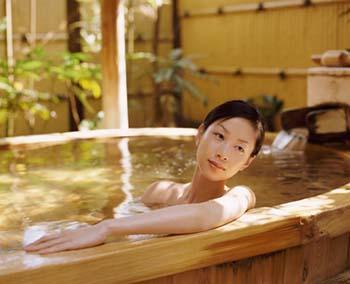 The beneficial properties of wood, especially of juniper, are many and are now recognized not only by the Eastern medical tradition, especially the Chinese and Japanese ones, but also by the Western.

That is why also tanks made of this material may exert beneficial effects for the health of body and mind, such as the relaxing, antibacterial and regenerating.

Juniper in particular has many health benefits, due mainly to pythoncidere, a powerful antioxidant contained in the wood itself.

Thanks to it, the tanks made of juniper can cleanse the body of toxins and play a relaxing effect on the parasympathetic nervous system.

The juniper is also a great heat keeper, so it is able to fight colds and to stimulate the blood circulation, thereby improving the health of the capillaries.

To underline, finally, are the antibacterial properties of this wood, which creates an anti-inflammatory effect useful in fighting diseases such as rheumatoid arthritis, hives and swelling ulcer initial state.


Bath tubs in wood: to each one his own


The bathtubs made of wood are definitely elements of furniture with great beauty and able to make original any bathroom.
Generally, this type of tank is well suited to a classic decor, but there are also models with a very present design that match perfectly with a typically modern style.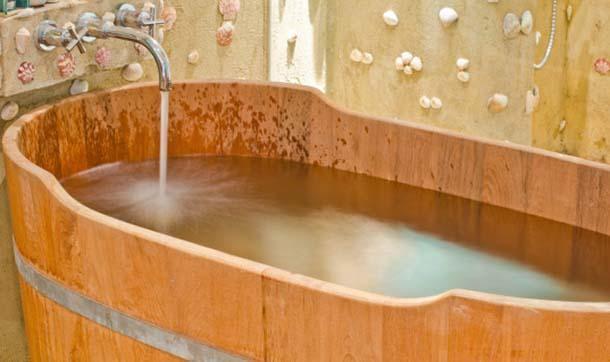 Also, since the material is one hundred percent natural, wooden bathtub can be installed easily also in the garden.

The most valuable pieces are handcrafted, finished by hand and without the use of nails, while the forms can be many. In fact there are models with an oval line and other, more classic, are square-shaped. Particularly original is the nut bathtub, smooth to the touch, refined and elegant to look at.


Like those in ceramic, all wooden tubs can be equipped with additional functions. Among these, infrared, that heat the skin exerting an important draining and purifying action, the whirpool and chromotherapy.

Given the particular characteristics of the wooden bathtub, it is very important to perform regularly a correct maintenance to preserve intact the beneficial properties of the precious material.

Once purchased, the tank must be filled with water to two-thirds of depth and left in place for at least twelve hours.
In this way, all healing actions are reactivated. In addition, it is advisable to use the tub at least twice a week, especially if the room is very dry and heated; if not used for a period of at least two weeks, you should keep it filled with water until it is reused again.

All the tanks can be combined with other wooden elements of furniture, such as the sink or the bucket for orthotics diving, ideal for shiatsu massages. Also the dimensions of the wooden tanks can vary.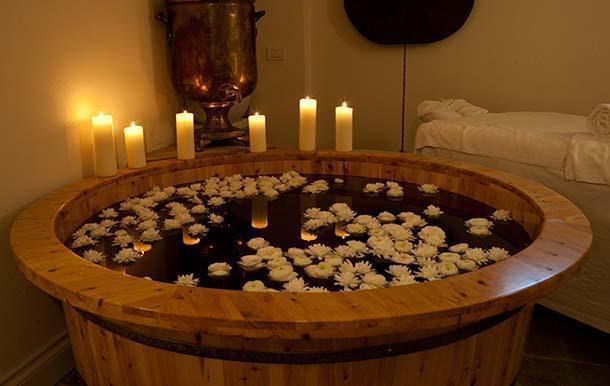 From those with standard measures you can have in fact very large models, to be used also by two or more people. One example is Veronica, produced by Italko, Florentine company leader in the production and sale of tanks in Eastern juniper.

With round shape and with 200 cm diameter and 60 cm deep, Veronica has all the characteristics of a typical wooden bathtub. Also available in a smaller version, 140 cm in diameter, this model enables the installation in the garden and can be used by two to four persons.

Oval is instead the model Sabrina, made in crenellated juniper wood.
This basin is characterized by handwork and without the use of nails, in full respect of the Eastern tradition and its standard measures are 65 x 60 x 135 cm.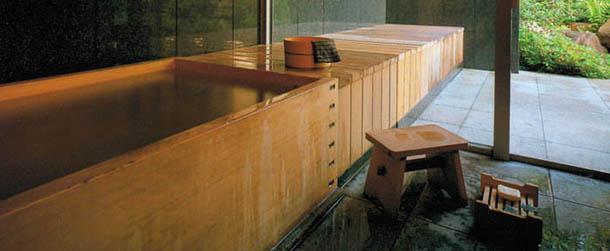 In line with the Eastern philosophy, are also products by Mori Fine Style Japan.
The company, started by the Japanese Tomoko Mori offers bathtubs made of the timbers of the five Japanese conifers.
The production is completely handmade, it is performed on demand and the products are customizable in both measures and form, thus creating unique pieces of great value.



Wooden bathtubs of great design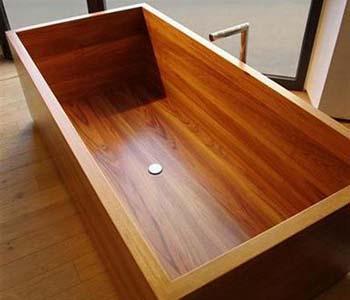 Another significant brand is Boxart, a company that was founded in 1993 as a manufacturer of bathroom accessories in alabaster.

Over the years it has expanded its production by focusing mainly on the shape of the proposed items of furniture.

To this end it has undertaken a series of collaborations with architects and designers, by which nowadays the company has established itself on the market with a wide range of products for the bathroom, including accessories and furnishings, all characterized by sharp lines and clean shapes, including wooden tanks, warm and elegant colors, natural and pleasant to the touch.