Bathroom colors: renew the space by combining different shades

The bathroom is one of the rooms of your house where you can adopt original and eclectic styles; it is absolutely perfect for creating completely customized spaces with a unique design.
There are trendy colors for sanitary ware and coverings and more neutral and dusty ones, such as gray, beige, light blue, dove gray and brown, while when it comes to taps and fittings the most popular finishes are satin silver, gold and bronze.
Let's find out three color combinations for the bathroom relating to coverings, furnishings, accessories and sanitary ware.



Beige and white bathroom: two colors for a contemporary look

Beige and white are two ideal colors that you can use to create a contemporary style bathroom. In particular, they are perfect to give the space a more modern look: it is good to prefer sanitary ware characterized by original shapes and suspended furniture with simple lines.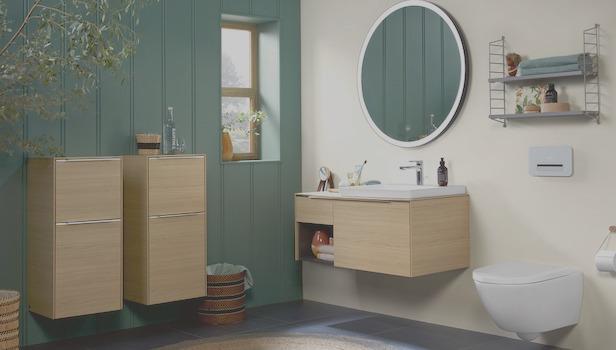 Beige and white bathroom furniture, Subway 3.0 furniture - Photo: Villeroy & Boch

Here are two solutions by Rexa Design and Villeroy & Boch.


Smoking washbasin by Daniele Della Porta for Rexa Design

The new Smoking washbasin, created by designer Daniele Della Porta for Rexa Design, is made up of a single sheet of Corian® which has been heated and curved during processing. The joint on the back of the washbasin is the distinctive feature of the product and defines its minimal looks.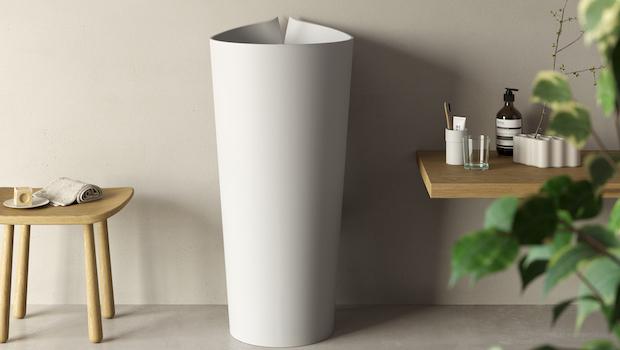 Beige and dove gray bathroom with Smoking white washbasin - Photo: Rexa Design

Corian is a high quality material: in addition to being easy to work with as it can be thermoformed, this product is resistant and hygienic. Precisely for this reason it is particularly suitable for making sanitary ware.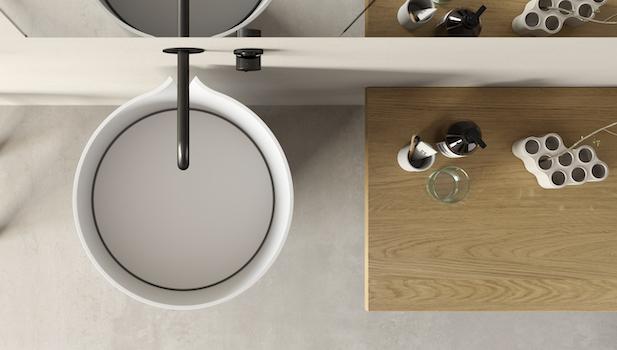 Cream and white bathroom, Smoking basin - Photo: Rexa Design

The washbasin can be purchased in the freestanding (44x90 cm) or countertop (42x23x53 cm) models and in the pure white Glacier White or deep black Deep Nocturne versions.


Modern beige bathrooms: Subway 3.0 furniture by Villeroy & Boch

The bathroom furniture collections proposed by Villeroy & Boch include accessories with natural finishes, perfect for a modern and simple bathroom.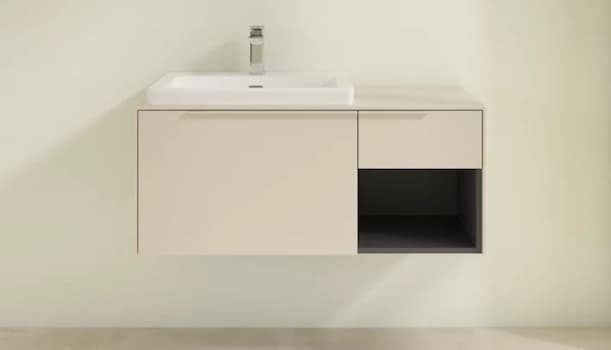 Light bathroom colors, beige Subway 3.0 cabinet - Photo: Villeroy & Boch


The Subway 3.0 series includes contemporary design furniture equipped with low thickness structures with large spaces for storing objects, anti-fingerprint surfaces and thin aluminum handles (with glossy, monochromatic or Volcano Black finish).
Thanks to these features the furnishings are also suitable for small bathrooms, where the space is an essential need.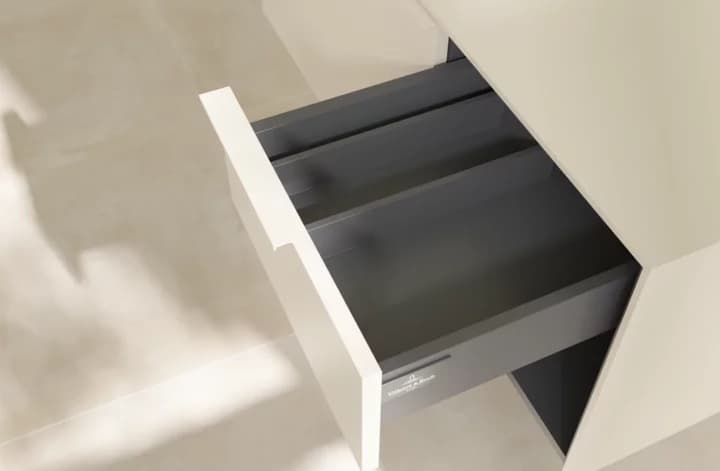 Bathroom furniture colors, interior compartments Subway 3.0 - Photo: Villeroy & Boch


The Subway 3.0 collection includes intermediate, mirror and column cabinets, side cabinets and vanity units of various sizes, equipped with integrated LED lighting system, automatic and silent Soft Closing, large compartments and pull-out compartments (from 1 to 4) to arrange towels and personal care products.
There are many available finishes are numerous and the shade closest to beige is Cashmere Gray.



Blue and beige bathroom: halfway between classic and modern

The light blue and beige colors can be combined to create a classic or modern style bathroom area.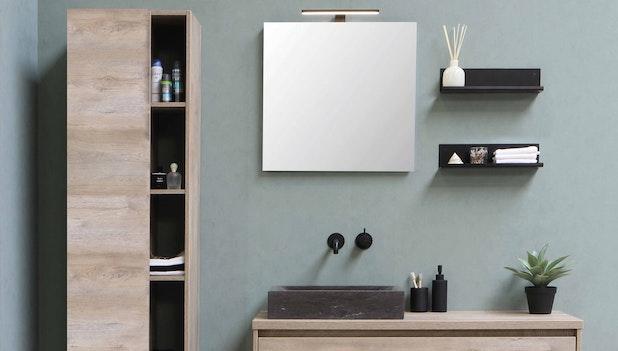 Blue bathroom walls and beige furniture - Photo: Unsplash

In order to obtain a good result is possible to use a patterned wallpaper and special accessories, keeping the white sanitary ware.


Rain Memory wallpaper by Ambientha

The Rain Memory wallpaper by Ambientha, designed by the visual artist Maryam Lamei Harvani, is characterized by a light pattern in shades of blue and pastel green, ideal for a minimal or traditional style bathroom.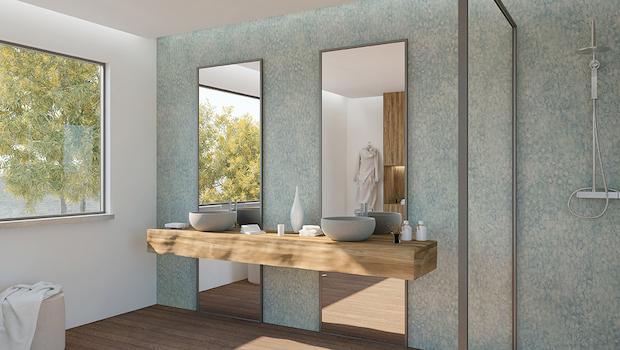 Blue and beige combinations, Rain Memory wallpaper - Photo: Ambientha


The wallcovering, available in sizes up to 960x320 cm, is produced in the Living and Pro models. The wallpaper from the Pro series is made of PVC and can therefore be applied to the bathroom walls, as it is washable and resistant.
The Pro version is equipped with a textured surface, available in 300 g textures Tactile (fabric effect), Stucco (stucco effect), Linea (scratched wall effect) and Fino (fine grain effect).


Bathroom color combination: beige accessories by Westwing

On the Westwing online store there are numerous beige design products that you can easily use to decorate the bathroom area. One of the most interesting collections is the Sono line, made of ceramic and characterized by objects with a rounded shape.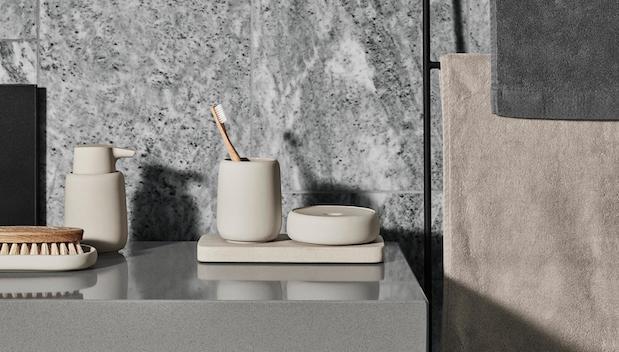 Blue and beige combination, Sono bathroom accessories set - Photo: Westwing


This series includes a complete set of accessories in light beige nuances and a matte finish, such as the soap dish, dispenser, toothbrush holder, cosmetic mirror with magnifying glass and toilet brush.
The total price of the set is 129.96 euros.



Brown and gold for a sophisticated and glamorous bathroom

The combination of brown and gold colors may seem quite odd, however, it gives the spaces a glamorous and sophisticated look.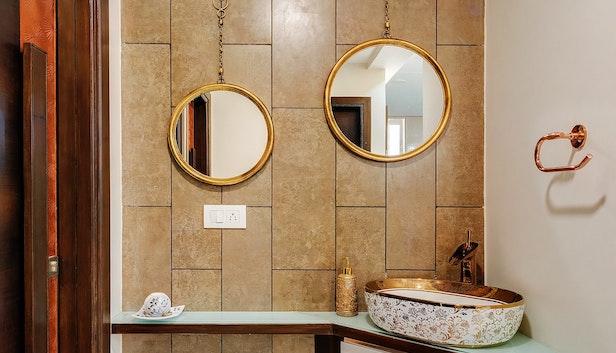 Bathroom colors, gold and brown - Photo: Unsplash

In order to obtain an elegant aesthetic using these two shades, it is advisable not to exceed in the decorations and to opt for sanitary fittings with clean lines and simple and modern taps.


Colored sanitary ware for the bathroom

The Nolita collection, proposed by Iperceramica, is made up of sanitary fixtures available in floor-standing and suspended models (with toilet seat), a countertop basin and a coordinated click clack drain.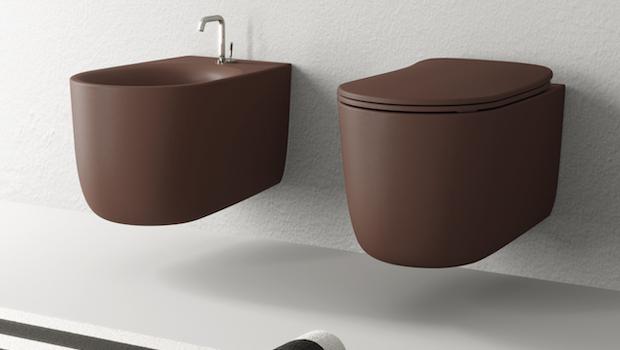 Warm colors bathroom, Nolita vases in Burgundy shades - Photo: Iperceramica


The peculiarity of this series is the Burgundy matte finish, original and extremely elegant.
The water-saving wall-hung toilets (with rimless toilet, that is, without rim) have hidden fixings and measure 55x35 cm. They can be purchased separately or in pairs, at a total price of 683.82 euros.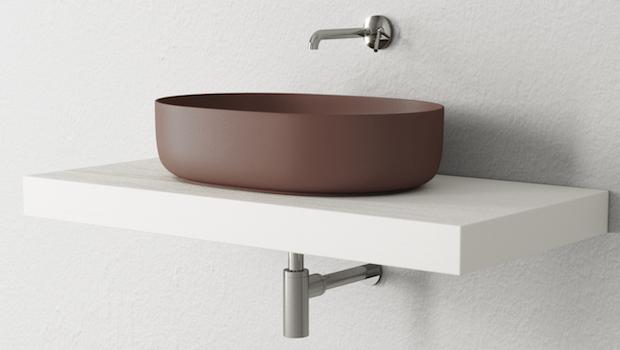 Bathroom in warm colors, Nolita washbasin in a Burgundy shade - Photo: Iperceramica


The countertop washbasin, also made of ceramic, is round in shape and measures 60x40 cm. Currently, it can be purchased at the discounted price of € 287.91.
The Nolita line is also made in the hazelnut shade.


Gold-colored bathroom accessories

Watertube, which is designed by Massimiliano Braconi for Rubinetterie Treemme, is actually inspired by the ancient public fountains made up of a simple copper tube.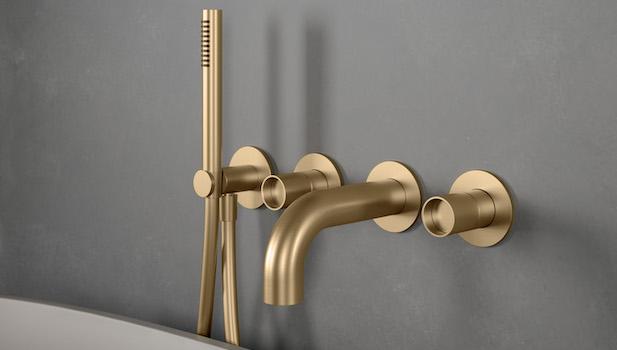 Brown and gold bathroom combination, Watertube - Photo: Rubinetterie Treemme

This collection, whose distinctive features are essentiality and rounded lines, is made of steel and available in all PVD (Physical Vapor Deposition) finishes. Its low-thickness metal roofs, whose main characteristics are resistance to scratches and corrosion, biocompatibility, non-toxicity, are very durable over time.


The Watertube line includes single-lever mixers for built-in washbasins, bathtubs and showers and anti-limescale ceiling shower heads.