Prefabricated houses: here's the reasons for their success

The choice of a prefabricated house as an alternative to the classic house is becoming more and more widespread in recent years, as the purchase turns out to be a valid ecological, fast, safe and economic solution.
Prefabricated houses are gaining importance to the point of currently being one of the main types of housing requested by people in the market, you can find numerous models, with different materials and finishes and able to offer a special kind of customization.

More and more people are opting for this type of modular housing, which is characterized by flexibility of spaces, it is capable of responding to modern housing needs and guaranteeing high energy efficiency.



Prefabricated wooden houses: the advantages

The prefabricated wooden houses are produced with the highest quality materials and according to the most modern construction techniques, consequently, the end result is simply amazing.

There are numerous companies with proven experience in the construction of prefabricated wooden houses on the market, and they all offer excellent quality at very low prices. Furthermore, these houses follow green building methods and are an ecological solution.


Interior prefabricated house - Boklok

Ecological wooden houses are made of materials with low environmental impact, guaranteeing considerable energy savings and excellent living comfort, at competitive prices.

Modern wooden houses are, therefore, eco-sustainable and safe, with many solutions that are perfect for anyone's needs.

Construction times, as one might imagine, are profoundly reduced and, depending on the project, a habitable wooden house, with a turnkey structure, can be built with a few weeks of construction.


The Ikea Boklok prefabricated house: living well

The BOKLOK prefabricated house project was created by Ikea in collaboration with the Swedish construction multinational SkanSka.
It is based on a sandwich construction system and the panels are easily transportable and assembled on site.

The models of the houses, which can be viewed in the catalog, have prices between 25,000 and 45,000 euros.

The rooms can be assembled according to your needs and they are smart and adaptable to the needs of a modern family.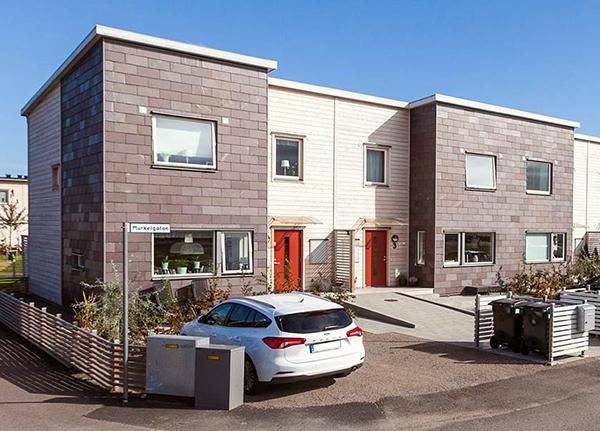 Prefabricated house Boklok

These homes are ideal for low to mid-wage landlords or to help city councils provide solutions for families with housing difficulties.

The goal of these prefab homes is to combine good design, sustainability and quality at a price that as many people can afford.

We are talking about a prefabricated building made with Swedish wood; the facades can be varied with different materials, from Scandinavian design with harmonious shapes and good functionality.

The open space between kitchen and living room saves square meters while building the space in a pleasant and social way.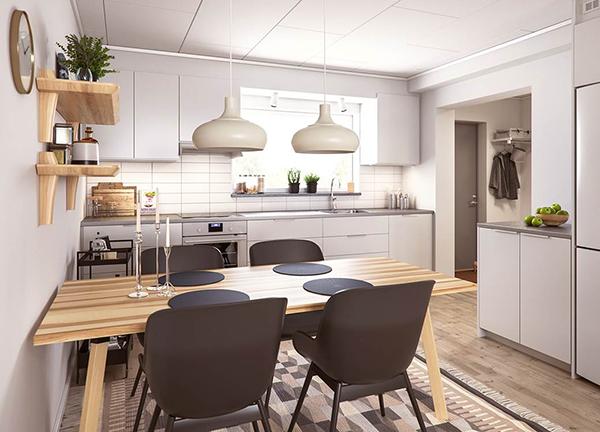 Interior prefabricated house Boklok

The energy efficiency of newly built Boklok homes depends on several factors:


good performance thermal and acoustic insulation;


modern windows that minimize heat loss;


energy class A for boilers and appliances;


low-drain taps for showers and toilets;


build only the square meters you need, saving more energy both during the construction period and during your house's entire life.

Boklok also has a five-year warranty on both contracts and appliances.



Passive house: the fastest construction

In France, the PopUp House start-up was created to respond to the need to find ecological, design and rapid construction housing solutions.

It presents different models of houses of various sizes.

The construction system is based on a wooden structure composed of elements (uprights, beams, etc.) that are cut to size and some prefabricated modular pieces that fit together, allowing assembly on site in a very short time: about 4 weeks, for example, for a house of 80 square meters.

Average price: starting from 2000 € / per square meter.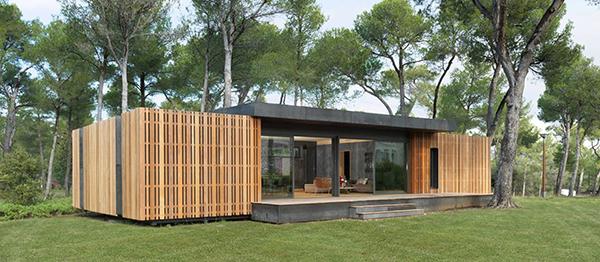 Prefabricated house PopUp House

The wood-concrete panels give an aesthetic appearance typical of concrete.
These panels combine the flexibility of wood with the strength and durability of concrete. Each panel is unique, with a natural, non-homogeneous texture.
Two shades are available: anthracite gray and concrete gray.

The wood panels used for the external finish are treated at high temperature (THT) with a 100% natural process, enhancing the essence of the wood, making it more stable, durable and resistant.

The wood fiber panels are proposed for the internal partition, with different colors and non-homogeneous textures, for an original touch.
Inside the prefabricated panels there are cavities whcih make it adaptable.

The company offers a high quality wooden structure with a contemporary design with premium finishes. A PopUP House consumes 6 times less than a traditional house. The construction costs, by virtue of the services offered, are placed in a medium-high price range.



The ideal home for the perfect place

Alucasa is a spanish company that offers numerous modular housing models and mobile homes of the highest quality at the best price on the market.

The prefabricated houses are customizable, with exclusive designs and made of wood, which can be installed on the land you want, integrating into nature or the surrounding context.

The proposed homes can be moved in the future, can be assembled quickly, resistant and sustainable, also supplied fully furnished and with appliances, with all the comforts at a price significantly lower than that of a traditional home.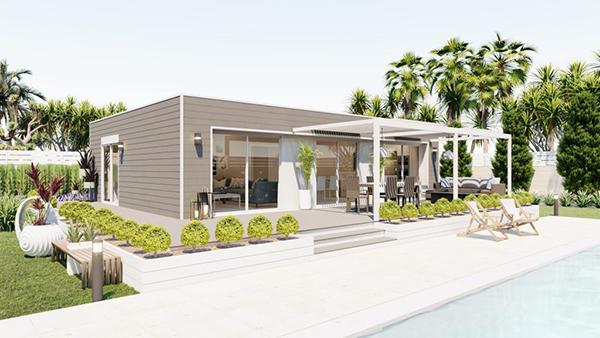 Prefabricated house model Arizona - ALUCASA

The prefabricated modular houses are designed and built in the Spanish company's factory. You can select the necessary sizes and the design that best suits the landscape.

For example, the 85 sqm Arizona model is designed to be considered as a real comfortable villa for everyday use. The distribution of the mobile home and its large windows allow a large amount of natural light to enter.

The kitchen has a large central island that creates an elegant and distinct area. The island, in addition to the stove and worktop, has an additional bar and three stools that allow you to cook while there are guests.


This model has a double bedroom with an en suite bathroom.
It also has a normal bathroom, a single bedroom with its own desk and a second bedroom with two single beds.

Over 90% of the materials used in production are recyclable and residual materials are reused in building blocks. They are quick to assemble and more energy efficient.

Sustainable homes will be the future of housing and a major resource against climate change.