Coatings for built areas

To coat in a valuable way the built works, we use various materials such as wood, metal foils marbles etc., the coatings mentioned for their specific physical and mechanical characteristics, can be made with different thicknesses so that it can be applied on suitable supports.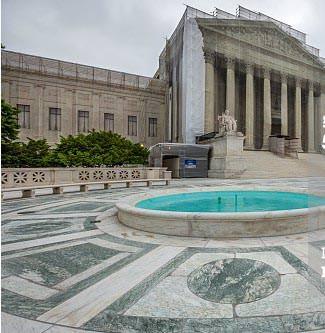 With the wood over the centuries, have been coated furniture of great prestige as the famous Maggiolini, prestigious creations of the most famous Italian cabinetmaker and carver Giovanni Maggiolini.

The thicknesses that were used before the advent of the modern techniques of flaking, reached a maximum of 5 mm thickness, with the machines that are now available it is possible to play with wood, using reduced thicknesses up to a few tenths of a millimeter.

A similar comment can be made for coatings in metallic foils, with even more performant results, from the point of view of the reduction of the thickness.

The coatings with natural stone materials, constituted basically by the wide variety of rocks found in nature, had a lot of use in the past, when they were used for the construction of monumental works such as temples, rich palaces and so on.
The choice of the mentioned stone materials, proceeding from the fact that they ensured resistance duration and a great variety of shades and veins, capable of achieving levels of great aesthetic effect.



Stone cladding for modern architecture

In modern times the use of such coatings went slowly shrinking due to the high costs of materials, the difficulty to reduce the thickness without compromising the strength and durability of the coating, in addition to the need to reduce the weight of the buildings for different needs of static character.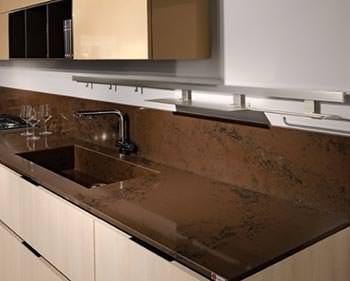 To allow modern designers to use, without limitation stone materials, have been studied various processing techniques that allowed a considerable reduction in thickness of each type of rock to the point that it is currently possible veneer with stones, almost as it happens with the wood.

The new stone cladding are different and may consist of agglomerates of marble and synthetic resin, industrially produced, obtained from the aggregation of marble fragments together with polyester, which however, are not indicated for coating structures placed outside, which instead can be solved by adopting coatings consist of quartz granules mixed with colored pigments and resin.

The product thus obtained, antibacterial and is characterized by an excellent resistance to weathering and acids in addition to having a significant hardness, for these reasons it is very suitable for environments very charged, in which the chemical and mechanical stress are significant, hospitals, shopping commercial buildings open to the public are the environments in which the adoption of these products brings the greatest benefit.



Thin coating result of new technologies

Silestone, Okite, Neolith are companies that produce excellent products for all types of needs, Silestone is proud to produce work plans consisting in a percentage of natural quartz equal to 94% of the structural composition, this allows the realization of plans with great hygiene together with the availability of bacteriostatic protection that guarantees its use in any style of home.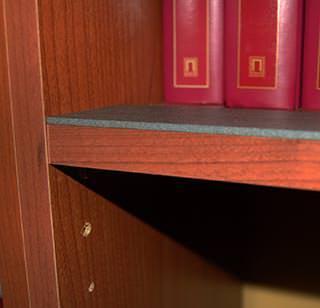 Okite, well known brand of sector-based products of natural quartz, allows the realization of any kind of surface machined and shaped according to the design requirements, the availability of different colors and shades of the product resistant well over five times compared to materials such as granite, together with the absence of surface porosity, prevents the absorption of any substance, thus ensuring a total hygiene.

Without the need for chemicals for cleaning, it is an extremely safe product for any use.

In particular Neolith presented at the recent edition of Cersaie in Bologna a revolutionary new product that the company claims to be made from all natural materials sintered with high mechanical strength and in my opinion with aesthetic characteristics such as not to regret absolutely traditional ones.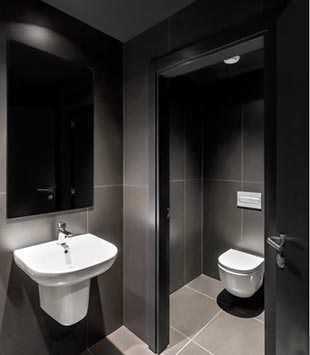 The products by Neolith on display at Cersaie are suitable in shelving for kitchens and bathrooms, flooring, wall cladding interior furnishings and exterior facades.

The company states that the product is 100% natural and is composed of primary raw materials - clay, feldspar, silica oxides and natural minerals and is recyclable. Neolith has a porosity close to zero and therefore is hygienic, anti stain, easy to clean and impervious to chemicals. The product is also resistant to wear, scratches and heat; its colors, having a natural basis, do not change with exposure to UV rays.

This product also has the advantage of being lightweight and easy to install, then Neolith is perfect for virtually any use indoors or outdoors.

The big news by Neolith is contained in the special sintering technology by which minerals and other raw materials are subjected to pressure and extreme temperatures (above 1200C/ 2200Fahrenheit) in a process that mimics and concentrated in a few hours the natural formation of the rocks, which naturally requires millennia.

This treatment gives the product excellent physical and mechanical properties in terms of compaction, strength and durability, thanks to the special procedure described.

Neolith is able to achieve in line with the latest market trends and to satisfy the growing demand for marble products such as white Carrara, Calacatta, Travertino Classico Travertine Navona, as well as two new versions of Estatuario which combine the typical grain robust Statuary mixes more subtle, innate in Calacatta marbles.

What most excites designers, is the possibility to dispose of the materials mentioned with thicknesses varying from 6 to 12 mm, which allows to coat and realize every kind of draft internal and external, creating a coordinated system in which the same material is possible to realize for example a bathroom environment in which each element is made with the same material.



Thin coating and charm of light

In the project by Neolith is shortly expected the distribution of a mixture of clay translucent Onyx able to create highly evocative environments due to its ability to exploit the backlight.

The other collections of Neolith as Fusion, Iron and application of methods such as Polished finish, Silk, give the opportunity to make in a completely realistic and surprising materials such as concrete, cement, and all kinds of stone surface.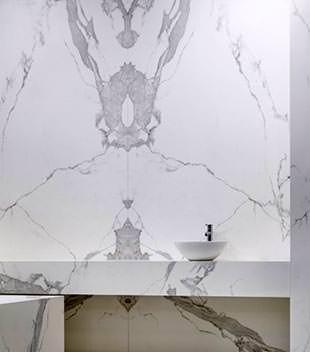 Spectacular is the material made of materials such as Absolute Black, Black Zimbabwe, with which you can create the table tops and other furniture items with reduced thickness, extremely strong.

Neolith also offers, thanks to the large format is meeting its material dimensions 1.50 x 1.50 m, 0.75 x 0.75 m, 1.50 x 0.75 m, the ability to coat all types of environments, with the advantage of reducing the number of joints in all the benefit unitary image of the intervention over that of hygiene of surfaces.

In addition to the advantages described above, it is considered that the low thicknesses up to 3 mm. plates allow you to make many restyling of existing structures in order to renew in a superlative way spaces that have become decadent.

It should also be noted that the incidence of costs and changes in the construction site, lay in favor of the use of the innovative coating with which you can achieve even open book marble surfaces as well as with the natural material.