What is Home Staging?

The Home Staging is a specialized service, which consists in preparing a house in order to rent or sale it faster and more profitably. Literally it stands for staging the house, in order to shed light on its quality, also trying to find solutions to its defects: a strategy of proven efficiency in order to give a good impression to the buyer and ensure that the deal is easier and more profitable for the two parties.

It is not about a radical renovation, but to make small and significant changes, and at low cost; changes that are able to make more palatable the house, waiting for the sale or the rent. Some clever touches, thanks to the ideas of experienced designers, such as architects, interior designers, set designers, in the garb for the occasion, of home stager.



Home Staging entrance-living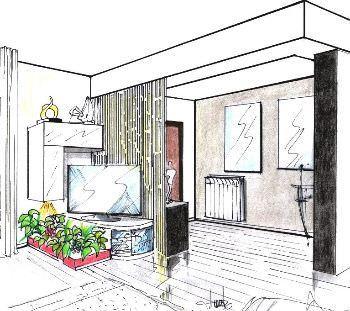 It is, therefore, a makeover, or a change in the look of a flat, or even of a single room, to better distribute some dominant areas, in order to get a better functionality and aesthetics.

In fact, the visual and psychological perception, that you have in the first minutes of the visit to the property, it will be critical for the subsequent decision to purchase it or rent it.

A study of image, to entice potential buyers or prospective tenants: for example, through divider panels, frames, mat, wallpapers, paints material effect, lights in strategic locations, furnishings that give prominence to the environments.

In my presentation, here is a way to give added value to a named input, for example by creating an imaginary wall, which divides the seating area giving plenty of privacy; to characterize a corner of the living room and give a new appeal to the first visual impact that is felt as soon as you enter the house.

It creates movement, a plaster ceiling, surrounding the entrance area; and a rayon curtain wire like a wing virtually divided between them, the two input spaces, the entrance and the living room. To make the new scenographic setting, in which to juxtapose two wall units that form an inverted L, which in turn illuminates, by means of a spotlight cashed in its bottom, an attractive flower box.

Which may be made of plasterboard, with inside a box of galvanized sheet; then painted, for example, in red, in perfect color contrast, with the texture of the new flooring in laminate gray, and black furnishings already in place.

This flower box is an imaginary step, approaching to a volume container, which can be also made of plasterboard or MDF, for VCR - CD Hi-Fi and other materials, with glass doors. This container also serves as a table and TV holder, whose back is masked from the entrance, by means of the light, almost transparent, wires curtain.

In this way, the corner entrance-living, has acquired a decorative dimension; suitable I would say, in this case, to act as a business card for the property. Such a solution, could be suitable for example, to transform a flat static on the market, in a micro receptive structure.


Home Staging for living room

In my representation, we can see another example of how we can intervene at low cost, to create a false wall of attraction, which divides the entrance from the living room.

A platform is the base for a modern colonnade, tubular steel painted in glossy black, mounted on a circular plate anchor; while in the upper part, the adjustable spacers, allow the locking to the ceiling.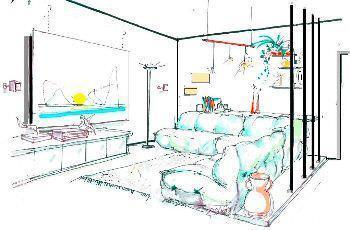 We thus still left an open volume, while also allowing a separation, and letting enjoy the lounge area.

The lighting is a system of LED lights on a track suspended horizontally, to create a soft atmosphere.

So a game of vertical and horizontal lines, to define the living area, in the lively tones of blue sky, with light green and clever touches here and there.

The platform itself, acts as a separator, but also as an exhibitor during the day, to accommodate items of furniture, which can be for example a clay pot, or figurines, or plants: the result is a drawing room - reception, suitable for example, if you want to turn the property into a bed and breakfast.

Therefore, the Home Staging, or the art of enhancing the property in order to sale or rent, it is a profession that is increasingly taking on the role in stimulating the real estate market itself, giving dynamism to a sector that has slowed down, in recent years, due to global economic changes.