In a house that is divided into different levels, the internal staircase, especially if it is exposed, it comes to be itself a piece of furniture, like other objects and accessories.

Today you can customize even more the staircase and make it a real piece of furniture providing it with accessories specifically tailored.



Furnishing the stairs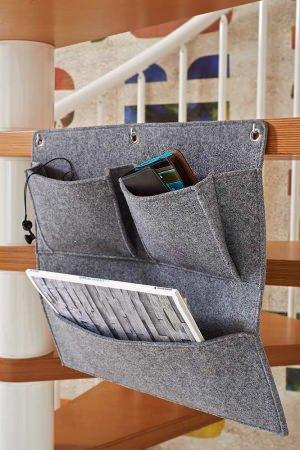 The staircase, therefore, is no longer just an element of transit and connection between different rooms, but it becomes an element and a piece of furniture with multiple functions: a real space to live for which we can propose new solutions that are as useful as pleasant from the aesthetic point of view.

Fontanot, a leading manufacturer of interior stairs, is the first company who thought, thanks to the collaboration with the creative laboratory Fontanot Lab, a line of accessories designed specifically to furnish the internal stairs.

The first projects were developed from the study Colombo & Vantusso (shelf Shelf-Y) by Giulia Meloncelli (hanger trul-Y), Laura Brivio (coin tray Timel-Y) and Valentina Downey (forniture for under the stairs Space-Y).

Hence its new accessories for the furnishing of the staircase: original, because they are the result of the ideas of the best Italian designers, and ecological because they are made by using recycled and recyclable materials. They are also designed in modules, so as to be easily mounted on any type of staircase.

These shelves, hangers and various containers coin tray that, in addition to decorate and make beautiful every house are also very useful and functional to keep everything in order and always at hand.

These new ideas to furnish your house are only available online on the e-commerce web site of FontanotShop.



Gate for stairs for the safety of children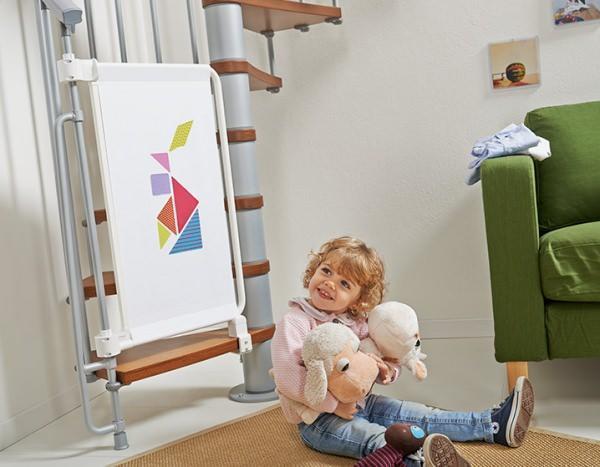 It complies with the latest safety standards, Kalypto is the gate for stairs designed to protect children between the ages of 0 and 24 months, interpreting what is a need for security through a design idea that becomes cheerful and a safe quality solution.

It is adjustable to fit most sizes and types of internal stairs, with two versions for mounting: the railing or wall.



Shelves in plexyglass for the stairs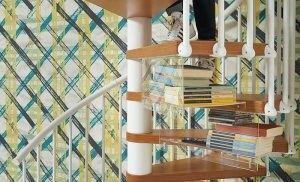 With the shelves Shelf-Y, the steps of the spiral staircase become supports for an original library, tailored up to the available space of your house, useful to store books in view, DVDs and other items of house.

The shelves are made of plexiglass, with 100% recyclable materials, and the installation is very simple thanks to their symmetrical structure.



Wooden coat racks along the stairs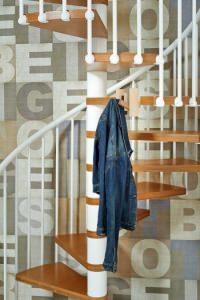 Trul-Y is a hanger featuring a modern design, elegant and simple, easy to assemble quickly on the wooden steps of any spiral or ramp staircase.

Valuable as a support, the hanger coat, however, is designed not only for the stairs, but it can also be fixed to the wall, when equipped with appropriate screws, and it is produced entirely of salvaged wood, these are also recyclable.



Felt coin tray for the stairs

Timel-Y is an original and elegant coin tray in felt for the stairs. It is fixed to the wooden steps and it is easy to assemble.

It is equipped with three large pockets to accommodate all those small items to keep on hand when you arrive at home or when you go out and it is available in three colors, two of which are in recycled PET.



Forniture for under the stairs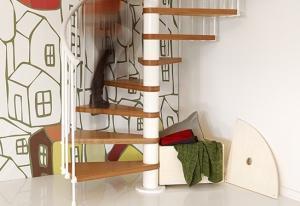 For those who are looking for more space in the house, Space-Y is an original and handy container on wheels designed just to stand in the corner under the stairs of a spiral staircase.
The presence of the wheels allows you to move it easily if necessary.

The cabinet is made in FSC wood, 100% recyclable, which can be easily customized by painting it with water colors.


Where to turn to?

Fontanot is a historic brand of Made in Italy quality, capable of combining craftsmanship and technology in the production of stair for over than 40 years.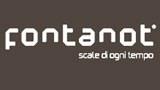 Research, innovation and attention to their customers today lead the company to evolve further, recalling the stairs space with new products and designer accessories that become original furnishings for the house.

All this is possible thanks to the collaboration with Fontanot Lab: a laboratory of creative design, open to new ideas for the interior of the house to be translated into solutions of industrial design.


The wallpapers in the photos appear courtesy of Wall & Deco.