Modern desks for the workspace

Particularly functional office workstations and study corners can easily be created by using specific furniture with a modern style, which includes various functions.
Desks with bookcases, also retractable, corner or space-saving, are perfect for children's bedrooms, elegant and versatile office desks made with quality materials, with unique and particular lines, are of great effect.
Furnishing a work space, whether it is a home office or a displaced office, requires the choice of some fundamental elements such as the desk and the seat, which must be ergonomic as well as functional, so as not to tire the person who uses it for a prolonged time .
On the market it is possible to find numerous models of desks made of different materials: glass, wood, metal, capable of adapting to any work requirement.



Office glass desk

The Smart Arredo Design company offers different models of desks for the office with a modern design, able to satisfy any need for space and taste for furnishing the office.
The priority is for space-saving furniture, such as the Scriba glass computer desk, which blends naturally with home and work environments.
Made of 10 mm tempered glass, aluminum and 18 mm ecological laminate, it can have a soft-touch finish in Matt White, Dove Gray, Slate Gray, Walnut, Carbon Black, Natural Oak. Price € 576.00.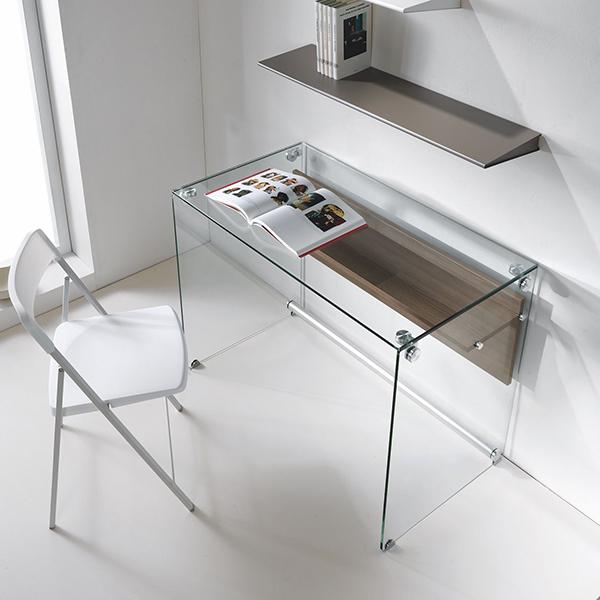 Scriba modern glass desk - Smart Arredo Design

Another model is Mydesk, a design desk for computer in glass and laminate of 100 cm in length, which expresses class and elegance, modern and functional, perfect in combination with the shelf bookcase of the same line.
The structure is in 10 mm tempered transparent or smoked glass, top and drawer in 18 mm soft-touch ecological laminate. Measures W100 x D55 x H75 cm.
Currently available at the discounted price of € 556.00.



Office desk with chest of drawers

A company called SEDIARREDA.com proposes the Idea Panel 01 model, an office desk with peninsula and chest of drawers, in laminate, in different sizes.
It has an L shape, with a front "skirt". The structure is made entirely of wood composite covered with melamine laminate, 18 mm thick, anti-reflective, scratch-resistant, washable.
The top and the drawer fronts are edged on all four sides with rounded 2 mm thick shockproof ABS.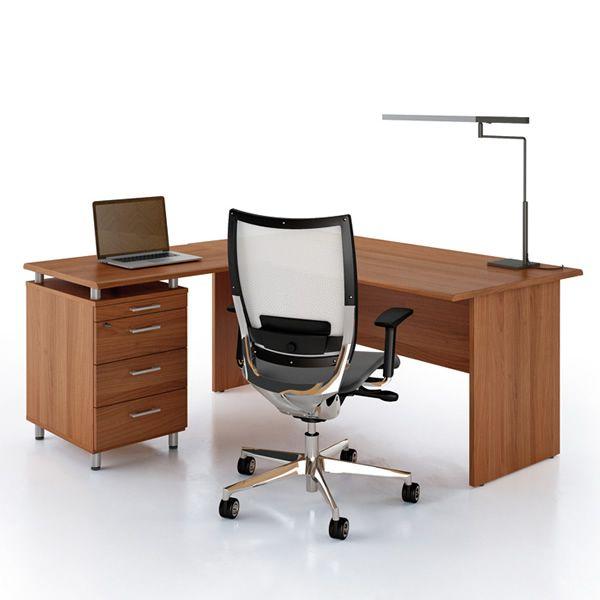 Idea Panel 01 desk - Sediarreda

The covering laminate is available in many finishes: white, gray, concrete, natural beech, oak, canaletto walnut, elm.
The peninsula has a depth of 60 cm and is 100 cm wide. The chest of drawers that supports the top rests on four feet with a silver gray finish, is equipped with three drawers and a stationery holder.
The inside of the drawers is in silver-colored PVC. The lock, as standard, is equipped with a folding accident prevention key with simultaneous locking. The drawer guides are made of metal, equipped with a special stop.
The desk with drawers has a height of 72.5 cm and a depth of the top of 80 cm. Available widths: 140,160 or 180 cm. Discounted price € 662.70.



Modern wooden desks

The Tikamoon company offers original wooden desks with a modern design.
For example, the Trestle model, is a solid teak desk with contemporary lines that are easy to combine with many styles of furniture.
The desk is in FSC solid teak: eco-sustainable forest management, has a worktop 200 cm wide and 100 cm deep, the height is 77 cm. Available at a cost of € 1339.
The color of the wood allows multiple combinations. The adjustable base allows you to create a workspace at exactly the right height.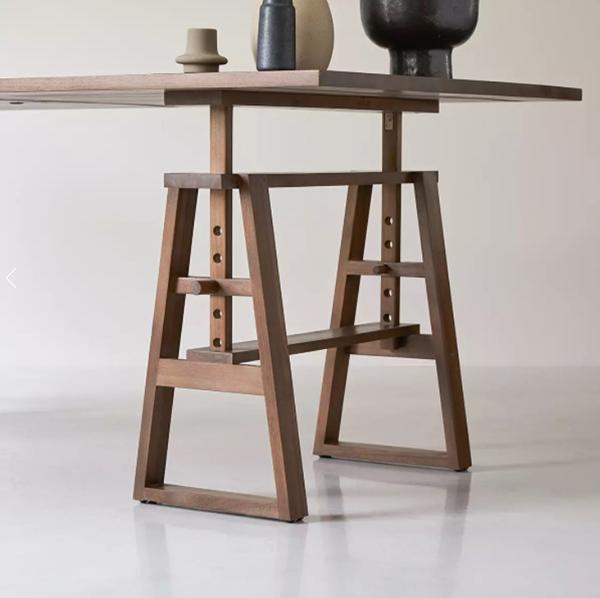 Trestle solid wood desk - Tikamoon

Designed for work, it can also be transformed into a spacious dining table in the living room or kitchen. It can be combined with other furniture from the Twist or Scandinavian-inspired collection.
Another model is the Eden desk in solid oak, an expression of elegant sobriety.
Crafted in a light wood, which allows many combinations of style, it blends with the furniture in all the rooms of the house, to compose a work corner or in a large hall.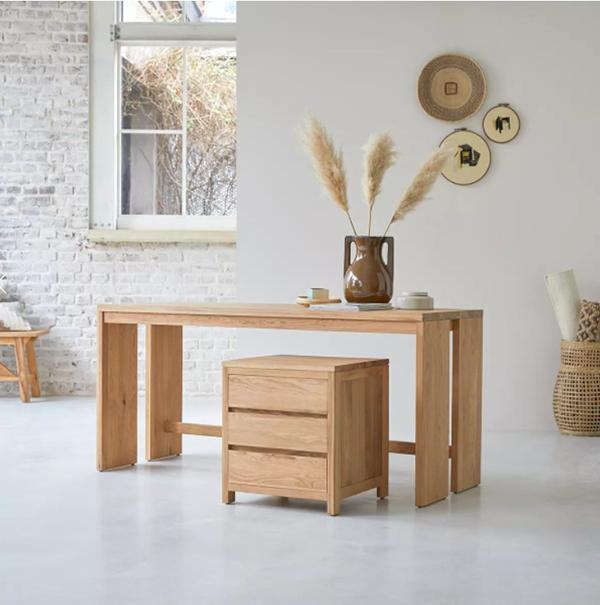 Eden wooden desk - Tikamoon

The contemporary design and the modularity of its chest of drawers allow you to create a very practical space. Available at a cost of € 749.



Desks with a modern design

The Viadurini company offers some very particular models of desks with a modern design.
For example, the Atkinson desk with an Italian design, characterized by an innovative shape made of Solid Surface, a composite material obtained by processing foams coated with special resins, which is revolutionizing the world of design.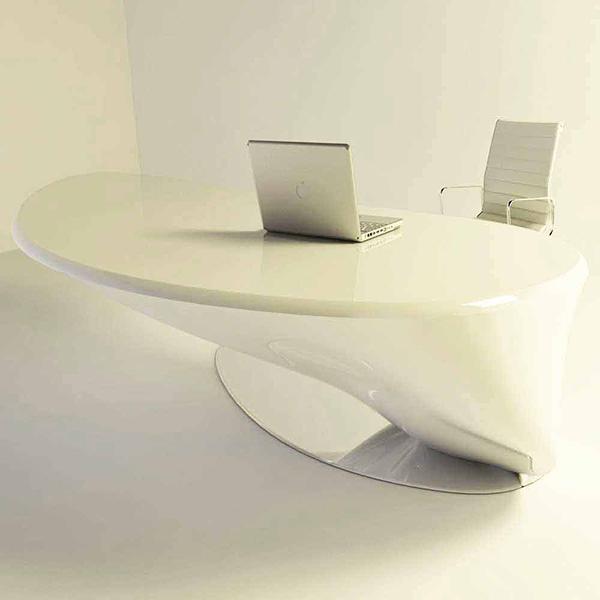 Atkinson - Viadurini modern design desk

This monolithic looking desk is very resistant to wear, easily washable, extremely versatile, any shape can be made.
It is light, therefore easily transportable and adaptable to various needs.
It does not have any type of visible joint, it is a unique object perfect in office spaces but also in reception points, shops or other spaces to be customized.
The Flex model desk is characterized by a sinuous and functional design.
The structure moves in the space creating comfortable shelves, magazine racks, pencil holders and drawers.
This modern desk is entirely made of Solid Surface, the colors can be customized; it is possible to choose the type of glossy or matte finish.



Desks with sinuous shapes

The Miagliano desk proposed by Viadurini is the office desk where all the functionality and beauty of made in Italy design intertwine.
Thanks to its sinuous, graceful and modern shapes and its 360 ° rotating drawers, it gives your office style and charm.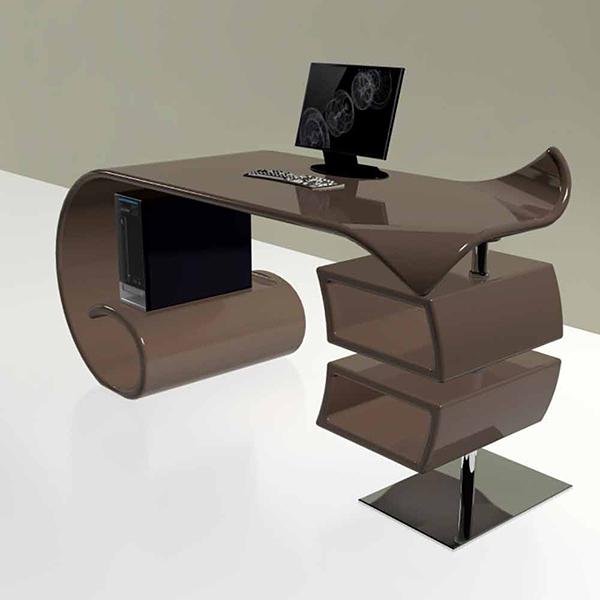 Miagliano modern design desk - Viadurini

Its finish is glossy lacquered in a choice of white and brown.
Made of Solid Surface, it is also possible to have it in other colors and customized sizes.
The Velo desk has been designed to combine functionality and a strong aesthetic impact.
It is characterized by a design with organic and sinuous lines, as if it were a soft veil, which folds and wraps the surrounding space.
Its sculptural form is such that it can be inserted both in modern and minimal environments and in luxurious rooms of the highest level.







Made of Solid Surface, it is available in three color variants: White, Black, Taupe.
All Viadurini Design products are accompanied by a progressive serial number, engraved directly on the piece of furniture to give greater importance, value, authenticity and uniqueness to each piece purchased.