Features of the convertible pool table
An amazing convertible pool table inside the house is able to satisfy the needs of any pool enthusiast offering, at the same time, a stylish look.

The convertible pool table, thanks to its characteristics, can be placed in any room, from the dining room to the guest room.
This type of table is easily transformed thanks to its large surface, often made up of several interlocking parts, that can be placed on the surface when the game is finished.



Choose the convertible pool table
The convertible pool table is often characterized by a refined look and is available in different furnishing styles, even if it is initially designed to play with it.

It is possible to choose between various models: from the more traditional wooden models to the more modern ones that can be customized in various colors, up to tables with a unique design.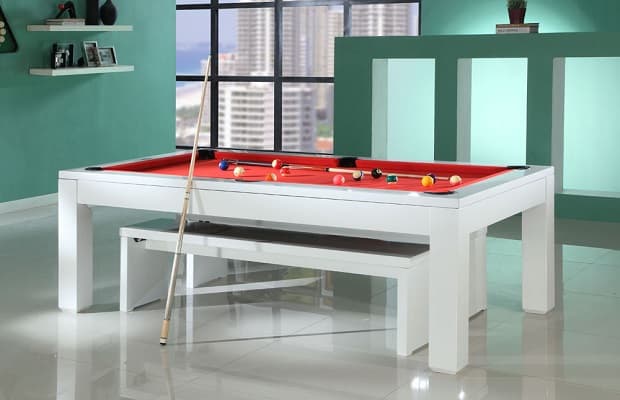 Top Diamond white convertible pool table by Cirillo billiards


When you decide to buy one you must take into consideration the dimensions of the pool table: in general, a convertible pool table has a length of at least 210 cm which, in some cases, can reach 230 or 240 cm.

The most used material is definitely wood, especially in the case of fine tables. Many companies also use MDF and different kinds of wood fiber panels.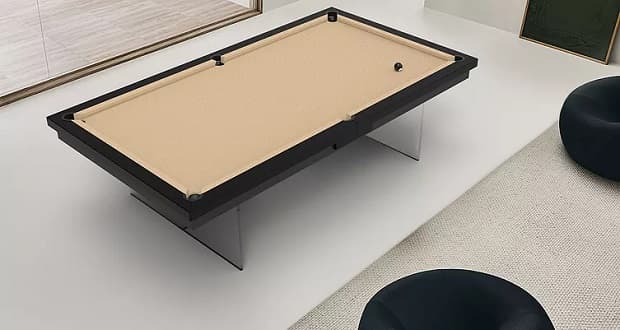 Open Sky convertible pool table by Biliarditaly

Pool tables, in the case of very advanced models, are often convertible not only into a dining table but also into a ping pong table or a poker table.



Modern convertible pool table

NG Biliardi offers many models of transformable pool tables, suitable for environments with a modern style.

The Daytona convertible pool table can be transformed into an air hockey, ping pong, poker table and dining table; a real piece of furniture that allows, when needed, in order to play the game you prefer.
One of a kind, Daytona, in the dining table version, makes the decor of the entire room warmer and more welcoming.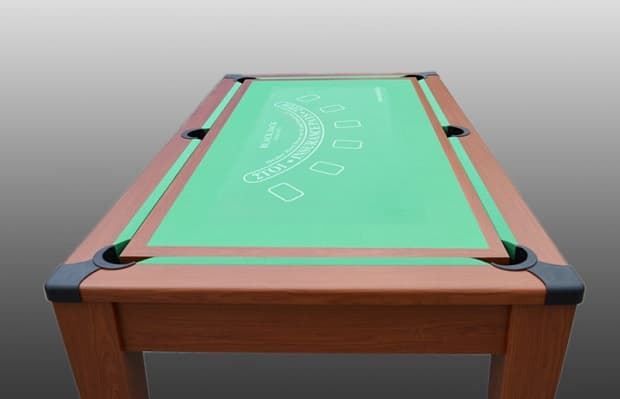 Daytona pool table by Ngbiliardi

The table, available at a discounted price of 499 euros, comes with all the accessories for each type of game: if you want to play pool you can use the 2 wooden sticks, 15 colored marbles, chalks, triangle and sponge for cleaning the cloth that comes with this model; if you're interested in poker you'll get 1 deck of cards and 2 rackets and 2 balls for table tennis.



Elegant convertible pool table

Fenice, on the other hand, is a pool table with a very elegant style that will give a touch of class to the whole environment. With its exclusive design and attention to detail, Fenice transforms into a billiard or ping pong table in a few seconds.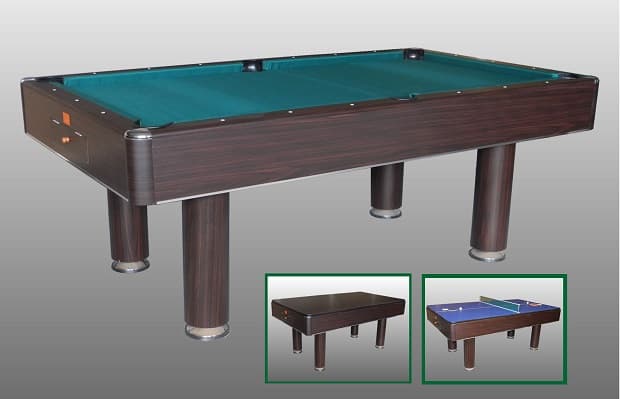 Fenice open transformable pool table by Ngbiliardi


This model, which is characterized by soft and delicate lines, also ensures extreme strength and practicality: each leg has level regulators with independent adjustment, while the special high quality Speedball idros cloth, once installed, increases the value of the table and ensures smoothness and durability of the surface.

Fenice, with transformation plan into a dining table and ping pong included, can be purchased at the price of 539 euros.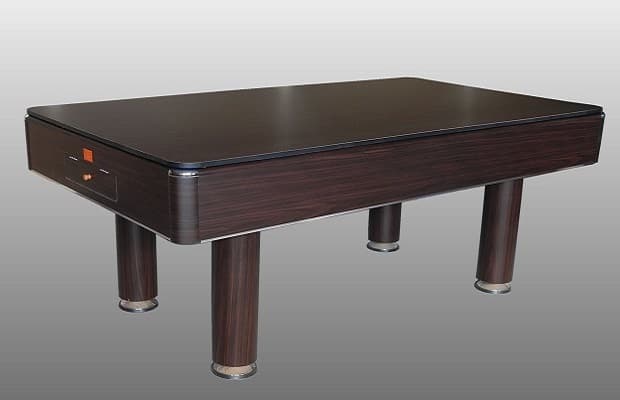 Fenice open transformable pool table by Ngbiliardi


Lastly, Giunone, available at a cost of 539 euros, is a multifunctional home pool table in total white, wood and black versions, with a refined look that can also be transformed into a dining table and ping pong table.

Giunone is the most amazing pool table and a very practical piece of furniture that can transform very quickly by placing the supplied table top on the surface.

Giunone white pool table by Ngbiliardi

Giunone also has level adjusters in each leg to ensure maximum comfort and stability.



Customizable pool table

The convertible Diamond pool table of the Top line by Cirillo Biliardi is made of solid wood and it is available in white, black and brown.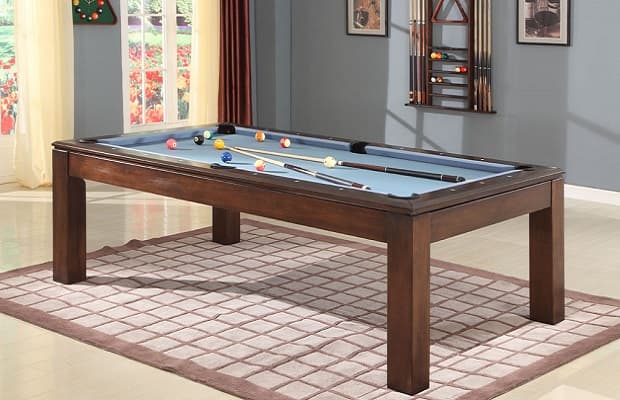 Top Diamond convertible billiard table by Cirillo


Diamante very quickly becomes a large and comfortable dining or conference table by mounting the cover made up of 3 wooden pieces.

Made with top quality 3-piece slates, this table can be customized on request by the customer, with the possibility of choosing between different colors for the cloth.

Beja, which is equipped with elegant and at the same time essential lines, is a table built on 4 square and linear bases.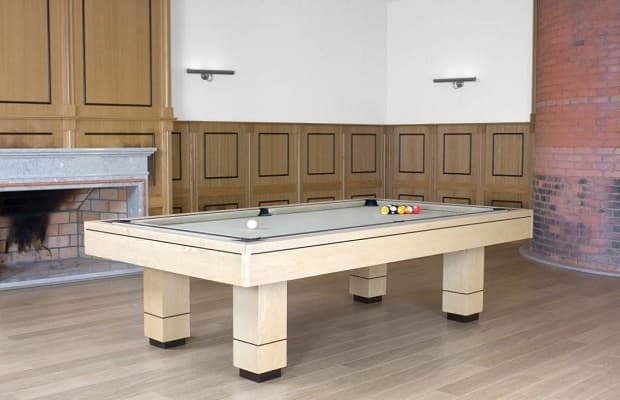 Beja convertible pool table by Cirillo


This table, which is available in light oak color with matt black finishes, is also customizable with any kind of wood. Beja, which comes with a cover to be transformed into a dining table, can be purchased by choosing between different cloth colors.

Paris, essential in design, has squared lines but comes in Ardesia gray and can be customized in various colors. The top, also in high quality Slate, allows you to transform the home pool table into a dining or meeting table.

Paris convertible pool table by Cirillo

To find out the cost of the pool tables offered by Cirillo, you need to send a direct request to an operator from the company website.



Design convertible pool table

Biliarditaly offers models with an exclusive aesthetic to those who want to furnish their games room or dining room with a pool dining table with an original design.

The Sky model is a table apparently suspended in the void which is actually supported by two solid legs made of crystal. Made with carefully chosen and high quality materials, this table is able to satisfy any gaming need, even at a professional level.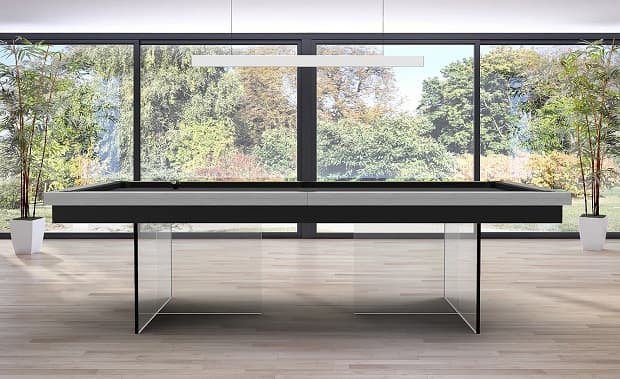 Sky transformable billiard table by Biliarditaly


Easily transformed into a dining table with the addition of 4 interlocking wooden covers, Sky has a solid wood frame and a polished iron counterframe with any type of color of your choice.
Armistà, on the other hand, offers a 250 kg slate playing surface.
Made of solid ash wood and reinforced with a steel bar that prevents the frame from bending, Armistà offers extreme elegance and a unique design to be inserted especially in modern environments where it will create a significant impact.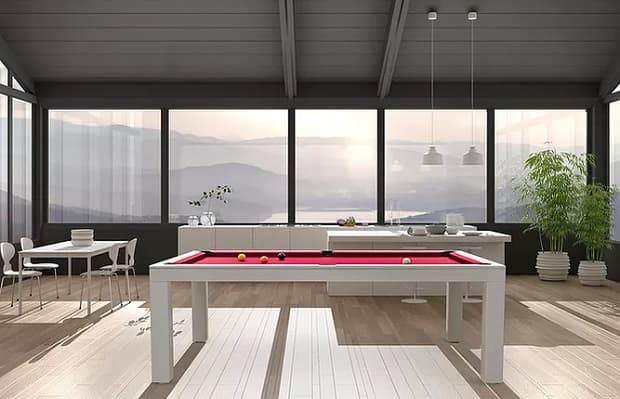 Armistà convertible pool table by Biliarditaly

This model, in addition to the elegant design, also guarantees practicality and silence, during theconverting process, in a completely discreet way.



Convertible pool table

Last but not least: the inimitable design of Montecarlo makes any environment in which it is placed feel like the most exclusive place on earth.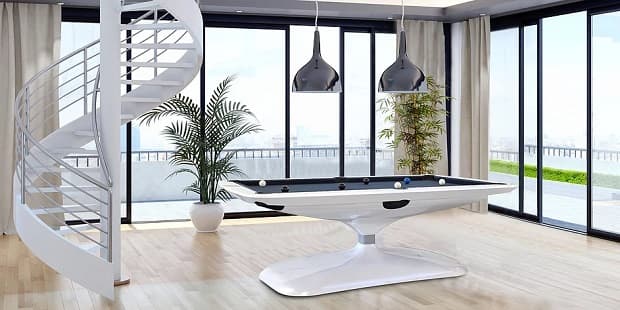 Montecarlo open white convertible pool table by Biliarditaly

Montecarlo, thanks to its visual lightness and the original shape created through 3d technologies and covered with very resistant car paints, quickly and easily transforms into a dining table thanks to the 2 interlocking wooden or glass covers.


This model, which is extremely solid and sturdy but at the same time has a very refined aesthetic, also has soft PVC pockets hidden in the finish that are able to ensure maximum silence. Montecarlo is also available in the carom table version, without holes.

To find out the price of Biliarditaly pool tables, you need to request information on the company's website.