Comfortable lighting with wireless lamps

Even if we just got through the holidays, we still are in the middle of the winter and quality lights might help you to enhance the look of any room in the house. If you want to impress guests with finesse and without taking too much space, you can buy a battery-powered light, which looks good both on the floor and on top of a piece of furniture.

A perfect example is the Bonsai Tree, a table lamp available on Amazon, which features an innovative and elegant design at the same time.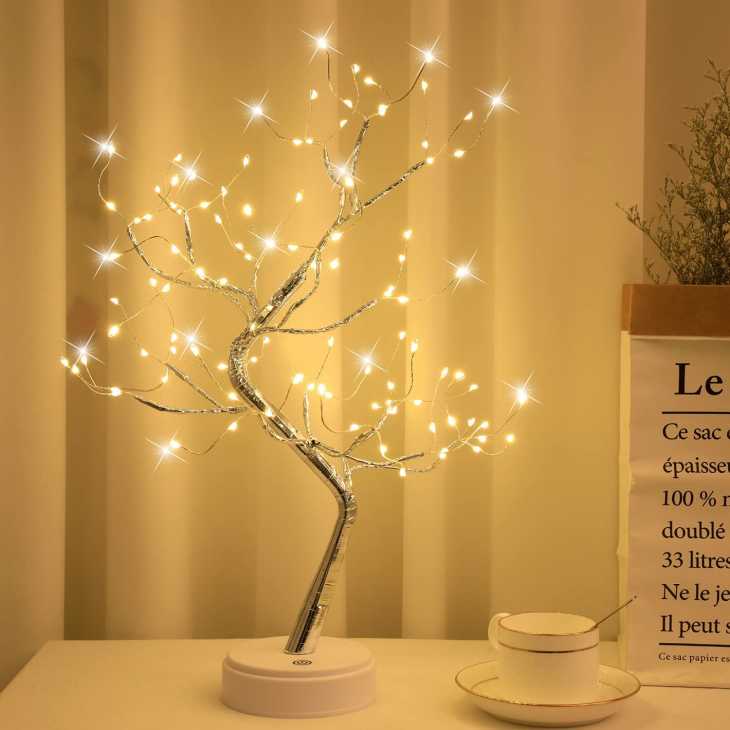 Bonsai tree with battery-powered lamps available on Amazon

The table light works well in all areas of the house: from the entrance (on a shelf or desk) to the kitchen (as an ornament).
Thanks to its white light it gives a suggestive and welcoming atmosphere.

If you take a look on the internet you will also find wireless solar powered lamps, such as Lola Silm or Lola 45 by New Garden which are actually perfect for both indoor and outdoor spaces.

Here are all the solutions for quality lighting.



Wireless led lamp: features
Battery-powered lights, if you compared them to cable lights, do not need to be connected to the electrical system, they, in fact, only need to be recharged.
For example, the Theta wireless lamp, from the Zafferano brand, that you can find on Amazon, has a full charge works for 9 consecutive hours, while the Luce Lola Slim 120 from 8 hours to 12 hours (if recharged with solar energy from 2 hours to 6 hours).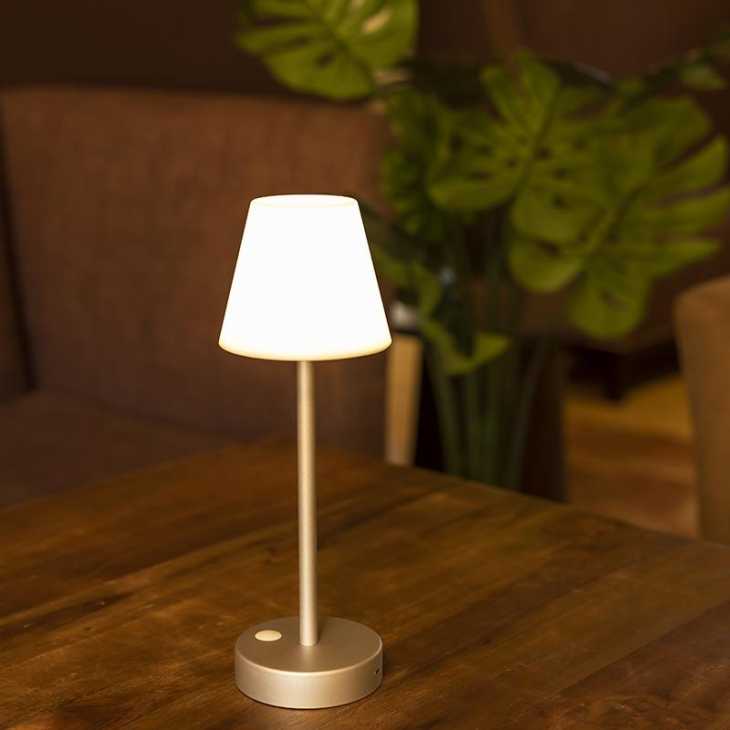 Lola Slim floor lamp by New Garden


That being said, you must keep in mind that battery-powered lamps have a limited duration and, if we want to use them for an evening with guests, it is advisable to keep them charged the day before.
The charging system changes a lot, depending on the model: Lola 45 has a battery charger, while the Bonsai Tree has two power sources, the battery compartment (3 AAA) and the USB interface (compatible with computer or mobile). As for ignition, the battery-powered lamps have the appropriate button or remote controls.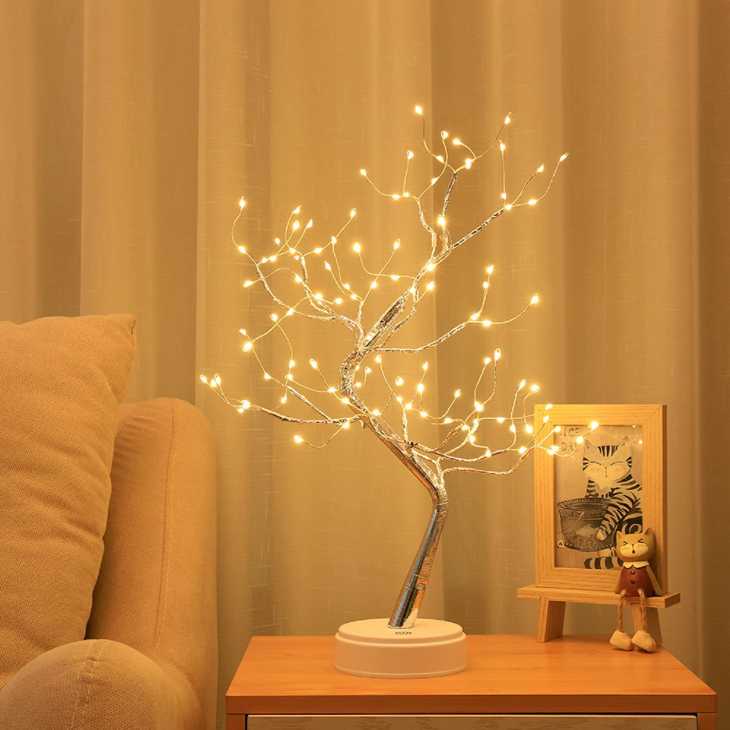 Bonsai tree online on Amazon with wireless led

All features that make battery-powered lamps valid additions to fixed lights.



Battery-powered lamps: let's find the perfect one

A wireless LED lamp represents a solution to embellish a piece of furniture or a table with a strong visual impact. With its elegant design and essential structure, Theta looks good on small and large furniture.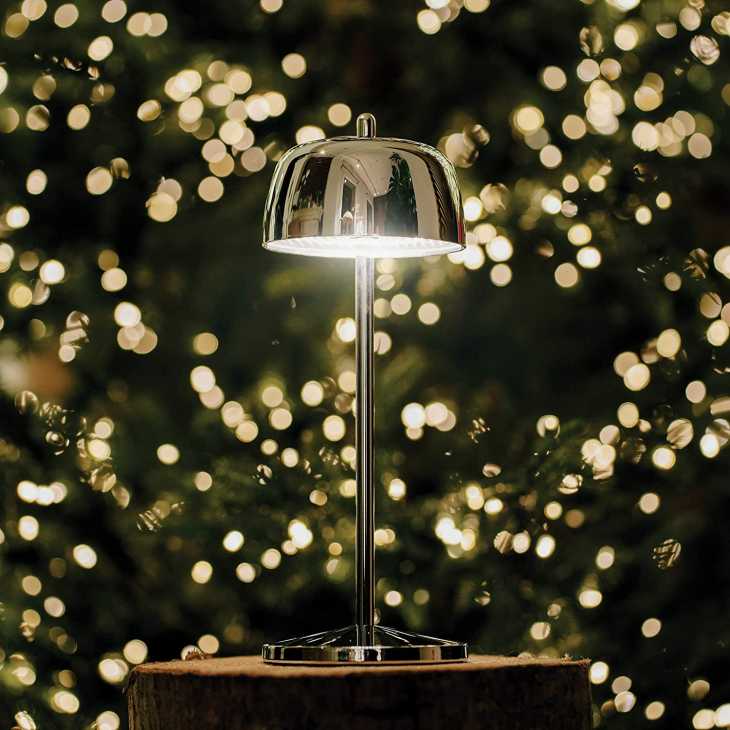 Theta wireless led light available on Amazon

The wireless lampshade can be placed near the entrance or in the living room on a shelf or on a coffee table and with its light it improves the atmosphere of the room.
If we want to insert other complementary objects, it is better to opt for small ornaments so that the light can enhance them to the fullest.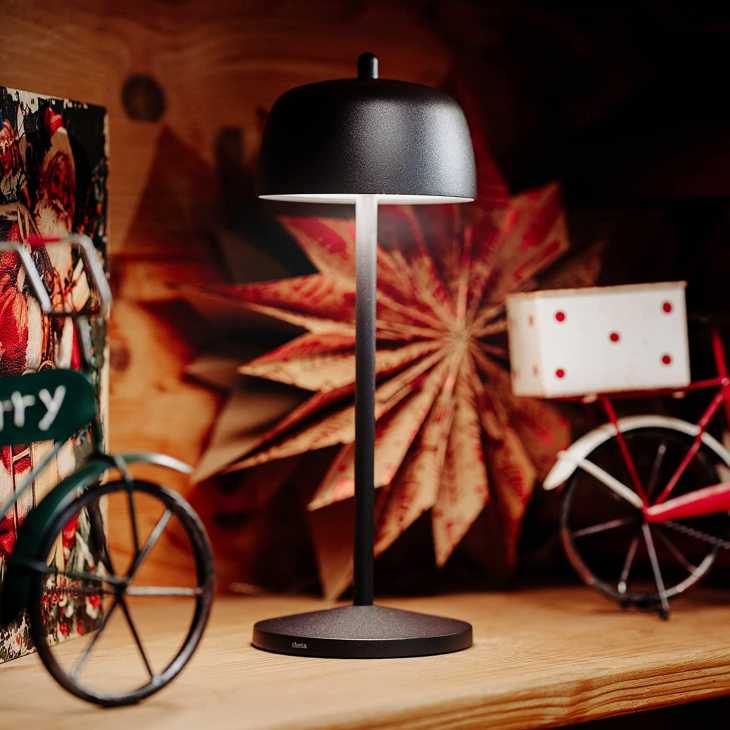 Theta wireless lamp (Amazon) that acts as an ornament


This model can also be placed on a table if we intend to organize a lunch or dinner with guests. Even the Bonsai Tree looks good both on a piece of furniture and on a table. If our living room is furnished in a minimalist style, then we can place the wireless light on a stool or a shelf, while if we have a room full of objects then it is advisable to place it on a table, so as to have a space of its own.
Compared to Theta, it is not suitable for tables with many people, but it can be used as a decoration for a romantic dinner.



A wireless led light for special occasions

Christmas is the time of year when the house is full of decorations of all kinds. Also, concerning new year's eve night, if we are goung to invite relatives or friends for dinner we can focus on wireless LED lamps.

Star Window by Lights4fun is a model that has the shape of a star wrapped in tiny lights and it is capable of creating a warm and reassuring atmosphere.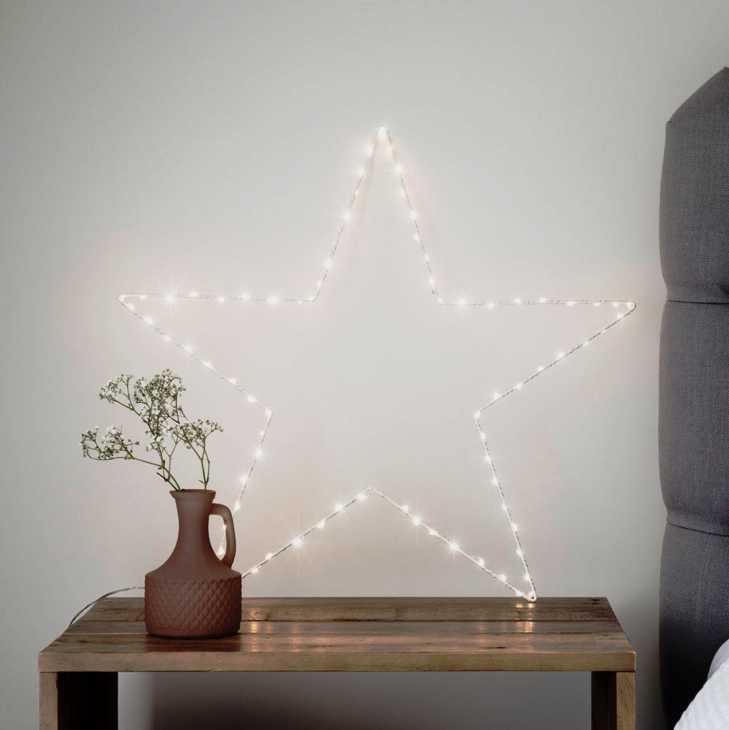 Star Window, Light4fun wireless led lamp

This model, which is omposed of 87 Led lights, has a metal structure resistant to any movement. It can be placed over a fireplace or a window sill.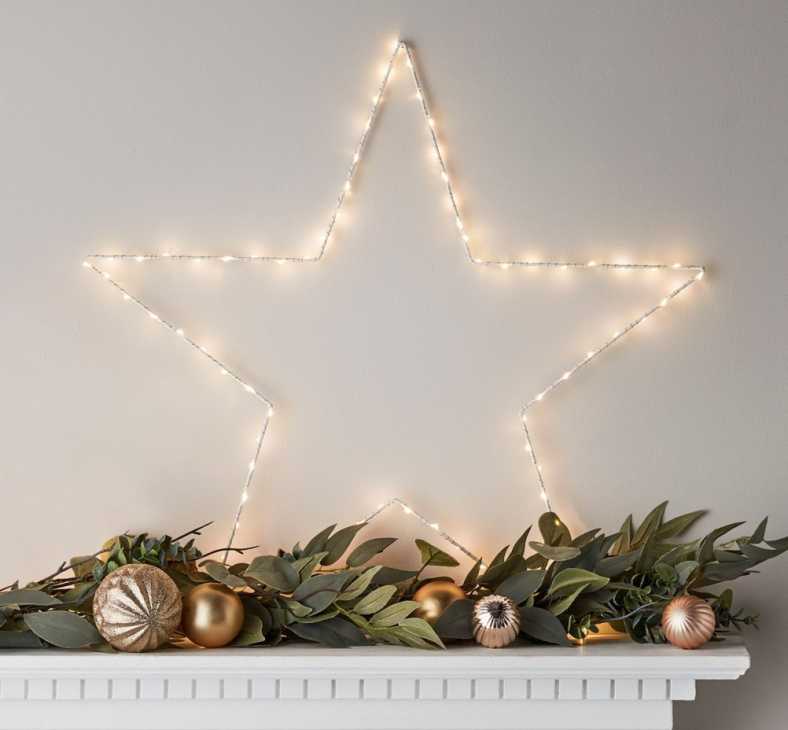 Star Window by Light4fun with wireless led

The wireless led lamp, apart from celebrating Christmas or New Year, can also be used for special occasions such as a birthday or a graduation party.
The special cable, that you're going to get with the package, is necessary to recharge the battery.



Rechargeable outdoor lamps: the most elegant solutions

In addition to decorating indoor spaces, battery-powered lamps are useful for lighting outdoor spaces such as avenues, stairs and ramps.


If we live in a mountain area where the lighting is insufficient, then we can opt for the Lola 45 table lamp, ideal for the late afternoon and night hours.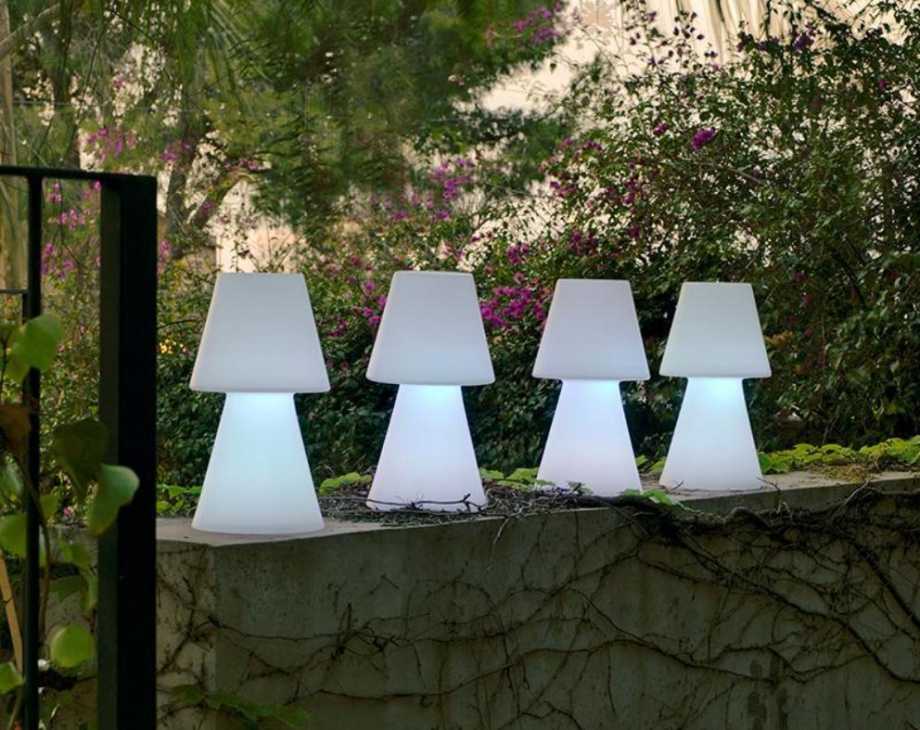 Lola wireless led light by New Garden


The battery operated light emits a cool white light that reaches a considerable distance. It can be placed on a low wall or on the steps as fixed lights or to amaze guests.
The lights are made of polyethylene and are resistant to low temperatures and UV rays.
If you need to cross small streets to get to the house, then we can opt for the Fifty cylindrical lamps by New Garden, which measure 20 cm x 100 cm.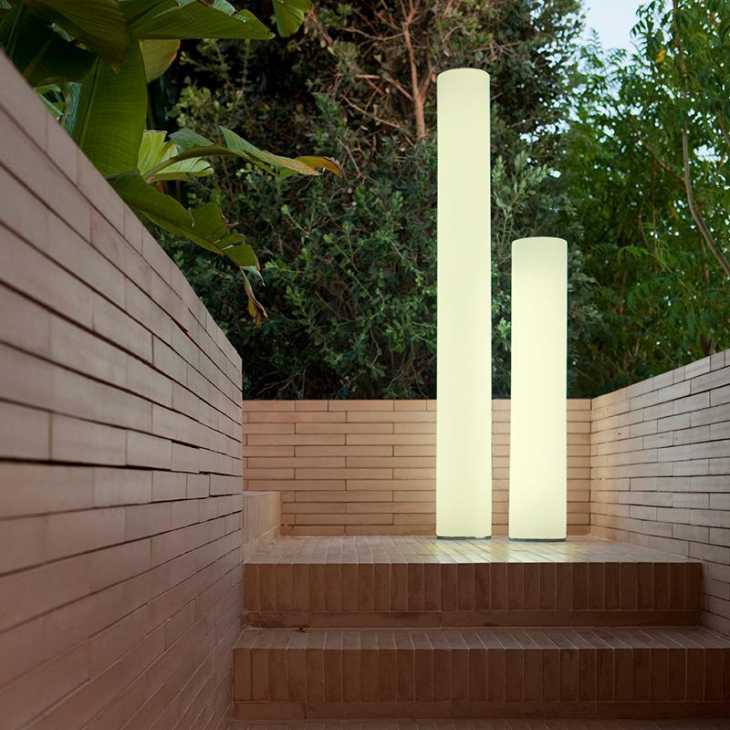 Fifty battery lamps by New Garden

This product also emits cool white light and can be placed on you doorstep. All these models are actually valid for any period of the year.