Fall wallpaper and fabrics for your house

To renew the look of your home to get ready for the fall you do not need major interventions: you just have to focus on decorations, textile accessories and colors.
It is also possible to replace the bed linen, choosing fabrics more suitable for the colder seasons, opting for eclectic wallpapers in warm tones and pay attention to details, carefully selecting the decorations of the pillowcases.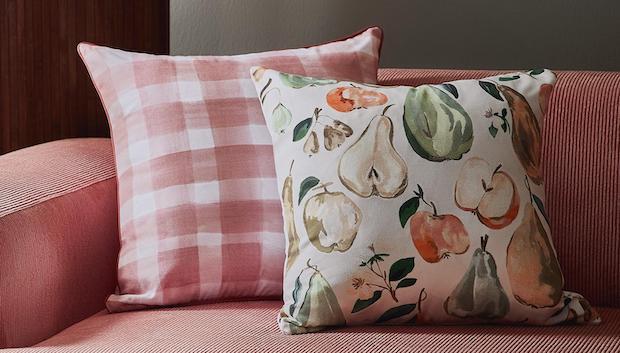 Home decor trends 2021: autumn at home - Photo: Westwing

Let's discover three autumn-themed collections that are perfect for a modern and trendy interior design!



Fazzini fall winter 2021/22 collection

The protagonists of the new Fazzini Srl autumn winter 2021/22 collection are the shades of greige and pearl, pink and white, delicate shades ideal for your bedroom, even in the coldest months.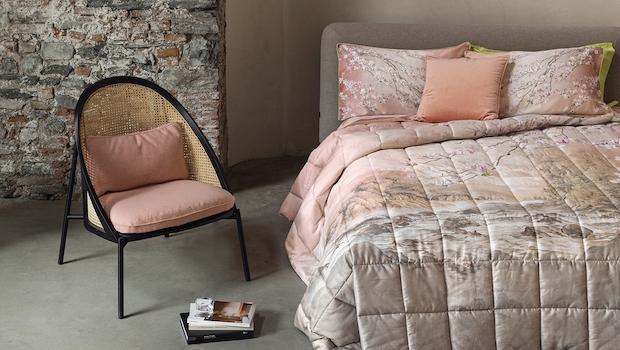 New autumn 2021 trends: Panta Rei quilt - Photo: Fazzini

The accessories of the line are made of cotton and feature modern decorations inspired by the natural world (Panta Rei, Kimono and Kiyomi collections), landscapes (Africa and Pink Africa collections) and even the art of the early twentieth century (Splash collection), which refer to Klimt's symbolism, Kandinsky's abstractionism and the Reformist Arts & Crafts Movement (Aubusson collection).


Splash Collection - Photo: Fazzini

There is also no lack of material textures, which bring back the shapes of snowflakes, the brightness of dew drops and ice cracks on the fabrics, thanks to the various processes, including the pleating technique and the weaving.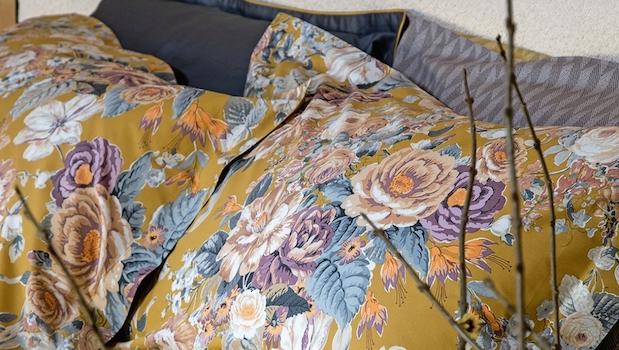 Autumn 2021 trends: Aubusson collection - Photo: Fazzini

The new Fazzini collection, which is both classic and modern, focuses on stylized plant patterns, precious plain fabrics, elegant Japanese-inspired graphic motifs, embroidered velvets, cotton satin and colored linen.


Panta Rei, Kimono and Kiyomi bedroom textiles

The three lines of double squares Panta Rei, Kimono and Kiyomi are inspired by oriental natural landscapes and depict elegant multicolored blooms.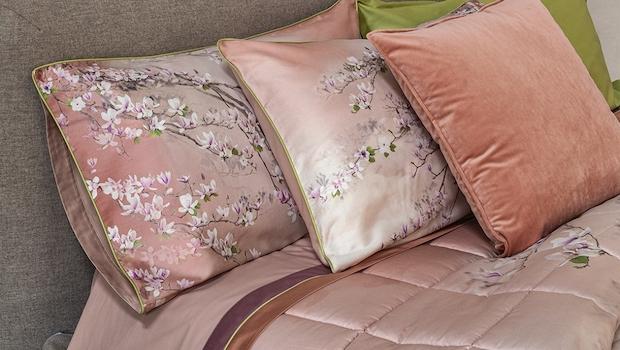 Panta Rei Collection - Photo: Fazzini

The Panta Rei collection includes a complete sheet with pillowcases embellished with perimeter piping, a hand-finished quilt and a bed linen set.

Each complement is made of 300TC pure cotton satin and is available in Pink and Natural colors. The price of the set is 635.00 euros.

Kimono bed linen set - Photo: Fazzini

The Kimono set, which costs 356.00 euros, includes a quilt and a linen set in pure cotton with a solid color and white lacquer overprint. These fabrics are also made in natural and pink shades.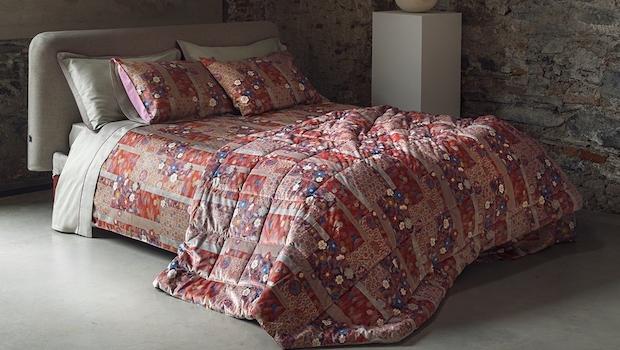 Kiyomi pillowcase and duvet cover set - Photo: Fazzini

More colorful and modern, the Kiyomi line consists of a double-sided duvet cover set in 300TC satin and a quilt. The price of this set is 490.00 euros.



Ambientha autumn style wallpaper

Ambientha's Stone and Underline wallpapers, which are just perfect for the fall, are an excellent solution to give your home a new look for the cold season. The two proposals, characterized by geometric patterns in warm and cold tones, are ideal for spaces with a modern and contemporary taste.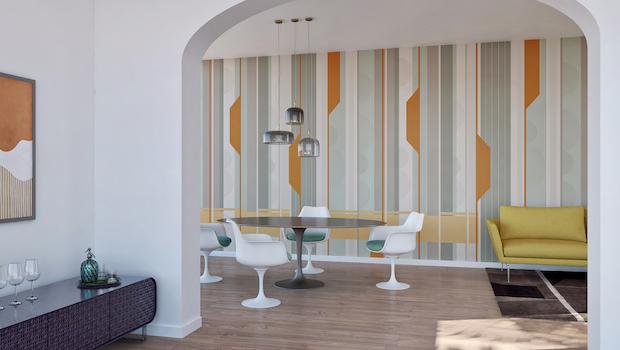 Underline Verse Autumn Themed Wallpaper - Photo: Ambientha


It is possible to choose between the wallpapers of the Pro line, composed of a non-woven background and a PVC surface (resistant to traffic, easy to install and very decorative) and Living, PVC-free and breathable.

The available finishes are six: Living Flaxen (147 g, linen effect), Living Soft Matte (147 g, smooth and opaque effect), Pro Tactile (300 g, fabric effect), Pro Stucco (300 g, stucco effect), Pro Linea (300 g, scratched wall effect) and Pro Fino (300 g, fine grain effect).


Futurist interior with Underline wallpaper

Conceived by the designer Vittoria Ostini, the Underline wallpaper takes up the geometric patterns typical of the 70s, whose peculiarity is the captivating and dynamic design.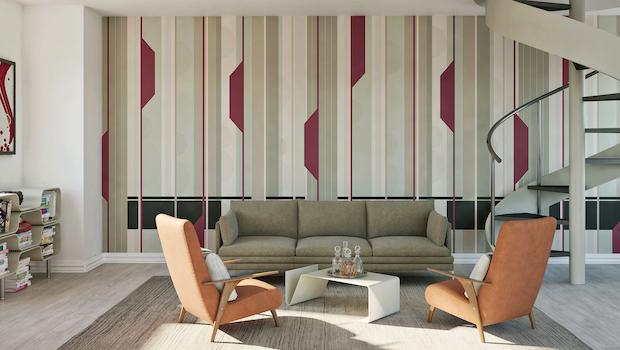 Underline Poetry Autumn Wallpaper - Photo: Ambientha

Ideal for modern and eclectic living areas, this wallpaper is available in the versions Underline Poetry (dark red, green, beige and black), Underline Verse (orange, green, beige and yellow) and Underline Rhyme (brown, light blue, dove gray and black). Format: up to 960x320 cm; price: 62.00 euro / sqm + VAT.


Stone wallpaper: the materiality of stone

The Stone wallpaper, produced in the Aventurine Stone, Turquoise Stone and Copper Stone models, gives depth to the rooms, thanks to the graphic pattern that incorporates the texture of natural stone.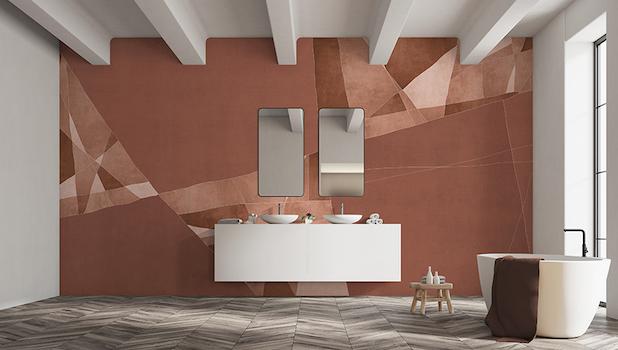 Copper Stone Autumn Wallpaper - Photo: Ambientha

The intense green nuance of the aventurine stone (a very luminous translucent quartz) and the turquoise and copper shades fit perfectly into essential style contexts, as they enrich the spaces characterized by formal minimalism. Format: up to 960x320 cm; price: 52.00 euro / sqm + VAT.



Westwing Collection by Candice Gray

The Capsule Collection created by textile designer Candice Gray exclusively for Westwing, includes fifteen decorative pillowcases characterized by patterns and patterns perfect for decorating the home in autumn and during the winter season.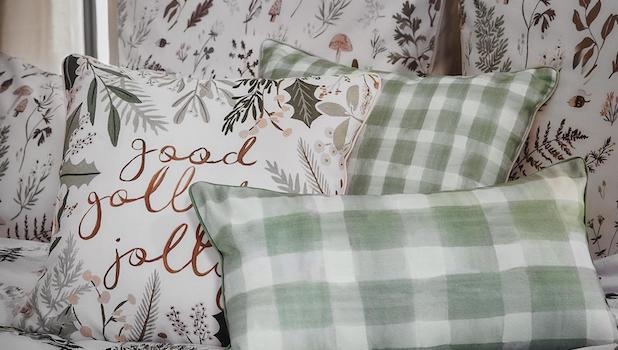 Capsule Collection by Candice Gray - Photo: Westwing

The products, which feature the designer's vivid hand-painted subjects, are entirely made of GOTS certified organic cotton.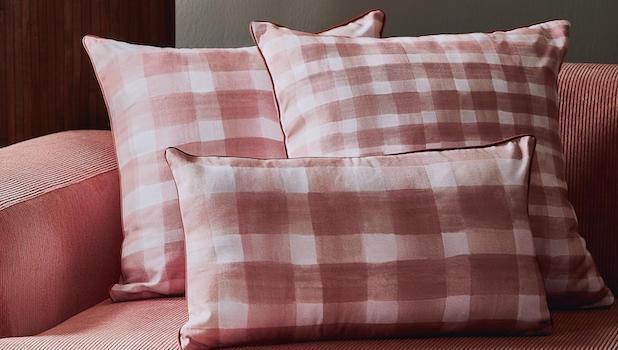 Federe Check - Photo: Westwing


The Fruits decorative pillow covers are available in multicolored nuances on a black or white background, in the size 45x45 cm and at the price of 19.99 euros.

The reversible Check checked pillow cases, made in green and pink versions, can be purchased in the sizes 50x50 cm (24.99 euros) and 30x50 cm (22.99 euros).


In addition, the series also includes pillow covers with dimensions 45x45 cm with a Christmas theme (Good Golly Be Jolly, Merry Little Christmas, Nutcracker, Christmas Balls, Forest and Ice Skater) and vegetable (Big Flowers and Mushroom) whose prices vary from 19.99 euros to 39.99 euros.