Extendable or fixed table: which one is the best for you?

The table is a fundamental object to furnish the living area, and in addition to having a pleasant aesthetic, it must be extremely functional.
A solid base and a durable, easy-to-maintain table top are excellent starting points. It is also a good idea to evaluate the manufacturing material and the dimensions of the furniture.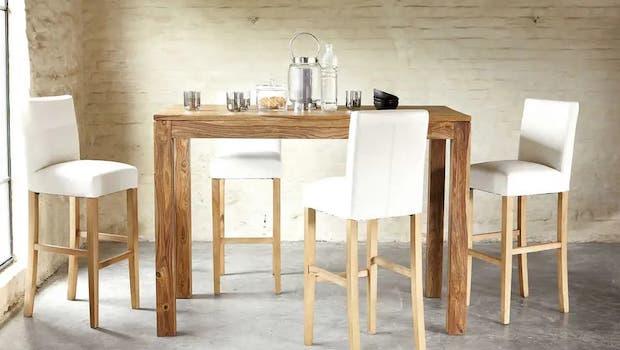 Stockholm design extendable table - Photo: Maisons du Monde

If you use the table top for cooking very often, or if you need it for other activities, glass is probably not the best choice. In these cases, in fact, it is advisable to choose robust materials such as solid wood or wear-resistant surfaces, possibly finished with polymer paint.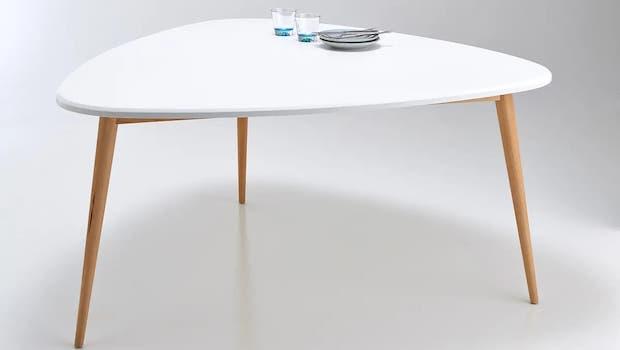 Modern kitchen tables: fixed model Jimi - Photo: La Redoute Interieurs

Depending on the square meters available you must choose the most suitable shape: the square shapes are perfect for small areas, while the oval and round ones fit easily into the more spacious living areas.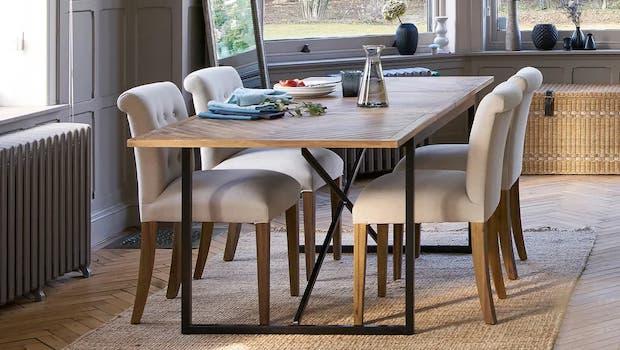 Nottingham extendable kitchen table - Photo: La Redoute Interieurs

It is also possible to purchase extendable or fixed tables, depending on your needs: the models equipped with extensions represent the most versatile solution, suitable both for small spaces and for larger environments. Here are six modern and classic tables (extendable and fixed) perfect for all styles!



Modern and industrial: Ikea design tables

The kitchen tables with a modern and industrial look proposed by IKEA is compact, resistant, very versatile and simple to maintain. Quality of materials, functionality and attention to environmental sustainability: these are the three main elements that characterize the Gillanda and Skogsta models.


New Gillanda extendable table

The Gillanda extendable living room table, ideal for a contemporary and modern interior design, is characterized by minimal shapes.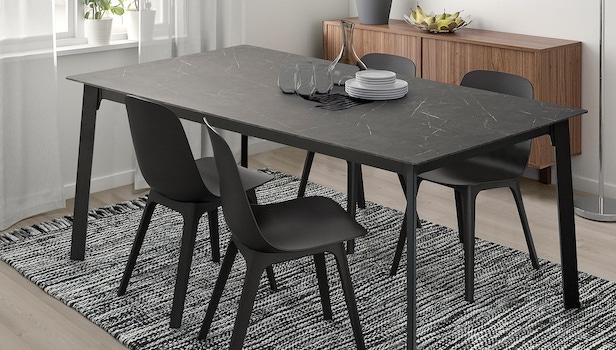 Gillanda black extendable table - Photo: Ikea

This model, with a steel and polyamide structure and aluminum legs, is equipped with a black embossed surface, which recalls the motifs of marble. The top is made of wood fiber, melamine foil and plastic, therefore, it is resistant and easy to clean.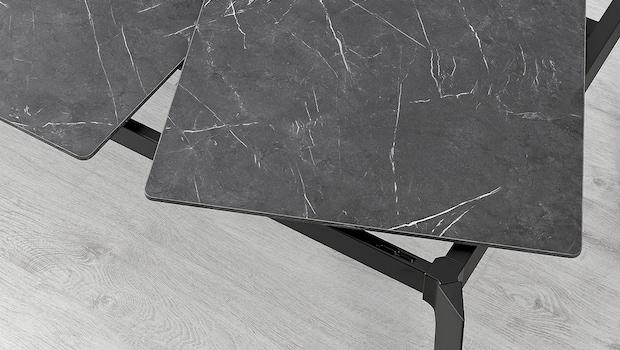 Gillanda modern extendable table - Photo: Ikea

This table is suitable for 6-8 people and can be extended quickly thanks to the use of an extension placed under the top. It measures 180x100x75 cm (with a maximum width of 240 cm) and costs € 599.00.


Skogsta: Acacia table for your living room or your kitchen

Perfect for contexts furnished in an industrial or chic style, the Skogsta fixed table, created by designer Marcus Arvonen, is composed of a solid acacia top treated with transparent acrylic paint and black lacquered legs.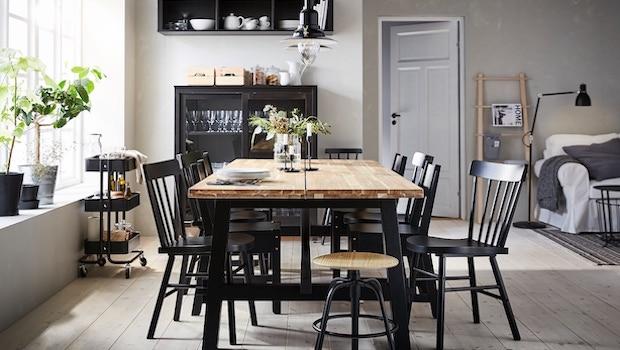 Skogsta wood design table - Photo: Ikea

The acacia wood gives the spaces a rustic aesthetic, as it is characterized by marked veins that tend to darken over time. It is a very resistant to wear and water resistant essence, therefore suitable for intensive use.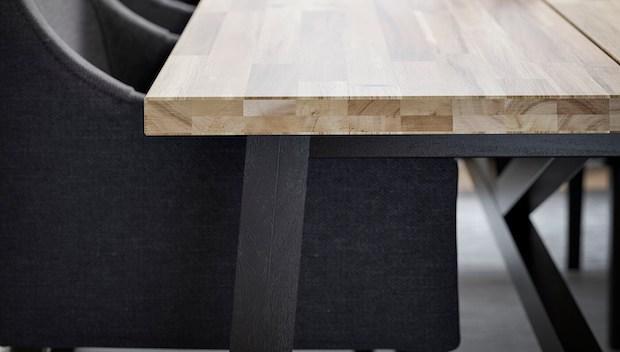 Skogsta wooden top table - Photo: Ikea

This rectangular table fixed for 6-8 people, it measures 235x100x73 cm and is available at just 499.00 euros. It is possible to combine it with Skogsta chairs, which are also made of acacia wood with a waxed finish.



Nordic and vintage: Maisons du Monde dining tables

The charm of the Scandinavian style and the timeless elegance of vintage: here are the tables from the Stockholm and Riverside collections, proposed by Maisons Du Monde.


Stockholm extendable table in Sheesham wood

The extendable kitchen table from the Stockholm range is a suitable complement to large spaces, as it is equipped with a very wide top.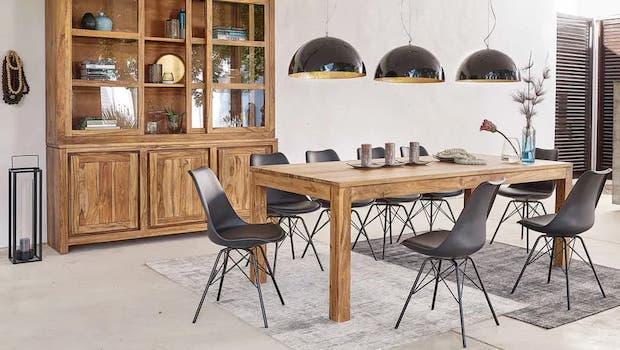 Stockholm, Sheesham wood extendable table - Photo: Maisons du Monde

The furniture is made of solid Sheesham wood (also called Indian rose wood), an essence of intense honey color with clearly visible veins and purple tips. The surface is treated with transparent nitrocellulose varnish.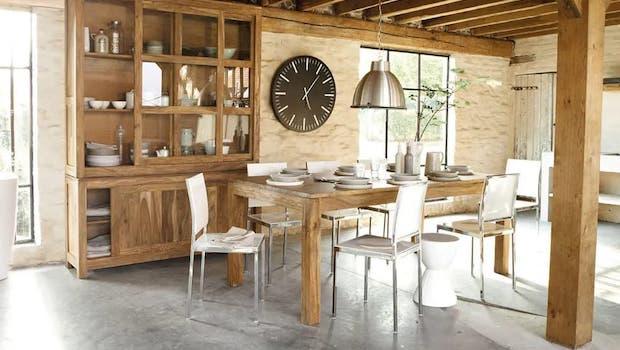 Stockholm extendable dining table - Photo: Maisons du Monde

This rectangular extendable table for 8/10 people, thanks to the simple aesthetics and the warm and natural nuance of the wood, can be placed in modern spaces and furnished in Scandinavian style. It is available in 6 different sizes: 180x90cm, 200x100cm, 220x100cm, 140x140cm, 150x75cm and 160x90cm. Thanks to the 60 cm extension it is possible to obtain a top with an overall width of 240 cm. Depending on the model chosen, the price ranges from 429.00 euros to 699.00 euros.


Riverside collection: fixed round dining table

The fixed table of the Riverside collection, thanks to its round shape and gold-colored details, is the perfect solution for a vintage / Art Deco style dining area, revisited in a modern way.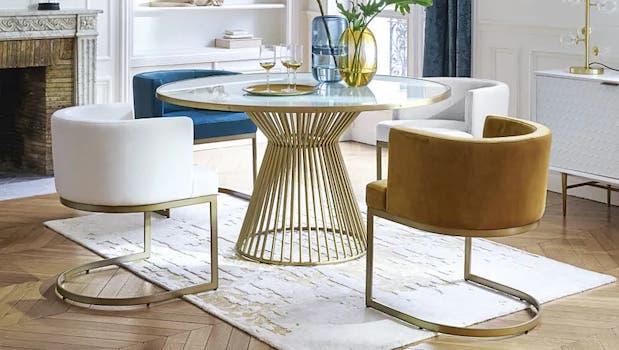 Design glass tables: Riverside fixed model - Photo: Maisons du Monde

This model, which is characterized by fresh and elegant look, has a base made of golden metal wires and a support surface in bleached tempered glass, 8 mm thick. It measures 77x140 cm and can be purchased at the price of 1199.00 euros.

The Riverside line also includes two low sideboards, a double door wardrobe and a chest of drawers.



Rustic and retro: Redoute Interieurs extendable and fixed kitchen tables

A table with an antique style revisited in a contemporary version and another that imitates the design of the past: here are the complements of the Nottingham and Jimi collection by La Redoute Interieurs


Nottingham collection extendable table

The extendable table of the Nottingham collection is composed of a waxed solid pine top with a herringbone parquet finish and thin legs made of black lacquered metal.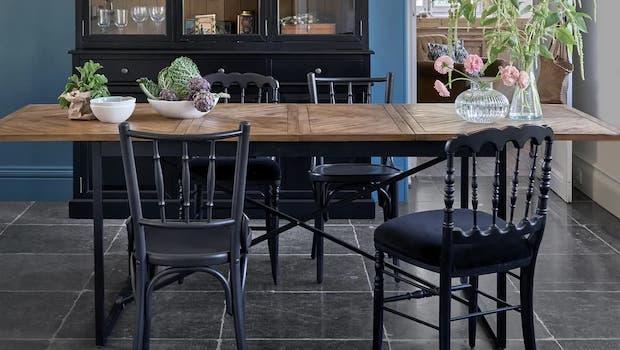 Nottingham extendable wooden table - Photo: La Redoute Interieurs

This furniture, reminiscent of large artists studio tables, is an excellent choice for industrial design interiors, thanks to the rustic look of the wood and the dark metal components.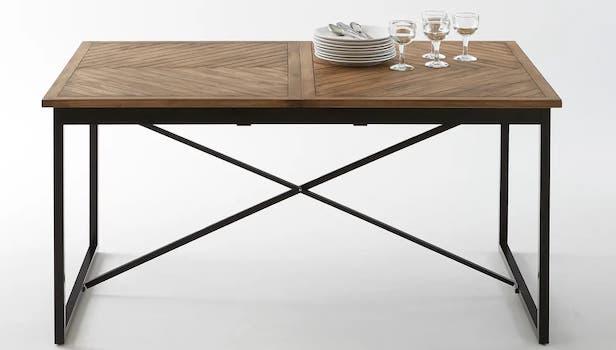 Nottingham extendable kitchen table - Photo: La Redoute Interieurs

The 6-10 seater table measures 150x75x90 cm, and once equipped with extensions (two of 40 cm each), it reaches a maximum length of 230 cm.
Currently, the complement is available on the La Redoute online store at a discounted price of € 713.30.


Jimi fixed dining table

The fixed table for 6 from the Jimi line is characterized by a retro look given by the ovoid shape of the top, which recalls the aesthetics of the furniture typical of the Sixties.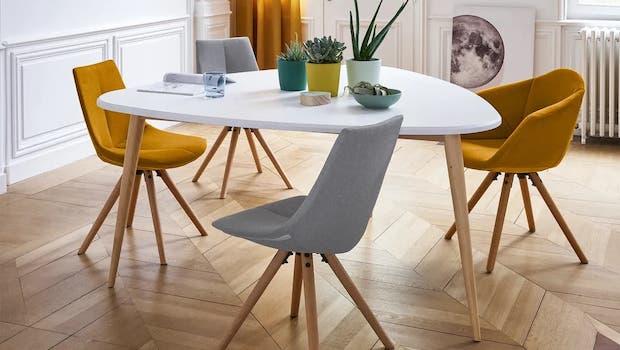 Jimi design white table - Photo: La Redoute Interieurs

The surface of the top is in white lacquered MDF, treated with a polyurethane finish, while the three feet are made of birch wood.
The dimensions of the complement, available at a discounted price of 377.30 euros, are 154.9x75x150 cm.


It is possible to create a vintage or Nordic style dining room by also purchasing the coordinated accessories of the Jimi line: the plastic seats and the solid oak sideboard.