A wardrobe that works as a bookcase

Minimalism, the artistic movement that was born and developed in the United States in the early 60s, is manifested by infinite potential in the bookcase Cartesia by Rimadesio, from some time now time enhanced with new features, with the introduction of the elements Cartesia Large: backs, shelves and containers of wide horizontal development and multi aspect.



The stylistic freedom and flexible system conjugated to the high technology make Cartesia Large a bookcase system that is close to perfection. Thin supports, opposed to the thick shelves, they offer an image of solidity and lightness together.
Every detail is attended to a minimum and the use of extruded aluminum structure, available in the finishes natural and white, makes it floating.

Cartesia is available in two versions: with the structure in matt white lacquered aluminum and titanium. The exclusive Rimadesio lacquered glass is now available in 30 new colors that allow maximum customization of shelves and back.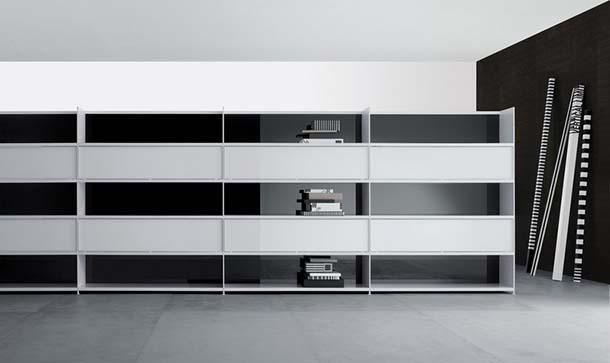 Rimadesio has also studied the composition needed to be able to rise to all the features of a modern bookcase. The exceptional size of the shelves in fact allow you to use it as a showcase, CD/ DVD and to place the TV.
The glass backs have a system of LED backlighting and lift systems are equipped with gas invisible opening.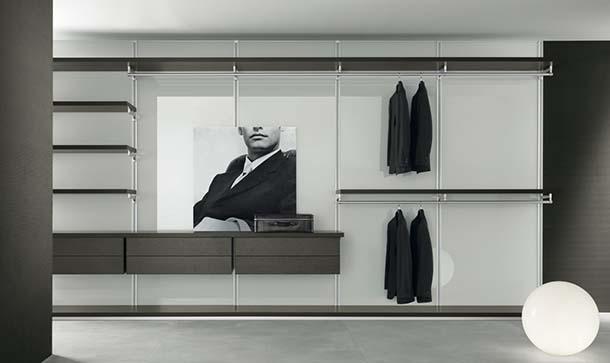 If minimalism may be defined as poetry of sacrifice, with Dress we reject the frills but we raise the maximum functionality. The system is in fact designed to create customized wardrobes in height and width.
The cantilevered shelves, melamine wenge, oak and white to harness also intelligently angled spaces.

Each element has its own function, nothing is left to chance. The range of accessories includes: shelves, drawers, door-sweaters, stands with wheels or legs, hanger rods, hangers, door-pants and ties removable tray.

All equipped with patented bayonet cap, allow to conceive of an aluminum upright, wall without screws or visible holes.

Clean also in the accessories and in the sacrifice of the superfluous. The free modularity allows finally to make different modular compositions: linear, angular, in C shape.

To completely cover the walls of the wardrobe, in addition to the panel in gloss lacquered glass, available in black, brown, gray metallic and mirror, there are light panels, also in glass and back panels in melamine wenge and oak.

Particular is also the base which rests on a continuous frame in aluminum, in place of wheels or feet.



Wardrobe of great compositional versatility

Showing and containing has never been so enjoyable. Zenit, thought to fit to every area of the house, offers the great advantage of being able to freely dispose each element in the desired number and at the height that you prefer.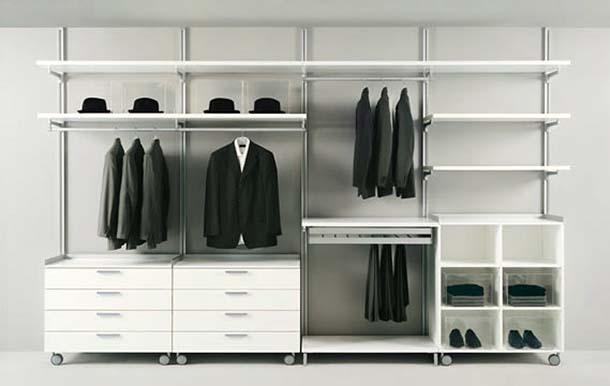 Its composition versatility is also enriched by the special coupling system elements achieved thanks to an aluminum upright without holes and fixed hookings that allows the use of Zenit in any situation.

Quick and easy to assembly, possibility of varying compositions, functional in every aspect, rich in details: Zenit expands the horizon of its proposals with a sophisticated titanium finishing and with an unprecedented drawers on wheels, fully upholstered in glossy lacquered glass.



Bookcases, beautiful and functional

When we speak of libraries we always want heavy and bulky structures.
However, the concept of a container of books is evolving and the structures, thanks to the intuition of skilled designers, are becoming lighter, creative and versatile.

This is one of the reasons why the company Handy Dandy Design realized Still: versatile and customizable, this structure consisting of modular units, has the distinction of being made both vertically and horizontally, combining and matching the different modules made of various sizes.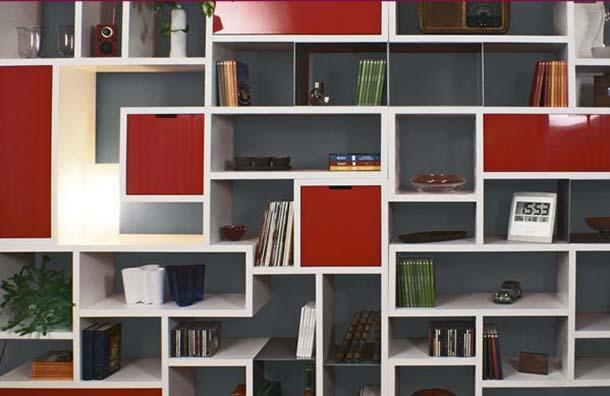 Giving ample space to the imagination we can repeat, flip and rotate the rectangles thus having a multiplicity of solutions always different.

This bookcase shows all its lightness and is also excellent as a partition wall between the two spaces. It furnish and model the environment with elegance. Its structure is also self-supporting, making it functional and at the same time not bulky.

Inside we can place CDs, books, DVDs, vases and ornaments, and its characteristic structure will never ever appear heavy. Made of lacquered white or ebony can also come with drawers and doors that open in any color and size while respecting the minimum amount of space.
Still, on demand, it can be realized in a version with double face elements.