Outdoor furniture

During summer it's easy to spend most of your time outdoors, enjoying, where possible even just a small piece of garden or terrace.
The choice of furniture often falls back on simple and practical item, totally neglecting the aesthetic. In reality, however, the exterior, as well as indoor, should not be neglected and if taken care of as it should, with few details allows you to have an extra room for most of the summer, amplifying the comfort and the aesthetics.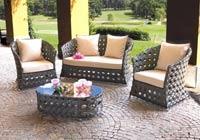 The outdoor furniture are specifically designed and tested for use in meteorological and environmental conditions typical of the climate of the hottest months, and have exclusive finishes and quality that remind us of the pleasure of living outdoors.

The range Greenwood includes synthetic rattan furniture featuring a totally original work, in particular from the original plots made of wicker, a synthetic fiber suitable for a variety of innovative and aesthetic choices.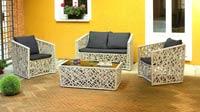 The set Cyprus, for example, has the peculiarity of a special octagonal twine in flat fiber of 25 mm, so nice and studied so well, to achieve the effect of visually lighten the entire composition and make it lighter.

Definitely more marked with a modern exclusive style, however, is the set Antalya, dominated by a series of overlapping straight lines that give shape to its components (sofa, armchairs and coffee table) intersecting in the pattern of the original twine called crazy. The color combinations chosen in this set see the gray cushions with taupe furniture and black glass coffee table.

The third set for outdoor, called Gibilterra, is dominated by the effect of the texture in wicker straw that enhances and reinforces the strength of the avana coloring composition and is completed in the curved lines of the structures of armchairs and sofa.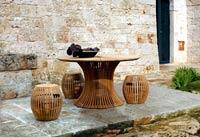 Among the product ranges of Unopiù, in a constant equilibrium shape-substance, is emblematic the line called Antares, whose components are made of teak slats thermobended and assembled with stainless steel screws, which are characterized by a style that prefers curvy and soft silhouettes .

Natural teak and synthetic fibers are, however, the materials selected for the line Indobrittan series characterized by elegance and simplicity of design, the products are suitable to decorate and enhance the outdoor dining area. The clarity of the Antique brown color of the fiber WaProLace enhances the backbone of the teak chairs, as do the transparent glass tops of the tables, which are characterized by determined thicknesses and strong impact.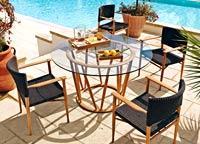 For those seeking relaxation and pleasant idleness on the whole, then, is for the new crib Experience, cast aluminum structure with coated fiber WaProLace hand-woven antique brown color: the maximum comfort is guaranteed by the system that allows to recline it in different positions, not to mention the ease of movement guaranteed by the lightness of the structure.


The collection of outdoor furniture Radici De Castelli is a line of furniture and accessories designed for the company by Patrizia Pozzi, designer and landscape architect.

At the base of this poetic landscape designer is the hybridization between the objects and the nature of these metal furniture seem to actually change into plant structures, and are specifically designed for the development and growth of climbing plants, giving the feeling to live in close contact with nature.


The collection consists of a gazebo, a table, a coffee table, a chair, a bench and a stool.

The development and implementation of the project were followed by the development and design company De Castelli that, for the fabric parts needed for the gazebo and seating, availed itself of the collaboration with CRT Studio.

The company De Castelli, led by Albino Celato, is a brand born in 2003 that produces furniture and accessories made of iron and stainless steel. It has left behind the age-old family tradition that saw the ancestors of Celato engaged in the production of agricultural equipment in wrought iron. Combining skilled craftsmanship derived from this ancient tradition with research and innovation made by the most modern technologies, they are working today, artifacts of considerable size, for both the outdoor and the indoor, also using new materials introducted in the field of furniture such as Corten steel.



Innovative chairs for outdoor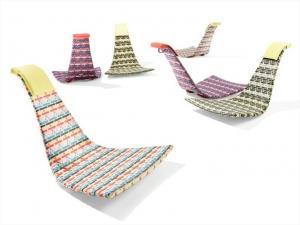 Choosing the right complement in a garden or outdoor space must be dictated by convenience and practicality, primarily of use, but also for management and maintenance. Last but not least, aesthetics.

There are brands that are a guarantee. Like Dedon, which for years proposes modern and beautiful objects, made with the most innovative materials, able to withstand the passage of time and the continue exposure to atmospheric agents.

Among the latest complements is the brand's line Dala, a collection made of armchairs, coffee tables and ottomans, all made of lightweight recycled material that allows easy movement and that are available in three colors: red, green and blue, like fire, grass and sea.

It is by Dedon also the innovative Fedro, or an original model of a chair without legs that can be easily arranged at will anywhere. Fedro besides being always made in a lightweight material that facilitates the movement, is also shaped in an ergonomic way, both to be used as a simple sitting, is to use it at will, such as a rocking chair, only by a slight push movement of the body. Finally, it is also easy to stack, occupying, when not used, very little space.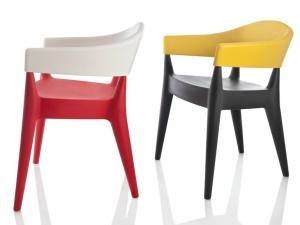 If you are looking for something colorful and equally practical, perhaps even in materials such as polypropylene, easy to clean and maintain, using just water and a damp cloth, then the right chair could be Jo, by Alma Design.

Jo is multicolored and is available in several versions, both with two-tone back and monochrome. Nice the matches, a little out of the box, so it can be used, if desired, even within the domestic space.



Practical sofa for outdoor

Polypropylene, but shaped as if it was a real sofa for interior, even for Bubble Club sofa, by the Italian brand Kartell. A classic piece, now, that can not miss in gardens and terraces where you want comfort and convenience at the same time, in sign of modernity.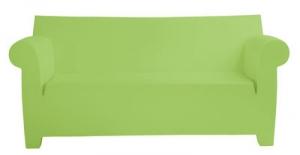 This sofa is available in different colors, all very soft and adaptable to different contexts. Designed by Philippe Starck, is actually a piece that fits perfectly also the outdoor spaces, drawing a garden in an alternative way than usual. It is obtained by a rotational molding process, much used by the mark, which means that the object has no continuity solutions, but sharp and clean lines, perfect for that type of material.

Practical and durable, it is also equipped with an unusual hole for drainage guarantee that resists outdoor without any problems, even when subjected to continuous weathering.
Bubble Club sofa is on sale for about 600 Euros.



Modern outdoor swing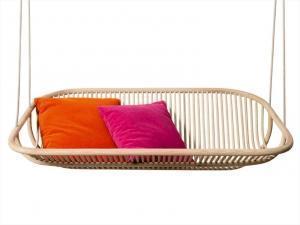 If you're nostalgic for the 80s and you also had a classic swing parked in the garden throughout the summer, here comes something similar, but in a totally modern style. My favorite is Swing, by Paola Lenti.

Swing is primarily in wood. Sassafras wood, specially treated to withstand the elements, thanks to the water repellent. It is designed to have one or two seats and it has some cushions designed for outdoor use, thanks to the use of tissue-specific technology of the same brand.



Outdoor furniture inspired by nature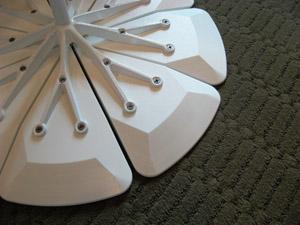 When it comes to outdoor furniture, often refers to structures and elements that are able to be easily integrated into the green, that well suits the aesthetic appearance of the house, but also of the garden, where they are used.

Competing with nature is impossible. But over time, there are many examples of furniture that blend well with the natural environment. Whether for materials, such as thin steel and wood is not treated specially, either in form, with confortable solutions that have become history.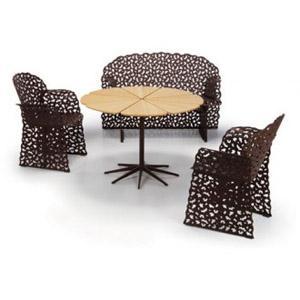 Historical furnishings like the lines of Richard Schultz, an American designer of the second half of the 900, who dedicated much time to the design of outdoor furniture, convinced that this kind of accessories is definitely the most fun and innovative, because unique, and not surrounded by other furniture and objects, as happens inside our house.
His is Petal Table, then made by Knoll between 1960 and 1974 and also included in the Knoll Museum. Consisting of eight petals wood in more colors and supports in aluminum and steel.

Very famous are also his Chaise Longue, with classic shapes from the 60s, often spotted on glossy covers and also in many homes of VIPs from overseas.


It is his finally, the Topiary Collection, an interesting line of outdoor furniture, which is well camouflaged in the garden, thanks to its shape reminiscent of precisely shaped trees with decorative shapes typical of the topiary art. Textured obtained from plants, with leaf shapes cut into lightweight aluminum, available in many color variants, powder-coated. The line is available with, technical fabric cushions specific for outdoor, Sunbrella and DuPont Comforel®.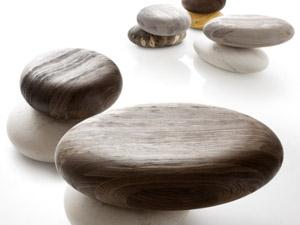 In the world of outdoor furniture there are also many proposals that fish directly from nature. It happens for example with the line Pavè Collection, designed by Enzo Berti for the brand Decormarmi by Kreoo.

The line is declined in a number of complements; Pavè Log is a delightful bench from external and internal, characterized by marble bases, in different colors (Grey Saint Marie, France Red, White Extremoz, Black Marquina, Emperador, Red Alicante, Green Alps, Botticino, Travertine straw and Travertine Walnut).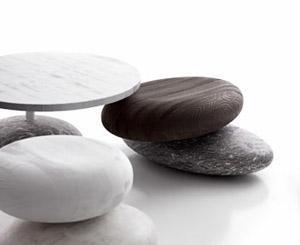 To the marble base is superimposed a single axis in sanded larch wood that puts particular emphasis on the grain of the wood. If you want to use it indoors, the seat is also available in a brand new upholstery leather, available in different lengths: 160 cm, 200 cm and 240 cm.

In line Pavè, there is also Pavè Drink, a side table for indoor and outdoor use, characterized by great freedom of composition. Here too, you will find contrasting materials typical of the collection, but connected to a metal stem, which supports a circular top in laminated larch wood, whose board is finished with a serrated cutting effect to accentuate the naturalness of the whole project.