Characteristics of soft upholstered sofas

Softness is the most important quality among all the features that make a sofa comfortable and suitable for every need. For many, in fact, a sofa is really comfortable only if the seat or back cushions are extremely soft and flexible, in order to guarantee complete and absolute relaxation.
The softness of the upholstered sofas depends on the type of padding, often made with goose feathers but, in some cases, by using totally innovative technologies and materials.


Models of soft upholstered sofas

Several sofa models soft upholstery made of various materials and suitable for any furnishing style are available online. Tino Mariani s.n.c. di Mariani Costantino offers soft and extremely comfortable sofas, unique in shape and style.
The Peter model, made with solid wood structure, is an informal and great-looking sofa that allows its insertion in any context. Although destined to enrich and determine the style of the whole environment, Peter remains the protagonist even as a single piece.
This model also has great details: the particular stitching, for example, gives the product added value, preserving its sober and refined character.




The polished steel feet highlight the modern line of this modular sofa which can be made, according to your needs, with chaise longue or other shapes on request.

The goose down padding seat cushions, backrests and armrests give extra softness to this model. The upholstery is available in removable fabric or leather.


Merit, on the other hand, is an extremely soft sofa equipped with a storage box to conveniently arrange books and other objects..

Merit can be obtained in different sizes, choosing between 5 sizes of armrests; also this model can perform the function of room separator thanks to its generous dimensions.




Relax friendly, this decidedly modern-looking sofa features a soft modular padding available in many versions and sizes: chaise longue, 3 or 2 seats. Available also with removable fabric cover, leather and microfibre.

The Manhattan model is built completely by hand, it is a modern sofa designed by Tino Mariani staff and created thanks to the synergy of innovative and traditional processes.
Manhattan is customizable and available in three versions: with chaise longue, corner sofa or linear sofa in various sizes.




This sofa is very minimalistic, soft and comfortable, it also has a reduced depth dimension and is therefore suitable for furnishing compact and not too large rooms.

The Manhattan's structure, handcrafted in solid wood, is completed by soft seat and back cushions in goose down, which give the sofa an extreme comfort.

The upholstery can be chosen in removable fabric, natural leather or stain-resistant microfibre.
Tino Mariani's sofas are customizable and therefore the cost of each model depends on the estimate made directly by the company.


SAMOA Divani's sofas are elegant, colorful and suitable for any furnishing style.
The Zippy Special model, belonging to the Mooving collection, has really soft volumes, rounded shapes and great details that give the sofa a strong personality.

Thanks to the reclining backrests and the removable seats, Zippy offers considerable comfort and can satisfy any need with this model. The cover, completely removable, is available in fabric and partially in leather and eco-leather. Prices start from 2167 euros.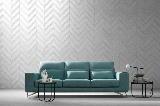 The Elite model, also offered by Samoa, offers elegant but at the same time informal lines and is an excellent solution for enhancing classic-chic environments.

The sofa, also available in the bed version, is extremely comfortable thanks to the softness of its cushions. It can be purchased with completely removable and partially removable fabric cover in leather and eco-leather. Also available online starting from 1950 euros.




Chillax is a modern sofa that transforms into a comfortable bed with a simple movement.
The opening is facilitated by the retractable handle located between the two back cushions and made with the same fabric as the sofa.
The armrests can be chosen according to one's needs allowing you to customize the seat as well.


The padding is made out of polyurethane foam, the cushions guarantee comfort and at the same time excellent resistance over time.
The cover of the Chillax sofa can be chosen in removable fabric, leather and eco-leather. Available from 1100 euros, with a variable price based on the personalization of the model.




The modular sofas by Edra are extremely modern and suitable for elegant houses. The couch Great Fluffy, design by Francesco Binfaré, offers timeless elegance capable of making every room exclusive.

The linear shape of the sofa, in fact, ends in soft curves that seem carved, the sofa is extraordinarily simple, with an architecture suitable for any context.




Thanks to the padding in Gelly Foam combined with goose down, Grande Soffice is a sofa that offers extreme comfort, equipped with an intelligent cushion that allows the backrests to tilt to ensure maximum relaxation.
The modularity of this model allows various compositions: linear, angular and with different sizes. Grande Soffice can be personalized with comfortable poufs.

The Absolu large sofa is characterized by timeless elegance and suitable for refined spaces and elegant living rooms.
The cushions, which are movable and can be modeled at will with slight movements, make this model truly unique, together with the various elements that can be combined and also available with different seat depths.




You can obtain compositions of all sorts, from linear to angular and curved, suitable for any architectural requirement and use.

The pillow, thanks to an invisible mechanism, ensures maximum well-being and is easy to move and shape in various positions.

Also, with a simple gesture, you can get a classic sofa or a chaise longue sofa.

The padding is made of Gellyfoam, a special foam that gives softness and support to the cushions.


The price of elegant sofas by Edra can be requested directly by contacting the company through their website.