Wallpapers to give a personal touch to the house

Innovative textures, seductive materials, dazzling colors, textures that make you enjoy tactile sensations, a perfect mix of ingredients to enhance with taste an environment through the use of wallpaper.
A touch of color, a fantasy sought-after, if placed in the right spot can give to a home that touch of originality that well calibrated never hurts and it certainly helps to break the monotony and conformity.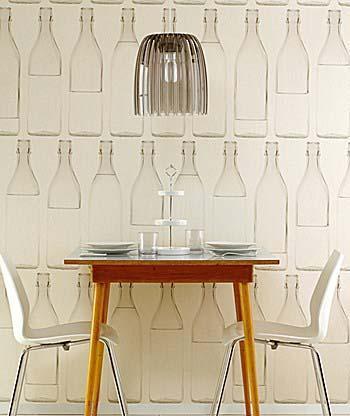 Speaking of wallpaper once was making you think about grandma's house, all laces and ribbons, or with sumptuous spectacular brick works.

Today, wallpaper is a great tool to decorate the house; it offers a huge variety of solutions at a reasonable cost and can result in spectacular installations if you choose the right paper and you limit its application to a few walls of the house.

The wallpaper can be made of different materials such as linen, cellulose, PVC, nylon or other types of fiber, depending on the different uses.
It may result in cozy, bright, relaxing or character and amaze without limiting the creativity.



Flocked and metallic wallpaper

A particular solution consists of the flocked paper that makes three-dimensional patterns and motifs, giving a special volumetric sense.
This kind of wallpaper, is obtained by gluing some very short fibers of rayon on a support material; apply an electrostatic charge to the fibers so that they straightened, to create a flat surface, soft to the touch.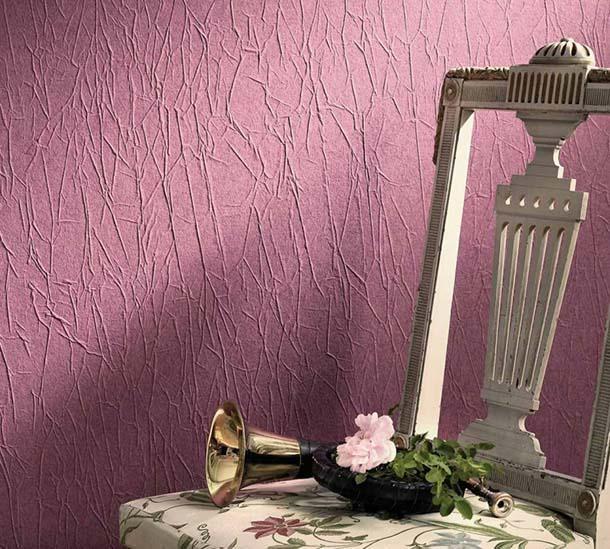 Another solution, very glamorous, are the metallic wallpapers, made of thin sheets of metal with golden highlights, bronzed, copper or silver, applied on paper and finished with etchings or oxidation techniques that create a game of decorations also random and extremely charming.



Vintage is trendy, also in wallpapers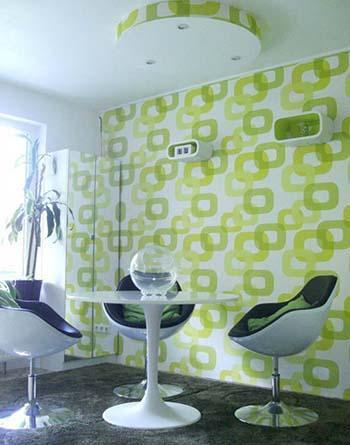 A framework is a scene sometimes important that outlines a specific taste and should be harmonized with the context.

For the nostalgic decade of the seventies, when the decorations were optical the head was spinnig just by looking at them, you may want a peek at Flavor Paper, a famous manufacturer of wallpaper based in the middle of Brooklyn.

All wallpapers are made by hand with unique printing techniques and high quality materials and they are environmentally friendly because free of harmful dyes and inks.

In their laboratory a team of international artists provide their expertise to realize fantasies in which elements of American Pop Art blends admirably with optical geometries, fully in line with the style of the 70s.



The classic damask is back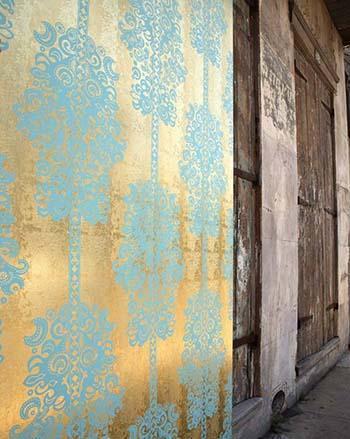 The damask tapestry is back in vogue but revisited according to the filter of modernity.

So the classical decorations in damask, play with metallic or pearlescent contrasts.
It is here that the geometry bears the marks of an era in which the color decreed the defeat of white.

A company that offers a wide variety of options is DGR Decorazioni snc by David Gaido and Alberto Rinero, historical company of decorators since 1998 with hundreds of works carried out in the North and Central Italy.
Their motto is the quality, craftsmanship and charm of Made in Italy.



Maps on the wall

For lovers of travel, the inveterate globetrotter, maps will be always with you thanks to the fantasies that reflect paths, geopolitical maps and globes.

Funny fantasies to enhance a wall of the study and why not, the living room. Colored or in black and white, the wallpapers with geographic decoration have the charm of sophistication but, at the same time, can be informal.
You can find a number of pleasant alternatives on Wall&Decor.



Wallpaper with trompe l'oeil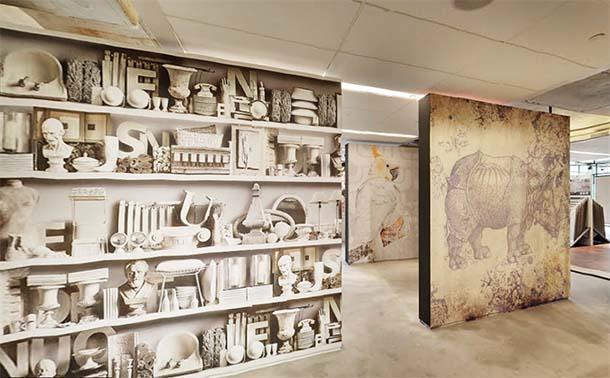 If the decoration on the wall is fiction then the wallpaper can play the simulation of spatial depth of trompe l'oeil and combine it with the convenience and affordability of the wallpaper.
And so, fake bookcases, windows and doors open onto nonexistent walls that once were white and sad; all with a few gestures, some glue and the right wallpaper.



Hyperrealist pictures in decorative paper

Photographic hyperrealism is one of the new trends for the decorative wallpapers. The enlargement of natural size for impressive macro-subject certainly creates a strong visual impact effects of great seduction.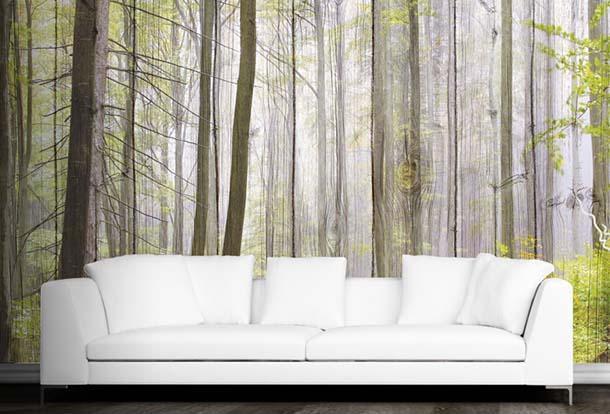 Wallpapers of this kind are, among the others, in the collection Life by Wall & Deco made with vinyl paper.



The timeless floral decoration

Returning to the concept of lace, even the flower, a symbol of a romantic style, returns to trend in a decidedly revisited mood.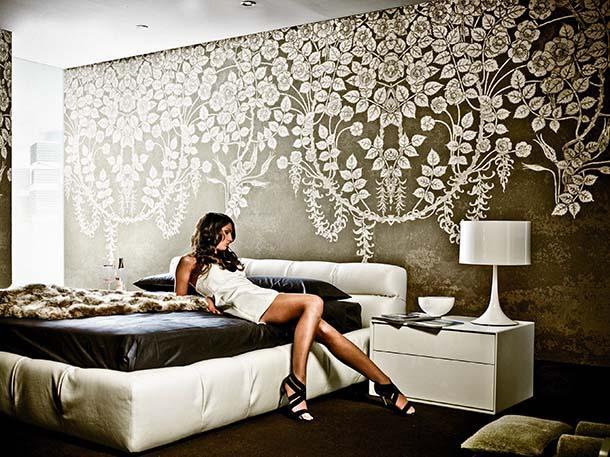 The flowers defined, rich and opulent give way to silhouettes of stems and petals that while drawing the plant world stand out in part to create compositions to the limit of abstraction. Perfect for the bedroom, these wallpapers could also adapt well to the bathroom, coating the wall less subject to exposure of the vapors.



For the small room of children, imaginative wallpapers

Even the room of the children wants its share. So why not enrich this environment through the selection and application of wallpapers funny and original?
Here sproute large pencils, drawings that simulate pages of illustrated books, clouds or boats and anything that might intrigue the boundless imagination of a child.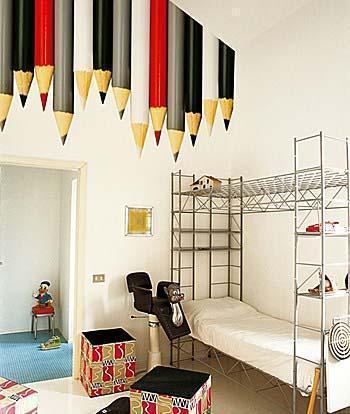 One of the most famous brands is Ferm Living, a Scandinavian specialist in their own accessories and decorations, all made of non-woven texture, very easy to apply to the wall and coordinated with pillows shaped, 100% organic cotton.

Another interesting site for the children's room is Le civette sul comò, a project started in 2011 by curious minds and innovative of the two owls Alberta and Giorgia, looking for baby items, together unusual and functional, helped by their taste of metropolitan moms.

The products can be purchased on their e-commerce web site and in a small shop in Milan.



Wallpaper leather effect

In the history of interior design leather has always been used as an element of distinction, a symbol of luxury and opulence for the decoration of the walls.
Even today it is used to create exclusive products, great style and durability.
Thanks to the processing hand, to the natural colors and embossing, wallpapers with leather effect are the product as close to real leather commercially available.
Decorative paper with reliefs in crocodile, cow or calf donate to a specific identity of character; the type of structure and embossing determine its characteristics to the touch that can be more rustic or delicate.
This type of upholstery marry perfectly with both a classic and modern style.



Magnetic wallpaper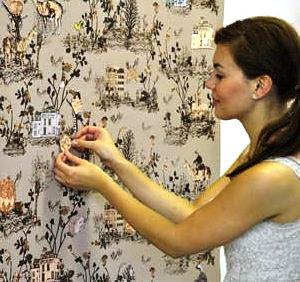 The real news of the last few years are the magnetic wallpaper that give the possibility to create giant tapestries, with complete customization.

These decorations are based on a wallcovering lightweight and printable, which thanks to particular ferrous particles encapsulated within, allows you to place magnets all over it.

This type of solution was launched in 1999 by Patricia Adler. It can be applied with the traditional methods, or with glue and spatula, on any type of wall, possibly smooth to prevent cracking and defects.