Balcony furniture to embellish small outdoor spaces

The balcony and the terrace are now livable areas of the house that can be creatively furnished in order for them to offer moments of relaxation, especially during the summer.
For this reason, numerous furnishing solutions are available on the market that can satisfy every type of need.



Choose balcony furniture

Outdoor furniture must be chosen based on personal taste and the furnishing style of the house but also considering the space available.
If you have a very large terrace, it will be possible to create real living rooms, consisting of various seats and large sofas with tables to be used for pleasant summer dinners.
If, on the other hand, the balcony is small, you can still furnish it with taste, but try to opt for terrace furniture that allows you to fill the space in the best possible way.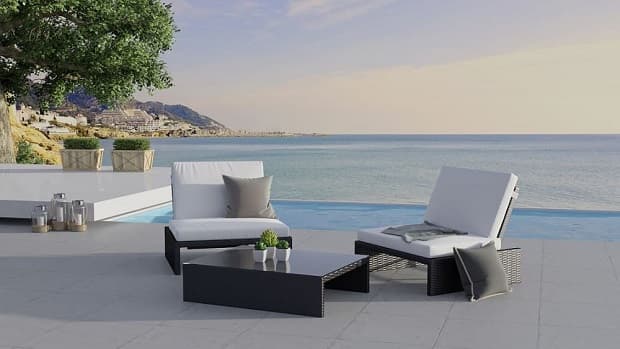 Estoria S balcony furniture set by Artelia

Sofas and corner seats, for example, are among the best solutions to exploit even the corners of the balcony. Also of great help are folding chairs and tables, which can be stored easily and effortlessly after use.
From an aesthetic point of view, the most suitable colors are undoubtedly the neutral and pastel ones such as teal, gray and white, while the best material is teak, which gives to the furniture warmth and a natural look.



Balcony set for outdoor furniture

From SKLUM come terrace furniture with original and at the same time elegant shapes.
The set consisting of a round table and 2 chairs from the Alisa Bistro line in wicker adds a touch of class to the terrace, thanks to the Parisian style that characterizes it.

Alisa Bistro balcony furniture set by Sklum

Made of synthetic wicker, this balcony furniture features a high quality frame with a wood effect finish, combining beauty, comfort and solidity. The Alisa Bistro set is available online at a price of 339.95 euros.
Meibel, on the other hand, is a boho-style outdoor set, able to make the terrace refined and original. Meibel, thanks to its medium-sized dimensions, also adapts very well to balconies with limited space.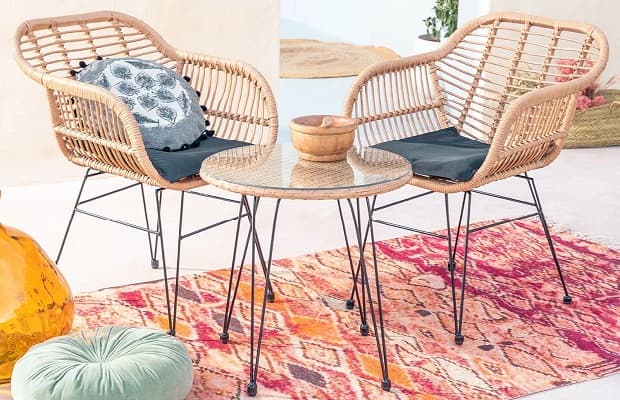 Meibel balcony furniture set by Sklum

Consisting of 2 chairs with armrests and polyester cushions and a coffee table with glass top, the set guarantees extreme resistance over time and can be purchased at a cost of 214.95 euros.



Modern balcony furniture

In terrace furniture, one of the fundamental elements is the sofa, essential for spending moments of relaxation outdoors.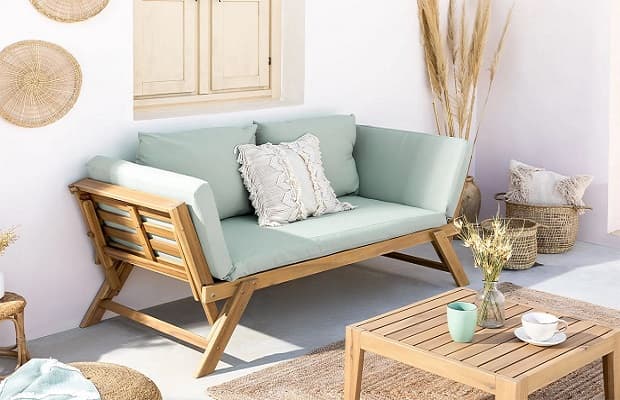 Guille balcony furniture sofa by Sklum

Also from Sklum, the 3-seater sofa in acacia wood Guille, with its adjustable structure and modern design, is a very sturdy piece of furniture, thanks to the galvanized steel part, and at the same time extremely comfortable, with its soft and removable cushions. Available at a price of 339.95 euros.
The folding table in Teak Pira wood, which is definitely suitable for small furnished balconies, can be purchased at a cost of 154.95 euros, has a circular shape and ensures value and strength.

Pira balcony table by Sklum

Featuring a classic and elegant slatted design, the coffee table accommodates up to 4 people and can be stored very easily, thus performing an important space-saving function.



Design balcony furniture

For those who want to furnish outdoor spaces such as balconies and terraces in an exclusive way, Artelia-design offers multiple solutions with an elegant and innovative design.
The Estoria S balcony set, for example, thanks to its small size, also furnishes small balconies and terraces with style. The sofa can be joined to the coffee table to form a chaise longue, while the reclining backrests offer extreme comfort.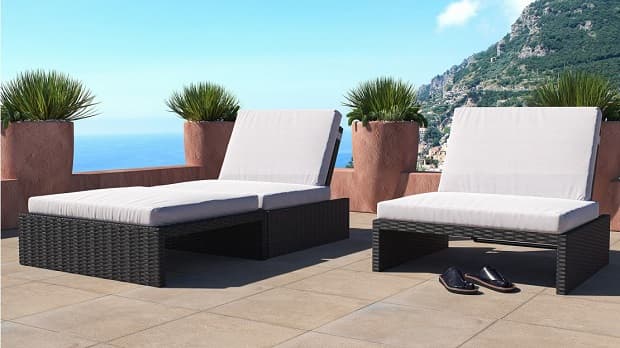 Estoria S balcony furniture set by Artelia

In addition to being beautiful, the elements of the Estoria terrace set are made of rattan, a material that is easy to maintain and very resistant over time.
Estoria S can be purchased at a cost of 1299.99 euros.
The Balconia terrace lounge, then, manages to furnish the balcony giving a touch of class with the minimum bulk.


Balconia balcony furniture set by Artelia

Composed of a 2-seater sofa, a single bed and a round tea table with a refined glass top and rattan finishes that give the furniture a natural look, Balconia is the ideal solution for those who love a luxury style that guarantees resistance and comfort.
Available from 1399.99 euros.



Balcony elements

Artelia also offers the possibility of completing or enriching the terrace furniture with individual elements to add to the existing composition.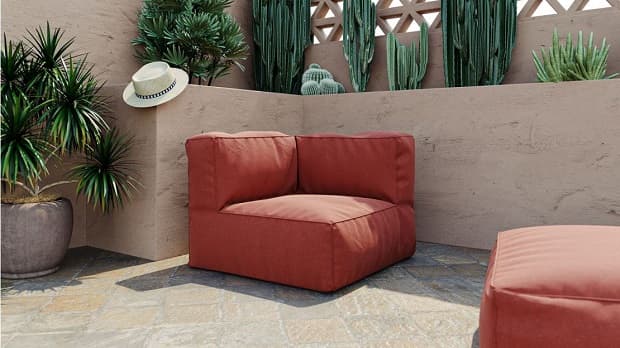 Samba balcony corner seat by Artelia

The Samba corner element, available in various shades such as red, white and blue, allows you to set up a comfortable seat even on the smallest terrace, giving color and liveliness. Available from € 549.99.
The hanging chair Loggia L, on the other hand, is a rocking chair with a modern yet sophisticated character.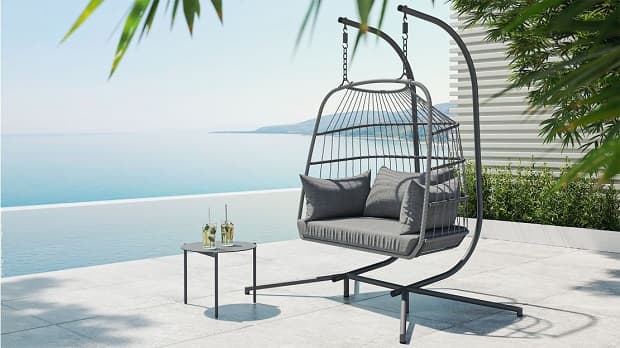 Loggia L balcony seat by Artelia

Fixed on a mixed aluminum and powder coated steel frame, Loggia L features a large and comfortable seat with ocean gray cushion.
Available from 699.99 euros.



Cheap balcony furniture

For those who want to furnish the balcony at affordable prices without sacrificing style and originality, Maisons Du Monde offers cheap balcony sets with modern lines and bright colors.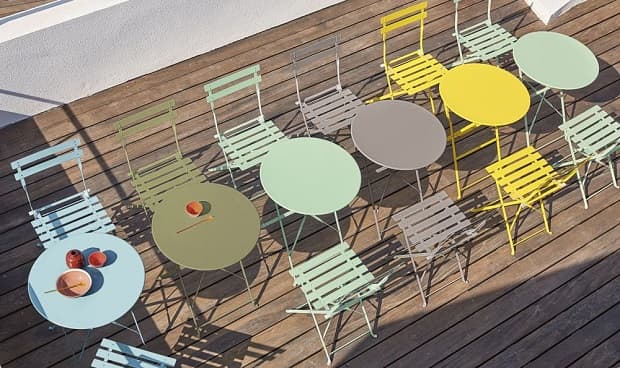 Guinguette coffee table and chairs set by Maisons Du Monde

The Guinguette balcony set, consisting of 2 folding metal chairs and folding round table, available in various colors such as khaki, terracotta, teal and turquoise blue, with its sturdy structure and epoxy paint, ensures durability and resistance to all weather.


The Guinguette coffee table can be purchased at a price of 39.99 euros, while the chairs of the same series can be purchased at a cost of 59.99 euros.
To complete the furniture for balconies, there is Relax, the comfortable 3-seater sofa in acacia and dove gray cushions, which can be transformed into a deckchair, thus making rest on the terrace even more comfortable.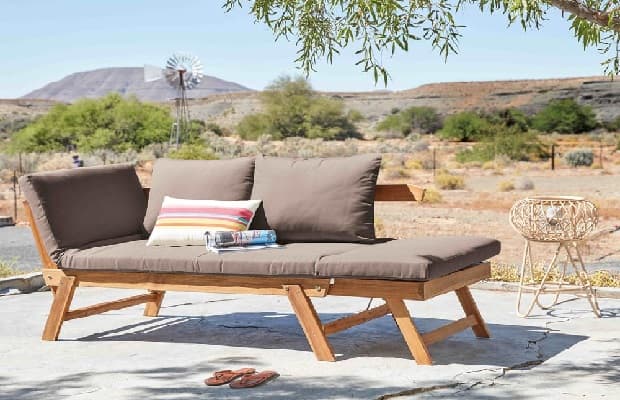 Relax balcony sofa by Maisons Du Monde

The acacia wood gives warmth to the whole environment while the removable cushions make cleaning the fabrics very simple. Available for purchase at a price of 329 euros.