Seats for furnishing outdoor spaces

The furniture is paramount to fully enjoy the outdoor space: armchairs, sofas, chaise longues and chairs are some of the elements to choose for your garden, without sacrificing comfort, practicality and ease of maintenance.
When choosing garden chairs, it is good to pay attention to the design, quality of materials, workmanship and technical characteristics, as exposure to atmospheric agents could damage the surfaces or alter the colors over time.
Polyrattan is a synthetic technological material ideal for making outdoor furniture and in general many models of garden sofas and armchairs, the characteristics of this material are:
robustness;


impermeability;


resistance to UV rays and atmospheric agents;


non-toxicity;


ease of cleaning;


100% recyclable.


Furthermore, some outdoor armchairs can be made of lacquered resin and textilene which is a synthetic material composed of an intertwining of polyester fibers covered in turn by a PVC sheath, very resistant to atmospheric agents and UV rays.
To make outdoor seating more comfortable, we recommend seat cushions and backrest, preferably with removable covers, to be able to easily wash the fabrics.



Garden chairs in different materials
Garden chairs are the best-selling outdoor furniture product and in some cases they are combined with the table model that has been chosen, other times they can be purchased separately.
The most common materials in which the chairs are made are: plastic, wood and iron.
Plastic garden chairs are the cheapest model, they can be stacked on top of each other for a smaller footprint and require minimal maintenance for cleaning.
Wooden chairs are made up of wooden slats and they come with or without armrests.
The wood must be treated with oils that make it impermeable to water and atmospheric agents.
It is preferable to choose a folding model, in case, after their use, the chairs need to be stowed away, thus taking up less space.
They require periodic maintenance to preserve their waterproofing over time.
The metal garden chairs are required by those who prefer a lighter and more elegant furniture, with decorations, even if the seats are rather uncomfortable and must be equipped with cushions.
Even if the iron is treated with anti-rust paints, in the winter season it is good to store the chairs indoors, unless they are located under pergolas.



Garden chaise longue
The chaise longue is a sunbed with adjustable backrest, very popular in the gardens or by the pool. Some models are equipped with wheels that allow easy movement.
The chaise longues differ according to the construction material:


wood, is a classic model with slats that allow the body to stay in a comfortable position thanks to the ergonomic structure;


plastic, is the most popular model due to its ease of maintenance and lower cost compared to the wooden one;


steel, particularly appreciated by designers for those who love a modern and innovative style for a garden furnished with originality.


Viadurini is a company that presents various models of outdoor chaise longues in many amazing different materials.

Garden chaise longue - Viadurini

Prices will fluctuate between more expensive models, such as those made of iron or wood, to cheaper models such as those made from aluminum and plastic. The model also affects costs, since the more original and complex the structure is, the higher the price will be.



Outdoor armchair for true relaxation
The armchair is the preferred type of seat for outdoor furniture as it guarantees true relaxation.
Generally the garden armchair differs from the one used inside when it comes to materials, and usually it can be purchased with the sofa.
The garden armchair has a simple structure, typical of the indoor versions, with a comfortable seat and a much higher back than a normal chair and armrests on the sides.
Homemotion garden armchair - Simonetta - Viadurini


For example, the Homemotion-Simonetta armchair in aluminum and Teak by Viadurini is characterized by a water-repellent and UV-resistant rope weave and removable cushions.
The large structure allows you to feel as if wrapped inside it. The outdoor versions of the armchairs come with a great variety of models suitable to meet the needs of interior designers too.
If an armchair tends to suggest a classic style, in reality it is a product that lends itself to different tastes ranging from retro to modern up to creating truly avant-garde design elements.



Natural materials for garden seating

Recently, fashion tries to recreate a natural and fresh atmosphere in one's garden, using for example bamboo, rattan or other natural fibers such as banana.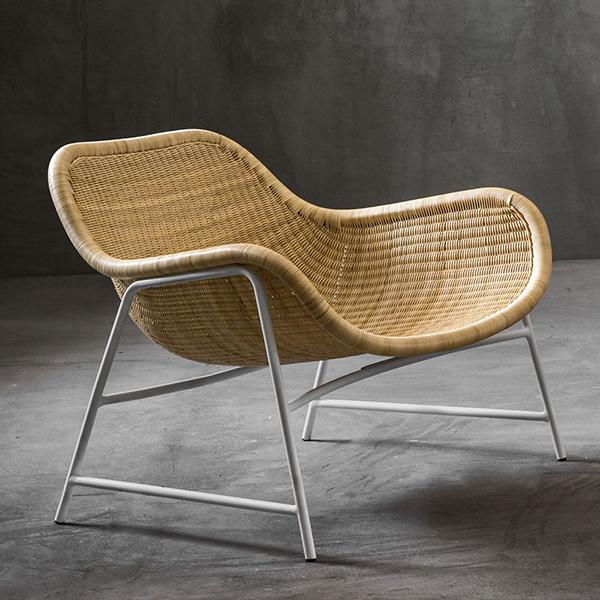 Garden armchair with wicker seat - Sediarreda

These are natural materials and therefore blend perfectly with the vegetation of parks and gardens. Depending on the fiber chosen, you can have different shades of brown or beige and more or less thick structures.
In general, these materials with an exotic taste are very delicate, so they need periodic care and must be well covered when not in use, especially in winter.


Fabric dining chairs for outdoor

The dining chair from the Cruise Teak collection by Talenti Srl has a comfortable and high seat, made of quick dry foam, and is covered with a fabric resistant to atmospheric agents.
The wood of the base and the ropes used to cover the backrest and armrests make the product in line with the modern concept of the outdoors.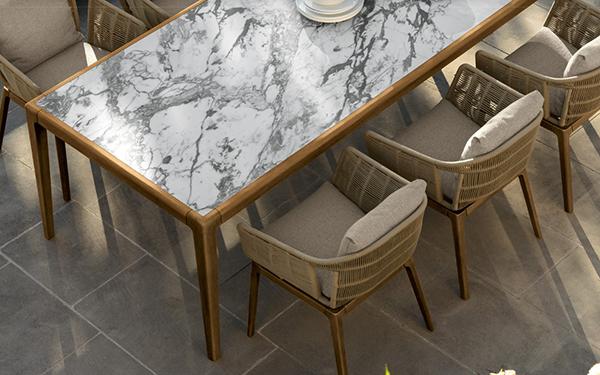 Cruise Teak outdoor chair - Talenti


The Cruise Alu model has a soft and welcoming shape, with an aluminum structure that supports the body perfectly wrapped in quick dry foam cushions.
The fabric, resistant to atmospheric agents, is accompanied by the synthetic ropes that wrap the backrest and armrests, making the armchair an ideal piece of furniture for the outdoors.
The Scacco model dining armchair, on the other hand, combines the strength and elegance of aluminum with the geometric games that the rope draws in the backrest.
The softness and roundness of the seat adapts perfectly to the surprising and original effects of the rope.



Deckchair for garden and terrace

SEDIARREDA.com is a company that provides numerous solutions for furnishing outdoor spaces, in particular the Connubia lounge chair which is a deck chair with simple and delicate shapes.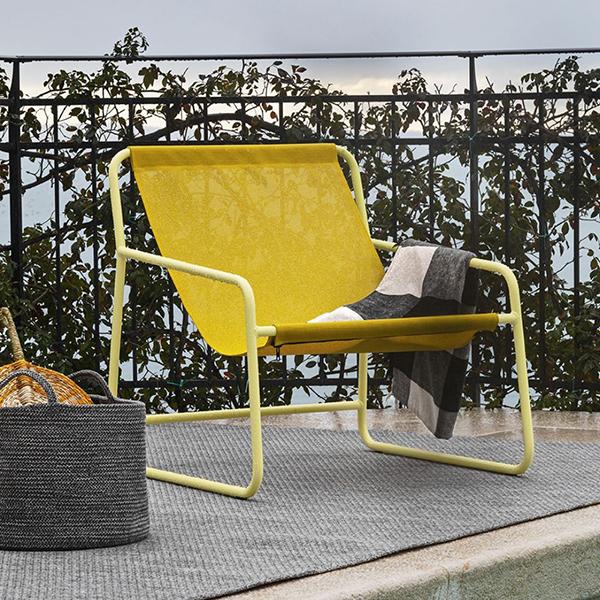 Connubia lounge deck chair - Sediarreda


This model, which is available in three colors in pastel tones, is simply perfect to complete the relaxation area in the garden or on the terrace.
The structure is made of 22 mm metal tube, while the seat is made of polyester fiber coated in PVC, a waterproof and easy to clean material.
It also resists UV rays, molds and fungi.


The Emu deck chair, Bahama model, is foldable, with a painted tubular steel structure, associated with a technical fabric made with polyvinyl thread, a particularly resistant material suitable for the outdoor environment.