The outdoor living room, a wonderful choice for your outdoor space

After a very hard and long winter there is nothing better than choosing to take some time to enjoy the mild climate, especially in these times of anti-contagion rules, and in order to do that the best option is to live to the fullest your outdoor spaces.
Equipping your terrace, garden or spacious balcony with an outdoor lounge is therefore the best choice to entertain guests in an informal and relaxed atmosphere by organizing dinners or simply afternoons and evenings with friends.



Requirements and latest trends for outdoor lounges

The term outdoor lounge means a set of outdoor sofas and armchairs, tables and coffee tables, counter tops and any accessories such as lamps and cushions. Other less popular furniture are chaise longue, deck chairs, benches, ottomans and armchairs or rocking chairs. In other cases, the garden lounge set includes a dining table with seats or armchairs.




The manufacturing companies offer numerous solutions in order to build your outdoor lounge in the most diverse styles and materials. The most common trends are three: the vintage or modern reinterpretation of ethnic and colonial style furniture, the creation of modern garden lounges and the invention of real luminous furnishing elements, a particularly suggestive solution for hotels, cottages and bed and breakfast.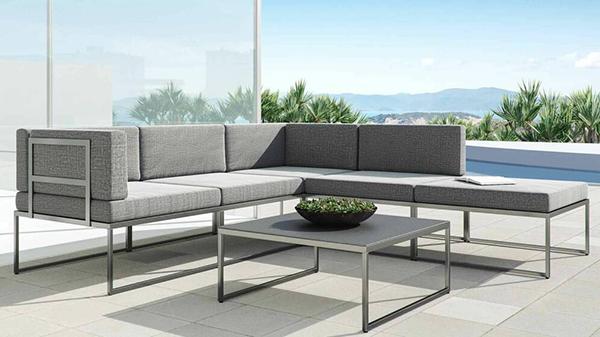 The performance requirements that a garden furniture must meet are essentially:


a neat aesthetic look;


resistance to bad weather and in particular to humidity, saltiness and rain;


a tendency not to discolour after prolonged exposure to ultraviolet rays;


easy cleaning, especially of fabric components such as sheets, cushions and upholstery;


absence of small detachable parts, which could be dangerous for dogs and cats.



Colonial garden lounges: a combination of vintage looks and innovation

The most common materials change according to the style you choose: in the colonial style ones, for example, we find very frequently the combined use of wood and rope, exotic woods such as teak (particularly resistant to bad weather), rushes, woven rattan and wicker.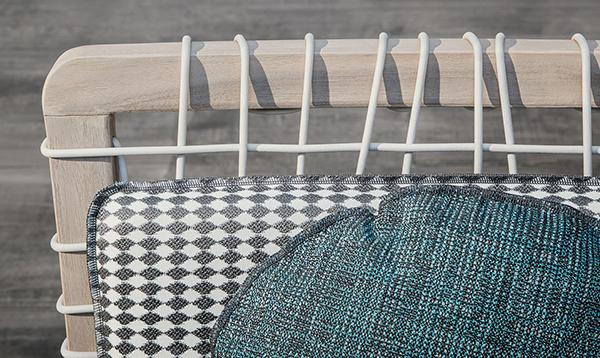 The Inout 863 sofa by Gervasoni, sold by SEDIARREDA.com can be combined with the armchairs of the same line in order to build a modular garden lounge, which is a perfect example of this trend.

The supporting structure is in aged teak, with hand-woven panels with polyethylene ropes, back with water-repellent padding and a covering of specific outdoor fabrics. The sober and elegant design with its neutral colors discreetly reinterprets the colonial style.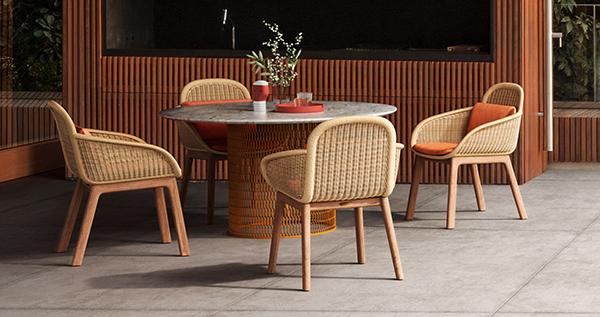 Basket and Vimini, two collections of outdoor wicker lounges by Kettal, are more faithful to the original models of the early 1900s.

The first one, which has a reminder of the ancient art of weaving in its name, includes armchairs and sofas with round backs, oak or teak structure and seat in wicker or hand-woven artificial fibers.

The second, designed by Patricia Urquiola (a true icon of contemporary design) is instead characterized by a deliberately raw look, the classic and enveloping shapes and the amber tones of the natural fiber are simply extraordinary.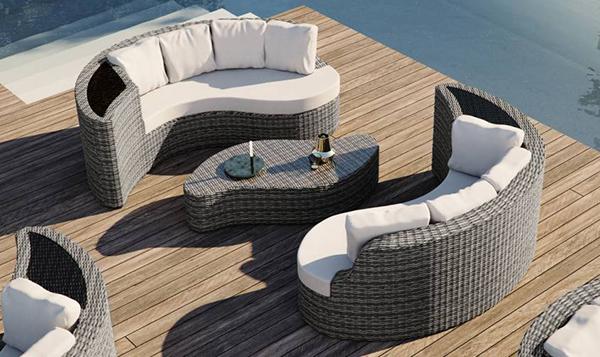 The rattan garden lounges also include interesting variations on the colonial theme.

Yamelia by Artelia is a garden sofa set that stands out for its unusual, organic and sinuous lines: it consists of two three-seater drop-shaped sofas and a coordinated low table. The texture is rough and it has a coarse anthracite weave that contrasts sharply with the fine white or black canvas of the cushions.

The same company also offers the Hummel model, an outdoor sunbathing island or solarium consisting of three innovative garden sofas in synthetic rattan, with a curvilinear shape which, when put together, form a complete circumference.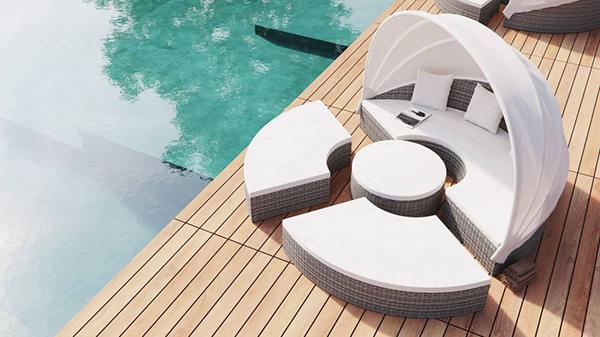 This model is then completed by a circular support surface and a hemispherical reclining hood which is amazing to protect yourself from the wind and the sun.



Proposals for contemporary outdoor lounges

There are also many models of modern garden lounges in the most diverse materials.



Garden lounge set in wood and fabric

The outdoor sofa sets in wood and fabric are a timeless classic, which however can also be reinterpreted in a more contemporary style, inspired by the shapes of the past.

Band and Mesh by Kettal are two collections that we can take as examples of two perfect reinterpretations of the past.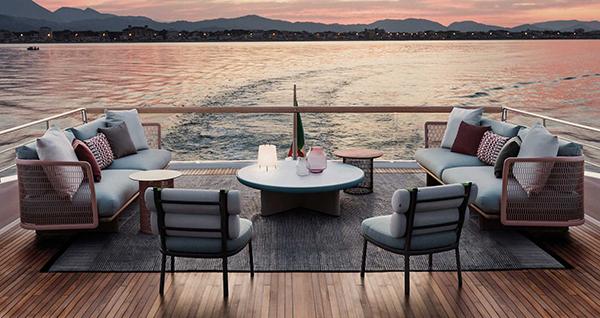 The first one includes a series of outdoor chairs with a teak structure and upholstery with large bands of fabric in neutral colors; while the second one, thanks to the backs with large mesh weaves, evokes some architectural facades that filter the surrounding environment without preventing the flow of air and light.


Garden lounges in aluminum and other metals

Outdoor lounges made of aluminum or other metals are also very interesting. Vieques by Kettal, with its supporting structure, is inspired for example by the Bauhaus and in particular by iconic armchairs such as the Wassily and the Red and Blue Chair by Gerrit Rietved.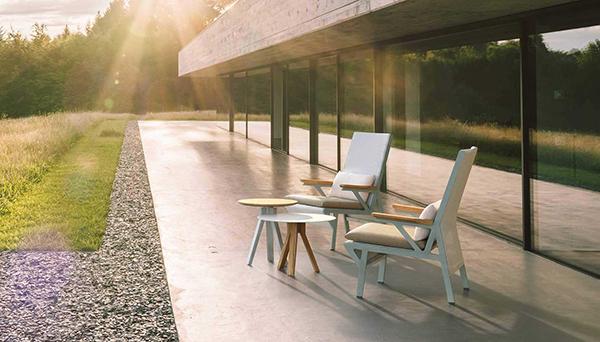 Other models of modern garden lounge inspired by the forms of rationalism are:


Landscape by Kettal, which includes garden sofas, armchairs, rocking chairs and chaise longue;


the RN-2 dining set by Artelia, consisting of a large table and cubic armchairs with a motif of wide horizontal slats;


Tuxedo by Artelia, a gray outdoor lounge with a stainless steel structure made up of two corner elements, two central armchairs, a stool and a table with a stone-effect glass top;


Morino by Artelia, a garden sofa set with six backrests and an elegant coffee table with black glass top.


Garden furniture in resin and plastic materials

There is obviously no shortage of garden furniture proposals in plastic, resin and fiberglass, materials particularly suitable for their low cost, resistance to bad weather and ease of cleaning.

The Sediarreda catalog includes three particularly interesting models.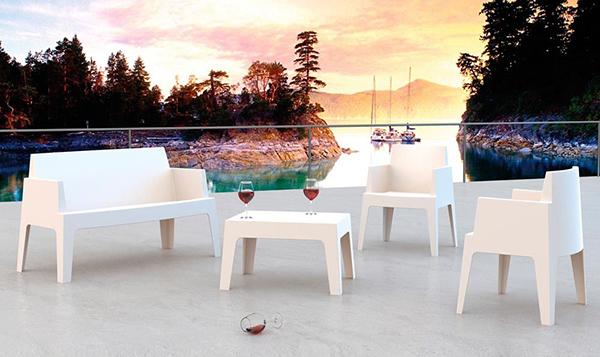 Cube is a white garden set consisting of armchairs, sofa and coffee table with simple and amazing lines with evident edges.

Slide by Kami San, an ergonomic polyethylene armchair, also follows the same philosophy: inspired by the Japanese art of origami, it is characterized by soft and sinuous lines that seem to beautifully hug your body.

Slide by Blossy, on the other hand, is an innovative two-seater white outdoor sofa which, thanks to its organic appearance, vaguely recalls an eggshell.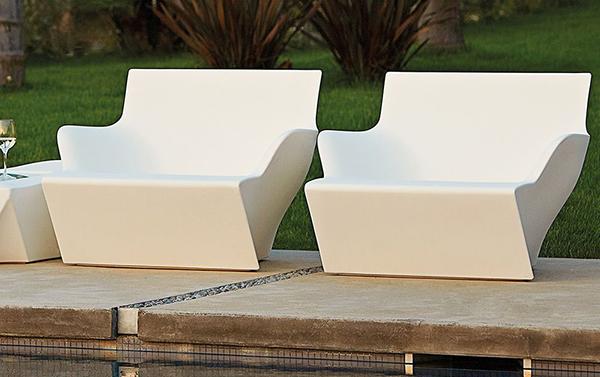 The last two models are available both in white, the basic color, and in a wide range of neutral tones (white, gray, black, dove-gray and anthracite) or very bright (yellow, orange, red, fuchsia, purple, green, blue).



Bright outdoor lounges for magical Italian nights

The final frontier of garden sofas is the bright furnishings, which is able to give a unique and fairytale atmosphere to any outdoor space.

This models consists of a solid white opal plastic shell, easily cleanable and resistant to water, shocks and scratches, with an integrated LED light system inside which is allows the external surface to remain cool, ensuring comfort to the users.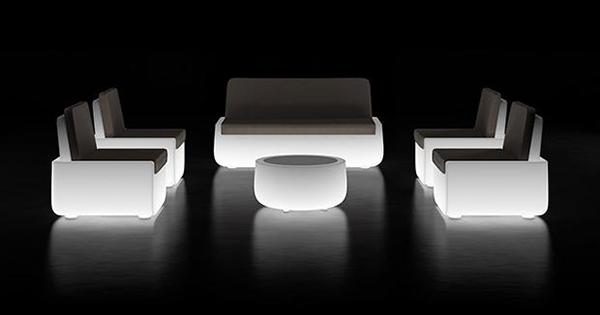 Another interesting proposal is the Bold T-Lu outdoor lounge by Sediarreda with two-seater sofas, single armchairs and small round tables.

This white garden set can be completed with the Gunball armchairs, polyethylene seats reminiscent of poufs, and the Leaf vase, a large and elegant flower stand.