Contemporary style outdoor fireplaces: perfect for outdoor spaces

The contemporary style outdoor fireplaces are not only suitable elements to heat spaces en plein air, they are also an amazing and effective decorative solution that is able to embellish the rooms in which are placed with a touch of style and elegance.
Outdoor fireplaces create a special atmosphere, illuminating the outdoor areas, they are splendid, extremely useful and perfect for summer and winter evenings.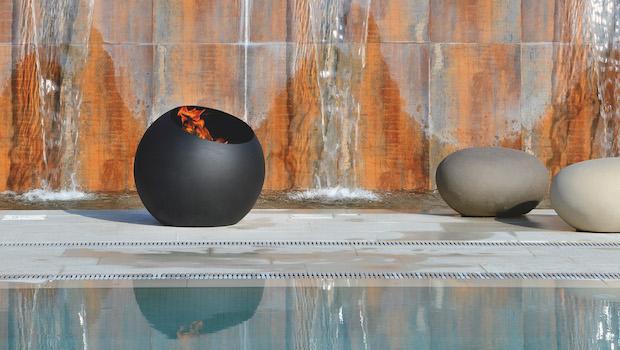 Contemporary outdoor fireplaces, Bubble model - Photo: Focus

The current aesthetics and the high performance ratios make these wonderful products real pieces of furniture that can easily be inserted in any type of space: from the garden to the terrace, from the patio to the poolside. Here are three models with a modern design thanks to which it is possible to take advantage of the outdoors all year round.


Bubble garden hearth: great performances combines with contemporary aesthetics

The braziers byFocus Creation combine performance, aesthetics and resistance, transforming the garden and the terrace into pleasant environments to live even during the cool summer evenings.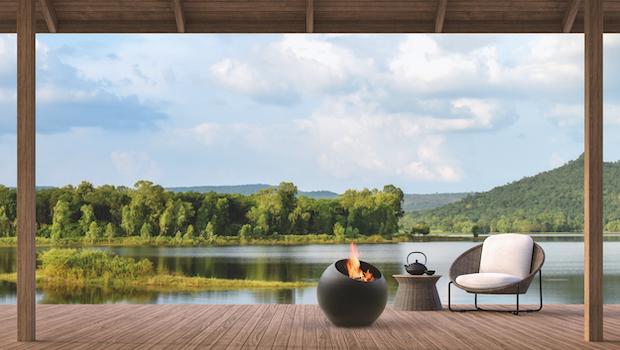 Bubble outdoor fireplace - Photo: Focus

The new outdoor collection, consisting of 7 beautiful models adapted for outdoor spaces, includes the Bubble steel brazier with wood operation, created by designer Christophe Ployé. The fireplace is very compact, strong and characterized by elegant curved lines.


Components and coating

The Bubble outdoor fireplace has a weight of 46 kg and a diameter of 700 mm. It is equipped with two rear wheels thanks to which it is possible to move it easily on any kind of surfaces, including flat ones.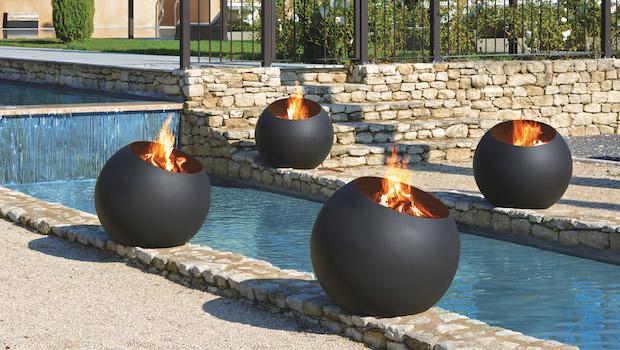 Bubble outdoor fireplaces - Photo: Focus

One of its peculiarities is the anticorrosive coating with a black finish, which makes the brazier resistant to anyfthing ftom bad weather to any kind of abrasion.

Bubble, which measures 750x750x1450 mm, is a tool that can be very useful to manage, as it has a convenient removable basin that allows a complete cleaning in basically no time.



Surprise: the outdoor fireplace with barbecue

The Surprise outdoor fireplace by Rüegg is an outstanding solution that you can choose to complete the furnishing of outdoor spaces, and at the same time, make them functional and usable.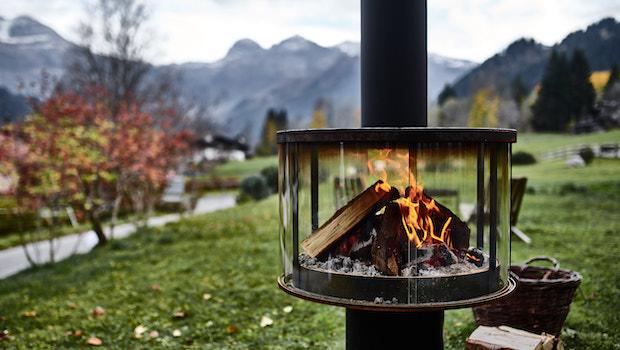 Surprise barbecue outdoor fireplace- Photo: Rüegg

This product was created in order to satisfy the need of many consumers to have a firebox suitable for grilling, whose structure allows you to have an unobstructed view of the lit fire.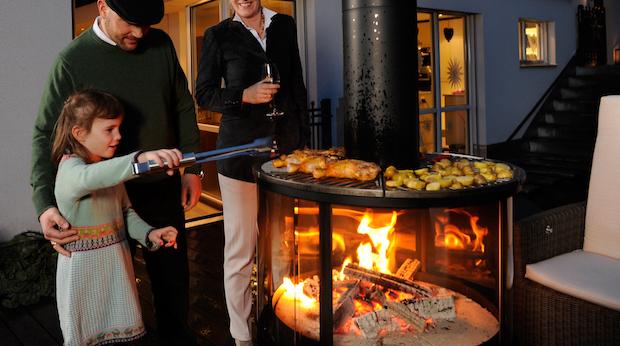 Barbecue in the garden: Surprise outdoor fireplace - Photo: Rüegg

Surprise, thanks to the original aesthetics and its unique characteristics, represents in all aspects a totally new concept of camino, which can be useful to heat up any area, lighting, furnishing and, obviously, cooking.


Structure and accessories

This specific model, manufactured in Corten steel, is composed of many different parts: central body with chamotte firebox, tubular column and support base, 1 m duct with terminal and set of 6 grill plates, and it is actually available in stainless steel or ceramic glass.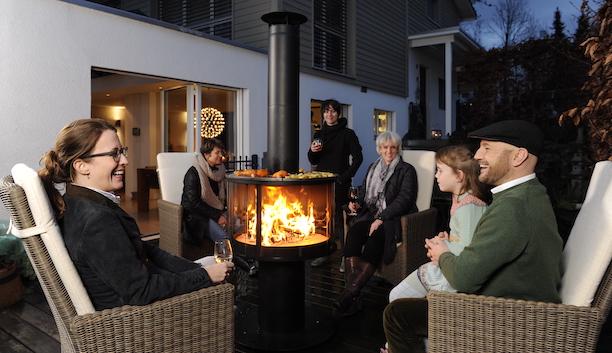 Wood-burning garden barbecue and outdoor fireplace Surprise - Photo: Rüegg

The plates of the mobile grill, perfect for any kind of barbecues, reach a temperature of 250-300 degrees centigrade and can be easily washed in the dishwasher. The heat emanating from the ceramic glass ensures comfort even during the coldest winter evenings.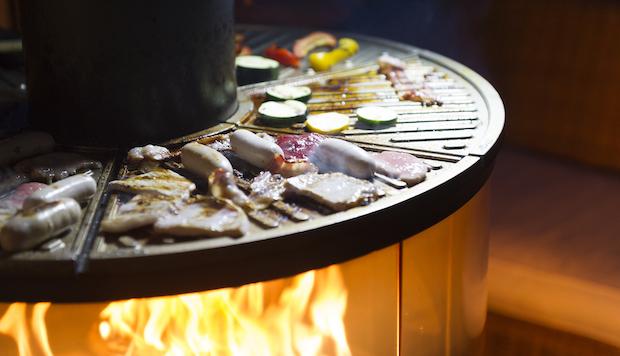 Surprise outdoor fireplace - Photo: Rüegg

The smoke produced by the fireplaces is actually channeled inside the flue, which is modular and adjustable in different heights. Furthermore, the glass doors, which are another amazing feature available only with this model, are easy to open and clean and this can prevent the ash and embers from dispersing, even in the presence of a strong wind.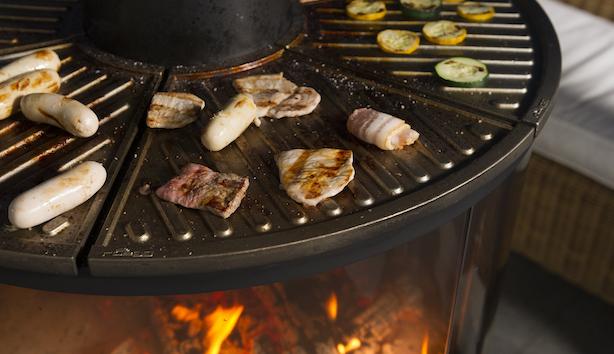 Outdoor fireplaces and barbecues: Surprise model - Photo: Rüegg

The Surprise outdoor fire pit weighs about 122 kg, and is very easy to assemble. It is possible to customize it by purchasing additional accessories, such as the lava stone plate for the barbecue, the cast iron or ceramic glass warming plate kit, the octagonal or round grid, the handles for opening and closing the glass windows and those for transport. The Surprise outdoor fireplace measures 720x450 mm and is also available in a wonderful chrome finish.


Komodo: the design outdoor fireplace for exclusive environments

The collection of outdoor fireplaces by Bluefires, which is actually made by the Canadian company Paloform, includes fireplaces with a modern and contemporary look, suitable for exclusive, big and characterful outdoor environments.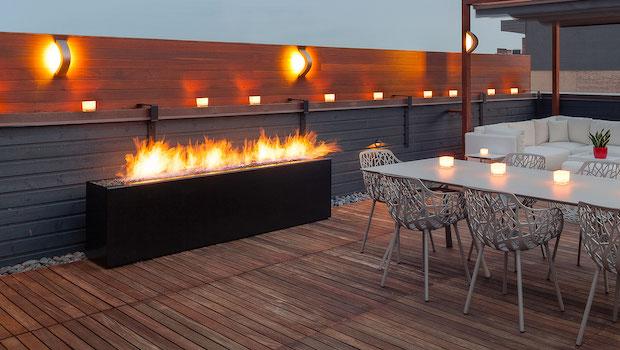 Modern Komodo Outdoor Fireplace - Photo: Bluefires

Bluefires outdoor fireplaces are all handcrafted by specialists in the sector and can be completely customized, you can easily design every single aspect of these models. In addition to the standard models, in fact, custom-made fireplaces are also made.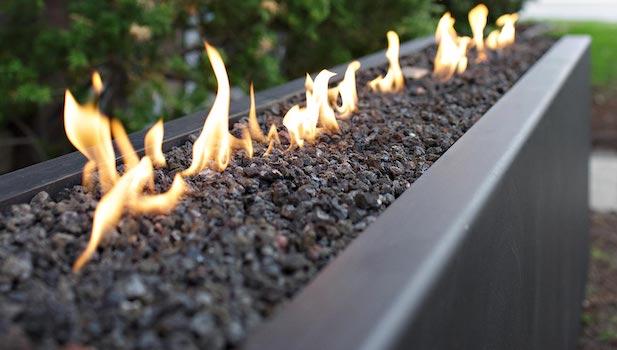 Modern outdoor fireplaces: Komodo model - Photo: Bluefires

These outdoor fireplaces are not only functional and performing, but they also constitute an added value to your outdoor spaces, especially from a design standpoint. Aesthetics and technology: modern monolithic structures are only equipped with wonderful and very high quality, certified and safe components. The Komodo fireplace is characterized by a long and compact shape, which makes it suitable to be used as a central decorative element or even a divider.


Technical features

Komodo Contemporary Fire Pit is powered by 1829mm and 1229mm burners, with respective lengths of 2134mm and 1524mm.
It can be purchased in powder coated steel, in three different shades (Black Powder, Graphite Powder and White Powder) and in Corten steel.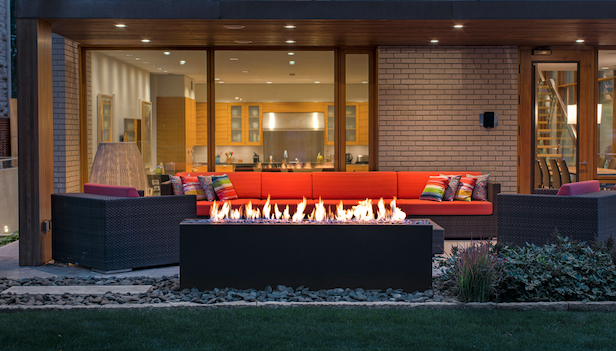 Komodo outdoor hearth - Photo: Bluefires

The available toppings, which actually are the materials that can be inserted above the fire bed, are:


Clear Crushed Glass;


Dark Grey River Rock;


Black Lava Pebble;


Black Pebble Glass;


Black Crushed Glass.

The product is equipped with manual or electronic ignition and runs on natural gas or propane. Its nominal power is 40 kW or 27 kW, this can actually depend on the model you choose to buy.


The additional accessories available for the Komodo fireplace are an all-weather cover, which can be useful if you plan to leave you fireplace outside, and a tempered glass screen.