At the latest edition of the international fair Cersaie in Bologna, among the many different products on show, the new coatings had a large space, made with different materials and in different shapes.
These brand new products will certainly be appreciated by those who want to refresh the look of their bathroom or kitchen. There are many variations to choose from, and in some cases you can customize the design of the tiles to your liking.
Coating with personalized graphics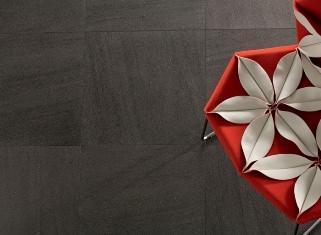 Slimtech, the thin and light slab by Lea Ceramiche, thanks to an innovative digital printing technique, becomes the surface on which to impress any image: in this way was created Lealab, the solution for custom made projects. Lealab is a system designed to make space to creativity; the starting point is Slimtech, the last generation ceramic material, durable and long lasting, despite the only 3.5 mm thickness, which has revolutionized the ceramic sector.
Due to its size Slimtech has renewed the traditional concept of tile. The decoration then undergoes a real evolution: the slab in laminate stoneware becomes the support on which to place any design or image, thanks to a new digital printing process, the colors remain the same, with a surprising result.
Slimtech suits decorative needs but also to the architectural ones. In the residential sector, in addition to wall application, it can fill furnishings of any kind, or it can be used as kitchen and bathroom's top; furthermore, being resistant to moisture, is ideal for showers and swimming pools. Because of its resistance to weather conditions, it is also recommended for outdoor environments, providing a great visual impact.
New collections of luxury coatings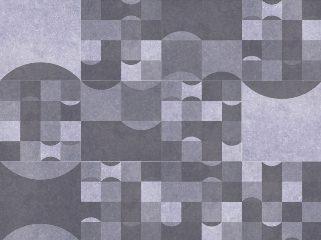 To the numerous collections that make up the collection Refin, you add some news, whose colors and sizes meet any need, providing professionals with an important tool for the realization of furnishing in public and private spaces.

The collection Artwork comes from the study of wall finishes born in Venice in the eleventh century, and is still in use today in the restoration of old houses or to realize contemporary interiors, in particular the techniques of Venetian Plaster and Marmorino.
In the development of Artwork, the study of the techniques and materials used was of fundamental importance, as well as the work of skilled craftsmen, who have led to an innovative product but classically inspired, featuring a contemporary design, in which the spatulate and the color variations are enhanced in the large sizes. Artwork is offered in the sizes 75 x 150 cm, 75 x 75 cm, 37.5 x 75cm, in six different colors (floor or wall), and a variant with a thickness of 2 cm, ideal for outdoor applications.
With the collection Barrique, thanks to careful research and a long development phase, Refin has created a wood trim vintage, interpreted in an innovative way. The staves recovered from the aging barrels of liquor were retained and, after years of maturation, have sedimented a particular crystallization, creating unusual graphic scenarios. Barrique is presented in four natural colors, sizes 25 x 150 cm, 25 x 75 cm and 60 x 60 cm.
Coatings are available in different colors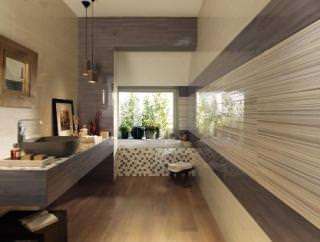 Sole by Fap Ceramiche is a new collection of white paste coatings, which does not want to put limits on creativity. It is an innovative decorative project, proposed in the format 25 x 75 cm and characterized by bright colors, shiny surfaces and mosaic versions.

Refined and welcoming, Sole is a line of coatings where high quality, typical of the company, is available at affordable prices; also this series provides the opportunity to buy the decorations per square meter and not per piece.

Sole represents a new interpretation of ceramics, a revolutionary decorative project that allows you to freely create your own space. This collection has all the ingredients to satisfy every request, in terms of colors and decorations.

The colors of the Sole collection are not just colors, but sophisticated ceramic decorations, which can enhance any space with style and elegance, with great ease you can match colors and patterns to each other, and each combination can give rise to a space unique and surprising. Sole is available in the following finishes: Tobacco, Sand, Buganvilla, Wisteria, White and Blue.