Ceramic coatings: essential for a trendy home

Ceramic tiles are among the most popular coverings for bathrooms, kitchens and outdoor areas, as they combine performance and style.
Porcelain stoneware is the perfect choice in order to obtaining compact, waterproof, impact-resistant and abrasion-resistant surfaces, while monoporous ceramic is an excellent solution for covering walls with light and textured coverings.
Here are six collections of ceramic wall tiles, ideal for any type of style: from traditional to modern, from contemporary to vintage.



Ceramic tiles in retro: Mediterranean and traditional styles

The Antic Colonial, one of the many Porcelanosa companies, was founded in 1999 and specializes in the production of ceramic tiles for architecture and the creation of coatings with natural and eco-sustainable materials.


Mediterranea Collection: tiles that recall the sea

The Mediterranea collection includes monoporous ceramic wall tiles characterized by a glossy finish. The tiles, designed specifically for the bathroom, are available in three sizes, one square (20x20 cm) and two rectangular (7.5x30 cm and 5x30 cm), which can be combined to create original and impressive compositions.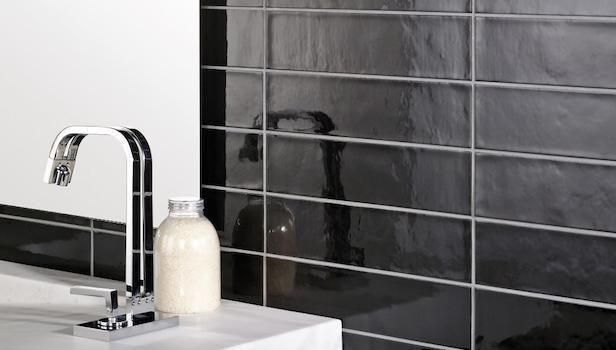 Mediterranea Black ceramic tiles - Photo: L'Antic Colonial, Porcelanosa

The bright and slightly irregular finish of these ceramic tiles and the colors (black, white, anthracite, beige, gray-green, green and blue) recall the fluid movement of the sea waves and the reflections of the sun, illuminating the surface of the water.


Nazari ceramic tiles: the colors and authenticity of majolica

The design tiles of the Nazari collection are inspired by traditional Moroccan ceramics. The peculiarities of these coatings are the irregular edges and the small imperfections recreated manually, two details that make the products refined and retro.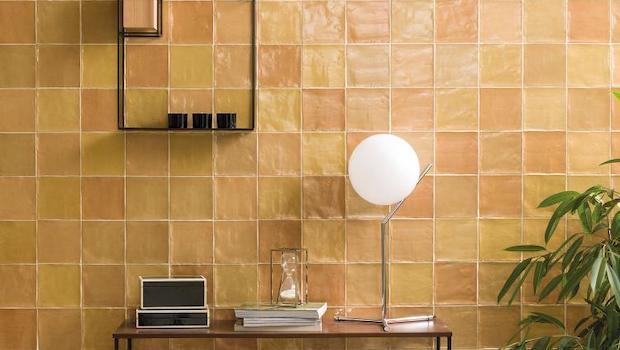 Nazari ceramic tiles, Marrakech - Photo: L'Antic Colonial, Porcelanosa

The tiles of the Nazari line are available in the 11.5x11.5 cm size, and in the colored variants Asilah (powder pink), glossy or matt Casablanca (white), Chauen (green), Fes (gray-green), Ifrane (lilac ), Marrakech (brown-orange), Rabat (red), Safi (black), Sale (gray) and Yadida (blue).


Touch Collection: ceramic tiles with a vintage soul

The Touch wall tiles line consists of 7.5x30 cm ceramic tiles, decorated with single-color finishes and geometric-style patterns.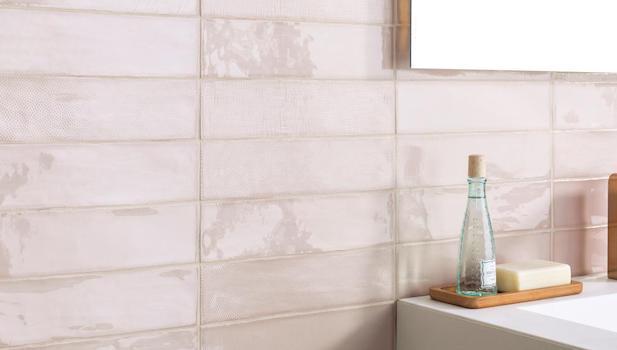 Touch Linen ceramic tiles - Photo: L'Antic Colonial, Porcelanosa


The surfaces of these tiles are available in solid colors (ideal for contemporary or Nordic-style interiors) and with ornamental motifs, such as dots, lines and small squares (perfect for recreating eclectic environments with a vintage flavor).
There are four colors to choose from: Touch Bottle (deep green), Touch Linen (beige-light pink), Touch Navy (dark blue) and Touch Pearl (glossy pearl white).


Ceramic wall tiles for exteriors and interiors inspired by beauty

The three collections for floors and walls, presented by Mirage Granito Ceramico at the Cersaie 2021, are inspired by the concept of beauty and include products made with performing and durable materials, characterized by an aesthetic that follows the most modern trends.


Elysian Collection: minimal and material stoneware coverings

The Elysian line (whose name in ancient Greek means perfect and divinely inspired), is made up of porcelain stoneware tiles with a minimal aesthetic, but characterized by numerous surface details and a structured, natural or brushed texture.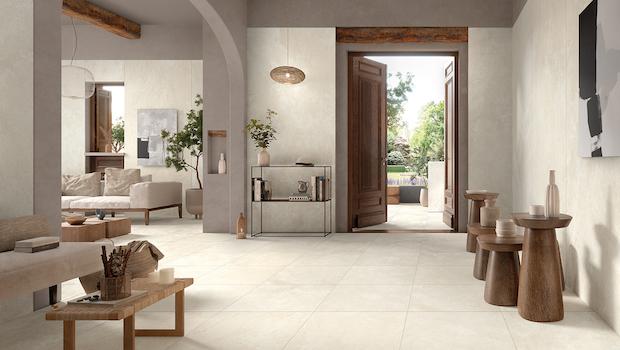 Elysian collection, Mediterranea porcelain stoneware tiles - Photo: Mirage

The distinctive features of this collection are the chromatic complexity and the graphic harmony of the main subjects, which refer to the materiality, shades and nuances of natural minerals.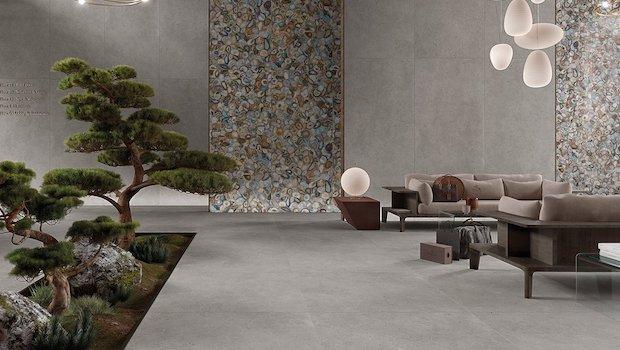 Floor tiles Made in Italy, Gris Catalan model - Photo: Mirage

After a careful study of the colors and light refraction of these elements, the company has created 9 variants with different patterns, ideal for covering floors and walls.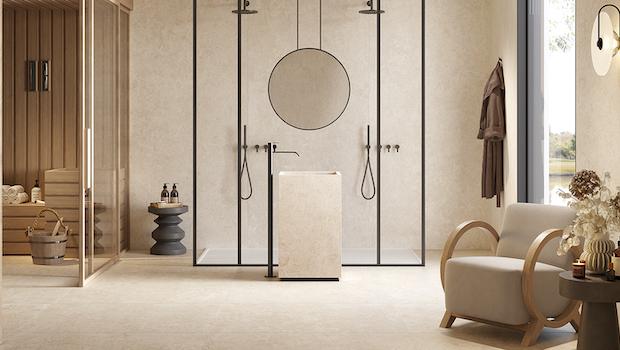 Elysian ceramic floor, Desert Stone model - Photo: Mirage

Elysian, is defined as a sort of laboratory of solutions, since, in addition to collecting all the most well-known and used stones in architecture and interior design, it is suitable for both indoor and outdoor areas.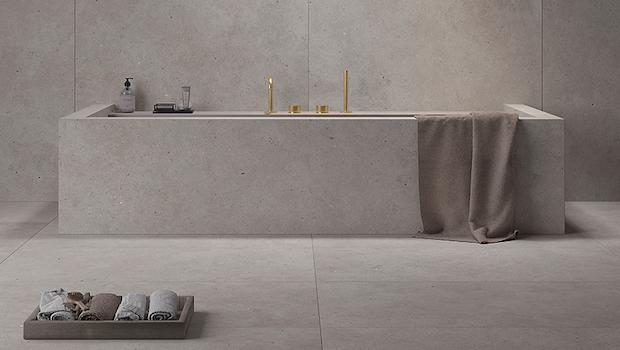 Elysium Gris Catalan ceramic floors - Photo: Mirage

The coverings are available in the following color variations:


Mediterranea, made in ivory color and inspired by the limestone of the South;


Desert Stone, in beige and ivory tones, was designed following the aesthetics of the limestone of the South-Eastern Mediterranean;


Beige Catalan, Gold Catalan and Gris Catalan, with a concrete effect, whose design refers to limestones originating from the border between Spain and France;


Larvik, inspired by the aesthetics of granite;


Saastal, modeled on the image of a stone from the Saastal Alps, and characterized by shades ranging from light gray to dark gray and white veins;


Travertino Light, an ideal line for contemporary style projects, whose peculiarities are the shades of ivory, gray and white, and the aesthetic cleanliness;


Travertino Dark, a gray version of the classic travertine, suitable for elegant and modern contexts


È possibile acquistare le piastrelle della linea Elysian nei formati da 300x600 mm fino a 1200x1200 mm, e con spessori da 9 mm, 20 mm e 30 mm.


Jolie Collection: contemporary and refined ceramic tiles

The purity, versatility and timeless elegance of marble are the three main elements that inspire the Jolie collection.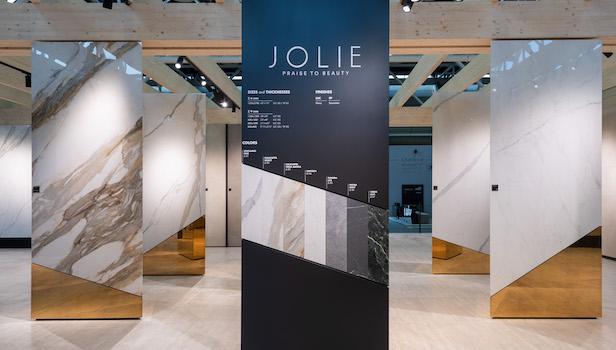 Jolie line, marble effect wall and floor covering - Photo: Mirage


Marble is a precious and versatile natural stone, as it can be used in both classic and modern contexts.
Just like the Jolie porcelain stoneware coverings, suitable for the creation of indoor projects of various kinds, such as flooring, wall coverings, furnishings and finishes.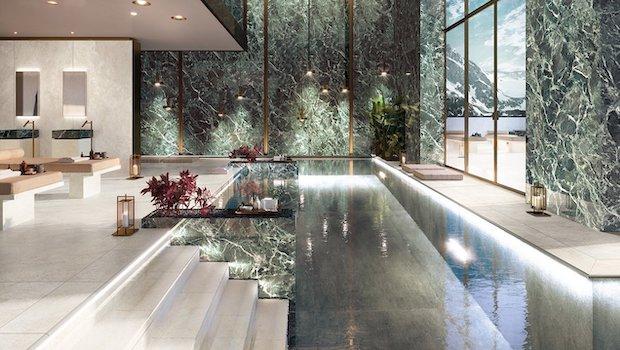 Jolie ceramic wall tiles, Verde Alpi variant - Photo: Mirage

The Jolie porcelain stoneware wall tiles are available in 7 different colors (Verde Alpi, Statuario Fine, Calacatta Select and Vena Antica, Lincoln, Tundra Lite and Pietra Gray), in sizes from 800x800 mm up to 1200x2780 mm, with thicknesses from 6 mm and 9 mm.


Miroir Collection: precious ceramic coverings for exclusive contexts

The coverings of the Miroir collection are made of porcelain stoneware with a mirror effect, and enriched by geometric decorative details, arabesques and floral inspirations in platinum and gold.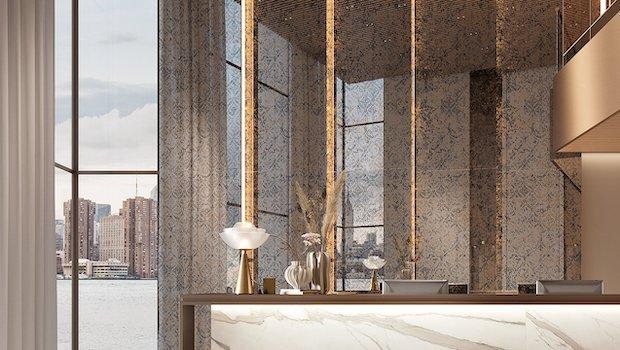 Miroir porcelain stoneware wall tiles, Jacquard variant - Photo: Mirage

Thanks to the mirror finish, whose peculiarity is to make spaces appear larger and brighter, these elements are particularly suitable for installation in small rooms.


The mirror plates of the Miroir line can be purchased in the 1200x2780 mm format, and in 8 graphic variants (Gold, Expo, Jacquard, Jungle, Peony, Platinum, Sakura and Stripes).