Stone Piasentina features

The stone Piasentina is widespread in the architecture of Friuli. Its origins are very old, since it has been used since Roman times, while in the '500 Palladio used it in some of its beautiful villas.

According to tradition, the name comes from the fact that the inhabitants of Udine, who particularly liked the dialect defined as a stone that la piase, that means to like.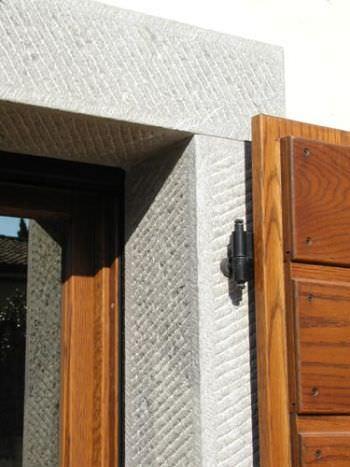 Its extraction is carried out only in a limited area of the Julian Alps that is now recognized as a district of the stone Piasentina, where producers gathered in a consortium, and whose main center is Torreano, in the province of Udine.

From the geological point of view, it is a sedimentary rock of secondary origin,
resulting from the cementing of carbonate deposits. It is therefore classified as limestone.

Today it is much appreciated for both its physical and mechanical properties, which for the chromatic aspect.
These are its main features:
- Low water absorption coefficient;
- High tensile strengths even after several freeze-thaw cycles;
- Good resistance to bending and wear;
- Its color fastness to weathering (which allows its use also outdoors).

The appearance of the color is gray, with white veins and crystalline parts brownish. However, the different processes that can be submitted allow interesting variations in color, ranging from light gray sawn surface in the dark due to polishing.
In this way you can create effective compositions, while always using the same material. Alternatively, the material is effectively combined with wood and marble.



Use of stone Piasentina

Being workable in different thicknesses, is used not only in construction, but also to achieve design objects and works of art.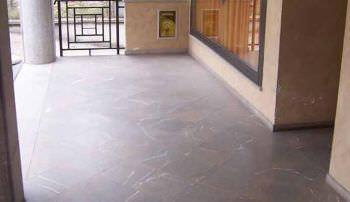 In construction is used in internal or external, depending on the workings to which it is subjected.

For example, for the interior, it is used for floors, coatings, thresholds and floors of bathrooms and kitchen, after polishing, flaming or brushing.

In the exterior, however, it can be used for flooring, stairs, cladding elements or decoration of buildings, ornamental steal, after being subjected to finishes such as flamed, bush-hammering, sanding or flex plan saw.
For this field of use are not suitable stones work with semi-gloss or gloss finishes, because in this case the surface can be slippery.

According to the finish and to the place where the stone will be laid you can then decide whether to subject them to special treatment, such as the oil-water repellent or stain, to be always performed by specialized personnel.



Floors in stone Piasentina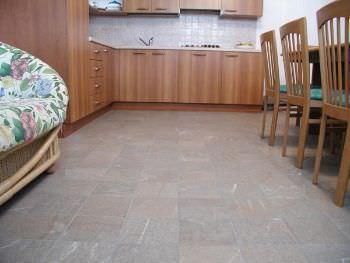 Among the producers of stone floors we can cite Piasentina Friuli Marmi, a company based in Torreano, in the province of Udine, one of the main centers of the district.
For many years, the company, in addition to submitting to traditional terrace finishes flamed, flamed and brushed, brushed, honed and polished, it is proposed to calibrate the thickness and foist on all four sides.

This procedure, while it slows down the process of production, on the other hand, however, offers the customer a perfectly finished product, ready to be installed and closed joint with adhesive.
The tiles for interior have thicknesses ranging from 1.1 to 2 cm.

For examples about external floorings we can cite another producer in the district, SAPPT, Artisan Stone Piasentina Company, which produces tiles with different finishes (floor saw, diamond floor, honed, flamed, bush-hammered, chiselled). The company also formed a criminal, opus Roman and casentino (8 to 15 cm-locking) that are laid on crushed sand.

The tiles are available in many sizes (60x30, 30x30, 40x40, 50x50, 60x60) with varying thicknesses, typically from 1 to 4 cm.



Cleaning of stone Piasentina

Since the stone Piasentina is formed about 94% of calcium carbonate, for its cleanliness are advised against acid based products.

It is recommended, however, for normal cleaning, to use water and a neutral detergent diluted in the quantities indicated by the manufacturer. Some firms also suggest the use of water and alcohol.

It is important not to leave the floor too long dirt before removing the stains and indeed it is advisable to remove as soon as liquids or substances that can stain the material have fallen on it.
In any case, you should first test the cleaning, maybe in an hidden area.

For special needs, however, it is always best to contact the delivery company or other qualified expert.