Food preparation requires a whole series of
accessories
that serve
specifically
to the various phases that contribute to bring a plate on the table: from food processing, to their baking, until the final presentation.
Then, an allocation of domestic utensils must be rich and complete from this point of view. There must be convenient accessories available that allow, for example, to clean and wash away the vegetables, rather than preparing pasta or sweets, a complete set of
pots , pans and pans
for cooking and finally
plates and
serving
trays
to serve them.
Besides being useful, all these accessories are also beautiful and cared for from the point of view of design, so you can also keep them in sight in your kitchen, to contribute to enrich the decoration.
Accessories for food preparation


The series I genietti by Ipac includes numerous small kitchen utensils, to perform the most common actions that are needed to prepare and store food.
Their main feature, in addition to the aesthetic appeal and ease of use, is the small size, which does not require large space to store them in the kitchen.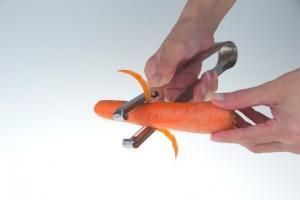 The double-bladed peeler, thanks to this element, allows to halve the time to peel vegetables such as carrots, asparagus and cucumbers.

The herbs grinder is a special pair of scissors with 3 blades to easily cut every kind of herb with. In fact, the cut is clean, precise and always the same, all without any danger of getting hurt.

The steel rolling pin is perfect to roll out dough for sweet or savory. Its plus is the ability to be cooled in the refrigerator before using it. In fact, it contains an internal chamber, filled with a liquid which, refrigerated, it does become ideal to stretch dough as the dough crust, the pastry or dough, which require particularly cold temperatures.

To cut the dough prepared, it is useful to the compass cutter, a unique tool that allows you to cut out discs of different diameters.

And to always keep handy the favorite recipes, there is the acchiaparicetta, a set of pages stops in stainless steel.



Accessories to cook foods

Not only functional, but also beautiful to see the new baking molds that Emile Henry proposed as new for next fall and are produced in limited edition.
The mini collection, which you can find in stores until the end of December, is part of the Natural Chic.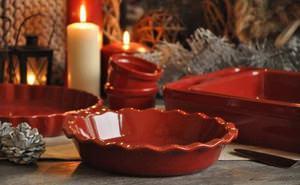 In the collection are:
- The tart mold to 30 cm in diameter, which costs euro 29.90;
- The mold for clafoutis (fruit cake in the oven), from 26 cm to 27.50 EURO;
- The ramequin, small container for baking, from 4.90 euro;
- The lasagnere in sizes from 42.5 x 28 cm which costs 45,50 euro, 35 x 25.5 cm which costs euro 34,90 and 28 x 23 cm which costs 25.50 euro.

These containers are made of ceramic High Resistance, a material that allows to have an even greater resistance to temperature changes (from - 20° C to 270° C) and to chipping.



Accessories for serving food and drink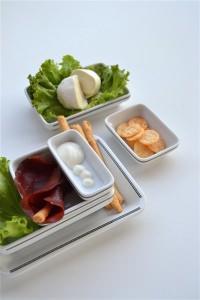 To serve portions, multiple appetizers, sauces, creams, finger food, sandwiches and many other dishes you can use the handy multifunction containers Più - meno by Ancàp .

The rectangular containers, made of porcelain, are of practical use thanks to the fact of being modular, stackable and sectional.
The ability to stack them, in particular, is very useful in the kitchen to store them and keep them in an orderly manner.

They are available in many sizes in white or with a various number of decorations. The smaller sizes, in particular, can be used to serve as appetizers or finger food delicacies, while the older ones to serve hors d'oeuvres and other dishes.

These trays are also hygienic and easy to clean in the dishwasher because they are made of porcelain, stain-resistant material that does not absorb grease and oils.
You can also use to heat food in the microwave or oven, because they are resistant to thermal shock, and this is very much in line with modern standards of living, when you have to deal with ever shorter contracts.

A mix of elegance and practicality distinguishes the fall and winter collections 2013 LSA International, characterized by a judicious mix of materials that unites the porcelain and blown glass with natural leather and wood from sustainable forests.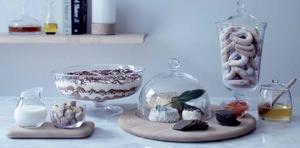 The accessories, designed by Monika Lubkowska - Jonas, include:
- Ivalo, flat and dome, in various diameters;
- Paddle, tea cups or glasses of vodka, ice version in clear or assorted colors;
- Serve, in versions to serve the cheese, milk and sugar or honey;
- Dine, complimentary breakfast and salad bowl;
- Fight, decanter and ash base.

Very original, to serve cold drinks without ice cubes are the steel ice cube by Genietti, to keep in the freezer for at least 4 hours.