Country kitchens: a style that transcends time

The kitchen is one of the most important rooms in the house and, precisely because of this, choosing the right style of furniture is always quite complicated.

There are various styles of furniture to choose from and when it comes to the kitchen it is important to opt for a style that does not get boring over time.
Obviously the choice is completely subjective, in fact, lovers of simplicity will certainly opt for a minimal style, therefore for a modern kitchen, or for those who love a timeless style, will choose the classic one.

Among the styles that are candidates for an excellent choice, also from an aesthetic standpoint, we must mention the so-called country kitchen, which is a bit of a hybrid between retro, traditional and rustic.

The country-style furniture, characterized by a rustic setting, is a style that lends itself to infinite interpretations, from romantic to contemporary and is synonymous with hospitality, familiarity, romanticism.



Country style kitchens: harmony and functionality

The main element of this style of furniture is the material: by using stone and solid wood we give the country style furniture a solid but, at the same time, very elegant appearance and with attention to detail.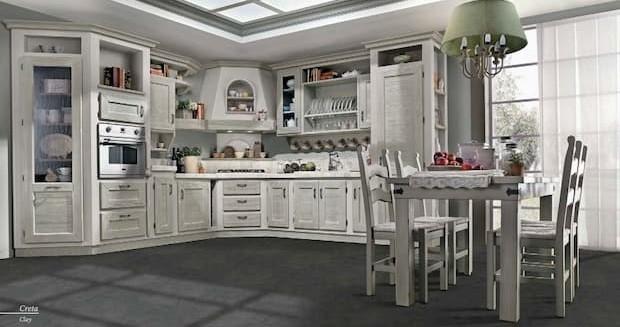 Rustic style kitchen, model Luisa creta by LUBE

The country style was born in France in 1600 and from that moment it has spread all over the world. In the kitchen environment it is highly appreciated precisely because the kitchen is one of the most experienced environments, where you feel the need to have a welcoming and familiar atmosphere.

The country kitchen is clearly characterized by a rustic style, but it must be said that it is also very versatile and adaptable.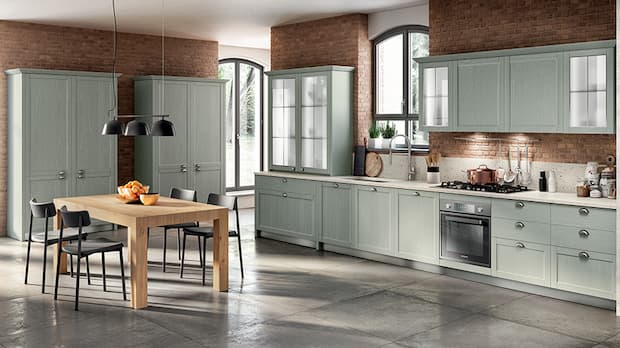 In the photo: rustic kitchen, model Character byScavolini

The most important brands in the world of furniture have decided to enrich their catalog and their collections with different options of country kitchens because of the essentiality of the furnishings, the presence of wood and above all the functionality: these are very popular elements even in modern homes.



Romantic country kitchens

Speaking of the adjective versatile, which we used previously, it can be certainly used to describe country cuisine.

The country kitchens is characterized by a romantic style, with warm and welcoming colors, where the rustic element is combined with a great elegance that makes the environment welcoming and familiar.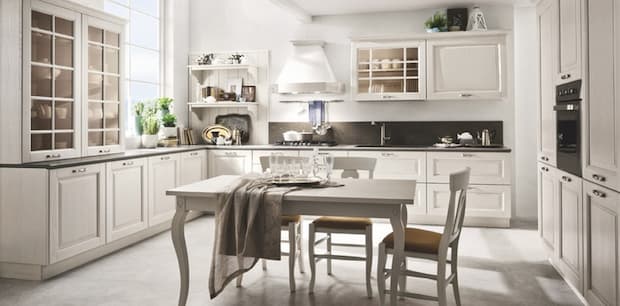 Contry kitchen, Bolgheri model by STOSA

The romantic country kitchen is often also characterized by pastel colors, which give life to a chromatic balance and to the most amazing style that does not tire over time.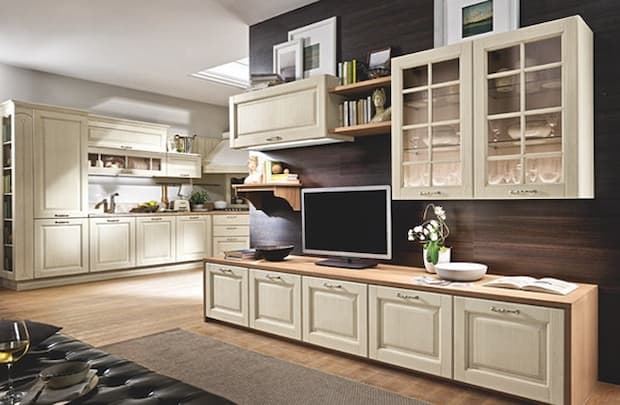 In the photo above: country style kitchen, Bolgheri model by Stosa

An example of a romantic country kitchen is the Bolgheri model by STOSA Cucine, which is a very elegant, harmonious, bright and welcoming model. Here wood reigns supreme with its expressive ability, its delicacy and careful design.

The colors chosen are those of the earth and nature, thus this kitchen model can be combined with current and contemporary furnishing styles.


Country chic kitchens

Country chic kitchens are ideal for lovers of romance, for those who love elegance even in the slightly classic details that are made current.

Scavolini offers examples of country chic kitchens, namely the Colony line, which reflects the features just mentioned and the Family line dedicated to those who particularly love modernity.



In the photo: example of a country chic kitchen, family model by Scavolini

Here we find a current design with a strong personality expressed through a balance of materials and colors that give life to a functional and familiar environment.

The country chic kitchen is represented by light colors that give a touch of elegance to the whole environment. White is also used and customized, an example is total white in the Favilla model which offers an atmosphere of luminous essentiality, on which the various details stand out.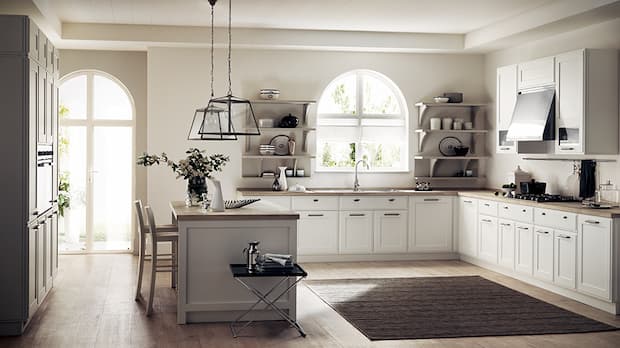 Country kitchens, Favilla model by Scavolini

The country chic kitchen can be complemented by wooden furniture, decorated sideboards, built-in hoods or even iron accessories.



Modern country style kitchens

The modern country style kitchen is a modern reinterpretation thanks to the use of materials such as steel, aluminum, and other metals which, together with the marble top, transform country furniture into a more luxurious style and with clearer and more defined lines.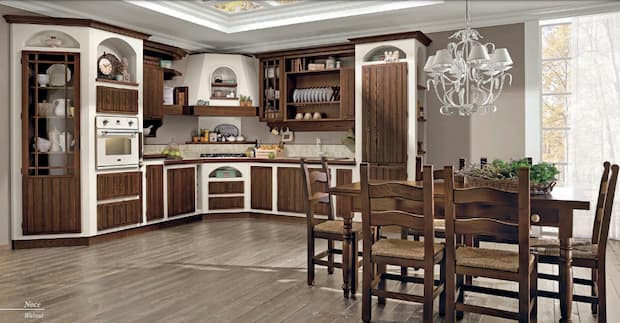 Provencal kitchens, borgo antico collection, Elena walnut model by LUBE

Regardless of the specificity and versatility of the country style and all its various aspects, there are some fundamental elements to consider in order to choose the country style for your kitchen.



A country style kitchen: the elements that must be present

The first thing to consider is the material: it is considered one of the fundamental furnishing elements; they must be made of wood because only this material knows how to give that great touch of tradition to the entire composition and to the environment in which it is inserted.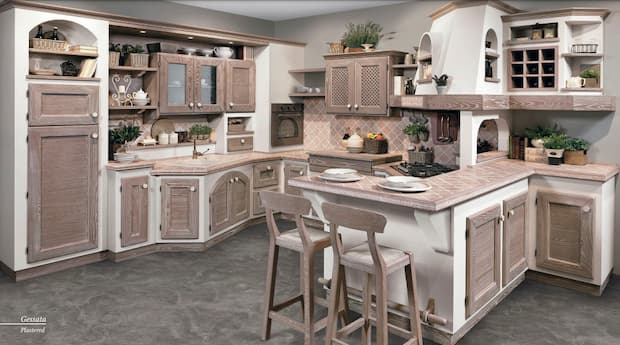 Rustic style kitchen, model Luisa pinstripe by LUBE

Then we must talk about furniture and what we choose to be included in the country kitchen: the most important thing is that all accessories must be simple.

It is precisely this simplicity that gives uniqueness to the composition and combined with a particular attention to the materials, colors and characteristics of our kitchen makes that environment personalized and welcoming.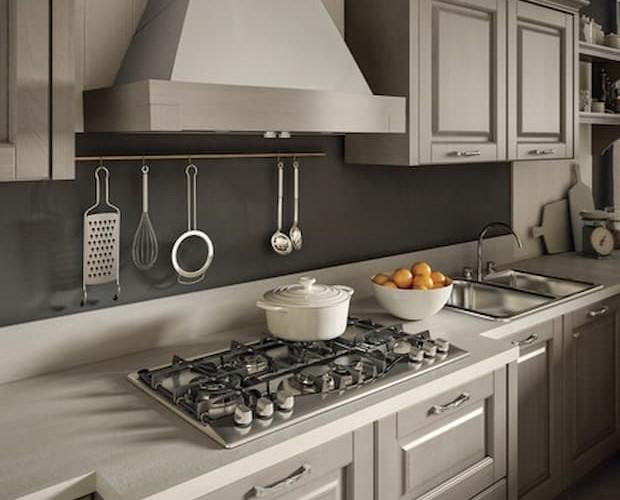 In the photo: particular Bolgheri model by Stosa

Even when it comes to the choice of appliances you must be careful not to choose a too modern model or one with too particular lines that would affect the aesthetics of the kitchen.

The same goes for the furnishing accessories that will enrich the environment. You must be careful not to choose too modern chandeliers but only elements that can marry this style and enrich it.



The colors of country kitchens

The colors that are mostly used in a country-style kitchen are: pickled white, light green, ivory, yellow, powder pink, and light blue.

Because of this, there will be pastel colors to be customized by combining them with darker or brighter shades according to your tastes and needs.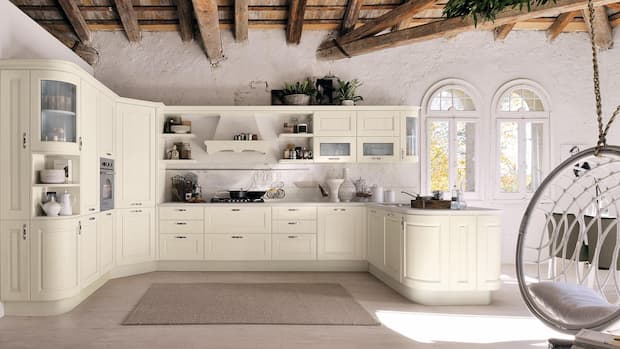 Country style kitchens, Agnese model by LUBE

If you prefer a more rustic style, it is advisable to choose dark wood; if you prefer the romantic style, the most suitable colors are white or light colors.
Once you have chosen the colors you prefer, try to stay in harmony with the other furnishing elements.



Rustic style kitchens: other models

Cucine LUBE with its Borgo Antico collection, which includes various models, has that amazing touch of rustic style in the kitchen. This collection includes kitchens in imitation masonry that recall the large spaces of the rustic kitchens of ancient farmhouses.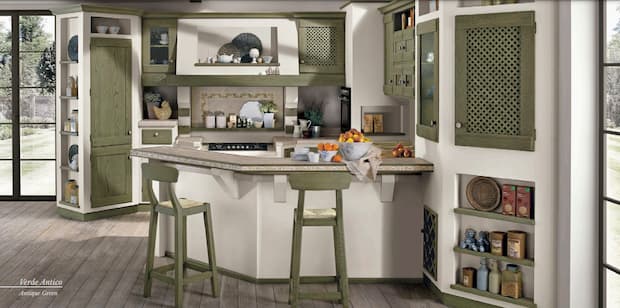 Rustic country kitchens, antique green Anita model by LUBE


One of the examples is the Anita line, with its antique green color that gives a great personality to the environment and makes it warm and welcoming.

For lovers of Provencal kitchens, another proposal is the Agnese model characterized by a retro and romantic look, combined with a solid wooden structure.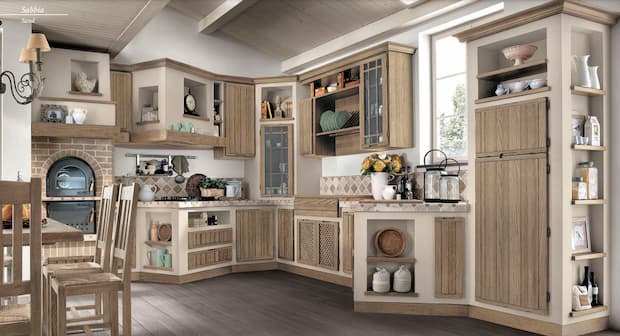 Country kitchen from the borgo antico collection, model Elena Sabbia di LUBE


The Elena line is also of great impact thanks to its thick door characterized by amazig vertical slats, with a handle obtained in the door frame, enhanced by the wood, whose veins emerge thanks to the particular antiqued effect.

Elena also offers a glass door with an English frame which, in combination with the slatted door, celebrates the ancient styles of the past.