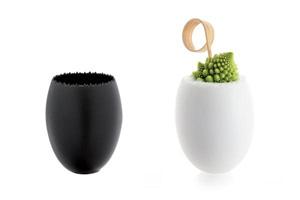 Standing Dinner. the real problem is where to put dishes and glass.

I think also maybe the hunger that has accompanied you home afterwards, for lack of means suitable for snacking adequately treats proposals.

With the holidays coming up it will be easy to find in the organization of similar events, but you have to do everything well studied, in detail, to avoid problems related to the invitees and bad figures.

First the food. The so-called finger food is right for us.
A real art, launched in the U.S. and the spread within a short time a little 'everywhere.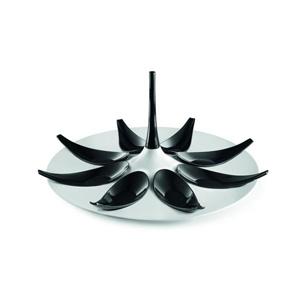 Eaten with bare hands, it is ideal, with its division into small portions, as well as spectacular in the composition. No need for awkward forks and allows you to expand the choice of groceries to propose.

In the market there are now many solutions dishes, plexiglass or recycled paper, to properly serve, though, who is engaged with the more modern cuisine, you can try to compose all-in-one solutions.

Interesting and modern the company's proposals Cremona CHS GROUP. Spheres, eggs, plates and bowls, to amaze, not only with the taste.

Vega Direct also offers a miniporcellana classic for those who want to overdo or practical airtight containers, such as those for the conservation or the tomato sauce, maybe in mini version can also be used for example for small desserts or even original wedding favors / gifts for children.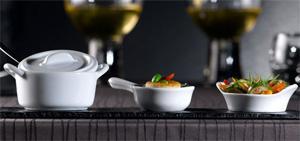 Mebel instead proposes a set Small Entities for finger food, consisting of 1 plate and 8 tablespoons of melamine resin 100% to a vitrified, designed by Marco Maggioni. The composition consists of 16 items, which are available in several colors.

But the company that perhaps most of all reminds us, by seniority (1998) and press (Compasso d'Oro 2001), dinners and standing in general, the world throwaway, it is definitely Pandora Design.
Biodegradable materials, attractive design and original, which goes hand in hand these new ways of modern life, resulting in the emergence of new gestures.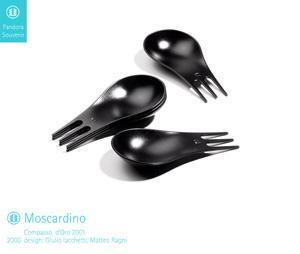 Just take a look at Dormouse, the multi-tool, designed by Matteo Ragni and Giulio Iacchetti, a dozen years ago, or Goodmorning, the tray portion of Cini Boeri.

For informal solutions Finally, you can also use in cutting boards. But not just anyone, especially when you have the problem of placement of a good glass of wine paired. We meet Puzzleboard of Oooms, which serves as both a dish from the tray, allowing guests not only to consume the food comfortably, with a free hand, but keep at hand even drinks.


www.vega-direct.it

www.chsgroup.it

www.mebel.it

www.oooms.nl
---
arch. Valentina Caiazzo