New materials for work surfaces and surface coatings

In the world of furniture and design research of new materials and finishes for worktops and surfaces in general, it goes hand in hand with the study of new styles and formal trends.

It is not just a search for new aesthetic effects, but rather to meet particular criteria regarding reliability and efficiency in terms of hygiene and durability.
Important is also the possibility to allow the manifacturing of elegant solutions and of great visual impact.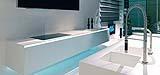 In this regard, one can not ignore the talk about the materials currently in use for the construction not only of worktops but also of furniture and accessories, especially in places like kitchens and bathrooms.



Worktops performance

Can not be ignored, therefore, referring to this type of material, from the talk about Corian ®, the success of which undoubtedly stems from its extreme flexibility of use in all areas of furnishing. Corian® is a composite material for the construction of surfaces of furniture and architecture, it is versatile and allows to translate into something concrete all what is configured on the paper.

The feature of the Corian® which probably makes it one of the materials most optioned in furnishings, is its extreme uniformity, the absence of visible seams and its integration with other materials such as tiles, granite, glass, steel and wood.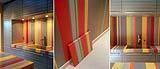 Its field of application is therefore very diverse, ranging from horizontal and vertical coatings, to furniture, to lighting fixtures.



Worktops in Corian®

:

cleaning and maintenance

Corian® is an easy maintenance material, provided you follow the right methodologies.
Although it is waterproof it is better to eliminate immediately any liquid spilled on the surface; for daily cleaning just use a damp cloth with a mildly abrasive cream, circular movements.

For more thorough cleaning, such as the sink in the kitchen or the bathroom sink, once a week is recommended the use of an aqueous solution containing bleach in the ratio of ¾bleach and ¼ water, spray it and leave it all night, rinse the next morning.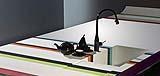 Stubborn stains and scratches should be treated with significant non-abrasive sponge and a detergent containing ammonia. Once cleaned with hot water and dried, pass a damp cloth with a mildly abrasive cream and circular movements.

In everyday use, avoid thermal shock and have the foresight to use hot pads.

Corian® is renewable, so a lot of damage due to impact, chemicals or heat can be repaired directly on the spot and the top can be re-polished.



Work plans and performance surfaces in dark colors trend

Given the excellent results achieved so far, the color range of this material and its already considerable technical skills are enhanced further by the new DeepColour TM Technology * DuPont TM.

This new version of Corian® is another resource for those among architects and designers who are looking for new solutions for high performance dark surfaces, therefore hygienic and reliable, but also extremely elegant and refined in the final aesthetic result.

Thanks to this new technology patented by DuPont TM has been possible to produce a material with characteristics of resistance to deterioration, optimizing the joining operations, thermoforming and finishing, with the addition of deeper colors, intense and lasting.

In all, four new colors of Corian®: these are the elegant tones of black, versions Deep Nocturne (classic jet black), Deep Anthracite (black with bright reflections micro silver), Deep Black Quartz (black with infinite grains ivory), Deep Night Sky (midnight black with a galaxy of translucent particles).



Materials for surfaces and countertops: the charm of cement

The concrete is now an established reality in the field of surface coatings, through the realization of floors to countertops and top in the compositions of kitchens and bathrooms, to finish the complete realization of piece of furniture.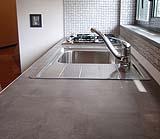 If we talk about concrete, then MicroBond by Ecobeton could be the solution, given the long experience of the company especially in the field of industrial restoring degraded flooring.

The microconcrete floorings for all decorative surfaces and interior design exploit this know-how and have maintained the performance characteristics.

MicroBond is applied to have smooth surfaces, material and continuous, ideal for minimalist environments to be personalized because you can decorate, print, embossing pattern with detail and texture even in low thickness.

Surfaces and floors in MicroBond are available in standard colors white/ gray or mixed in many pastel colors or the strongest, either in monochromatic with gradient effect.

The chosen color can be added during the dough or applied to the surface after the realization of the coating.

The result is a durable surface in time to abrasion and shearing stress, in only 2 cm thick, as long as all the correct method of laying and treatment of the support.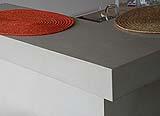 MicroBond provides for the use of other products Ecobeton: Evercrete Pavishield as a protective barrier against the rising damp which cause delamination and blistering; Hercules to pass on the surface before MicroBond, to ensure even more resistance.

Thanks to its technical and aesthetic characteristics, MicroBond is used to coat countertops in the kitchen and bathrooms, showers, sinks, stairs, doors, cabinets and shelves, tables and chairs. It doesn't fear the action of detergents, or stains oil, coffee and lemon.

Its finish protection can be opaque, glossy or satin, and help to prevent the formation of halos, the absorption of water, oil, grease and contaminants.