News from design world: concealed kitchen

A small kitchenette with shutter offers many benefits: for example it is possible to close the worktop and open it whenever it's necessary for cooking, it is suitable for offices, studios, attics and small apartments such as B & Bs or residences.
The retractable mini-kitchen has a small hob, which is designed for a refrigerator, sink with drip tray, extractor hood and dustbin, which makes it usable even for small families.

Usually the kitchen cabinet is 1 meter and 30 / 50cm long and it comes with appliances of your choice, which can be purchased separately.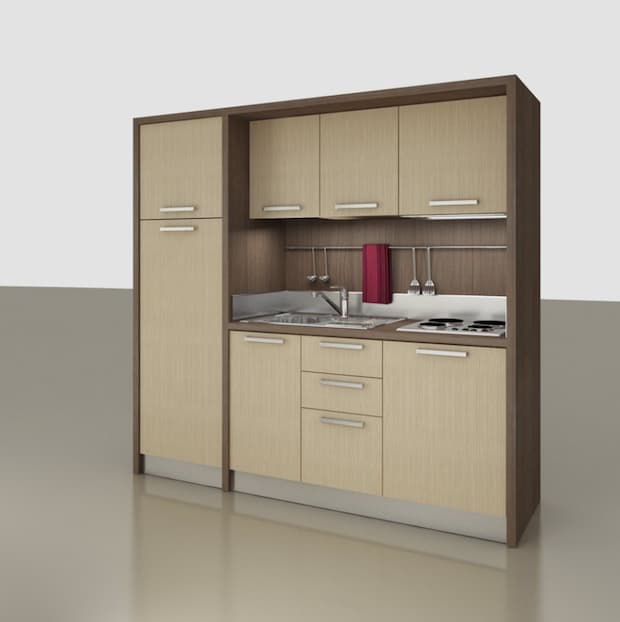 Monobloc kitchens by Mobilspazio

A long time ago, when the word kitchen was pronounced people immediately thought that it was was directly connected to the word house, but today monobloc kitchens have become very popular because they can be placed anywhere.
Kitchen cabinet ikea model Knoxhult

You should always be able to heat up a hot dish and with a retractable mini kitchen you can do everything at all times.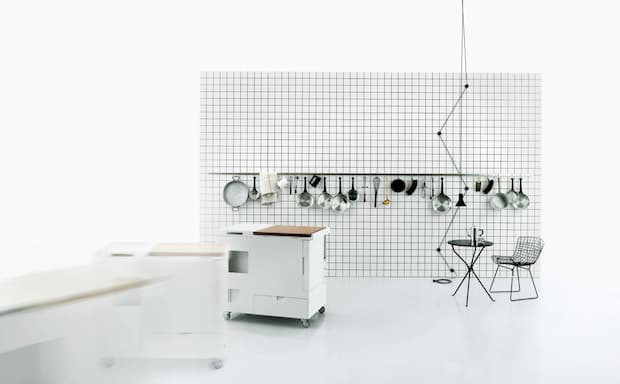 Minikitchen island by Boffi

The mini kitchens are available in many finishes and colors, the furniture panels are made with excellent materials, resistant over time. Therefore they are perfect for any environment.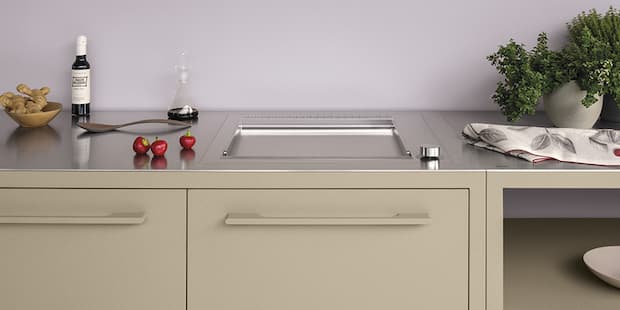 Concealed kitchen detail Frame by Fantin

The hidden kitchen panels are made with a technical space in the back of 7 cm in order to make it easier to set up all of the electrical cables.



Mini kitchen in a modern style

A modular mini kitchen is the simplest solution to change the style of the room to be furnished as a kitchenette without the need for a complete renovation.

You can choose between various models at flexible prices such as the IKEA monobloc kitchen or the bare mini kitchens with an essential style, which can be customized with details and drawers. On the other hand, you can also opt for the deluxe versions.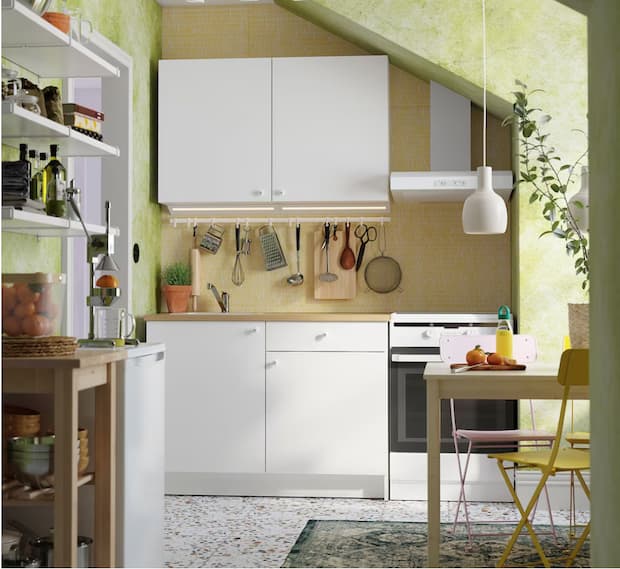 Knoxhult concealed kitchen by ikea


The Knoxhult modular mini kitchen has everything you need to start cooking: it has several worktops, shelves, drawers and installation is simple.

The Sunnersta nude mini kitchen 112x56x139 cm is also very functional and suitable for those with little space and a limited budget. Uses: at home, in the office or in a B&B.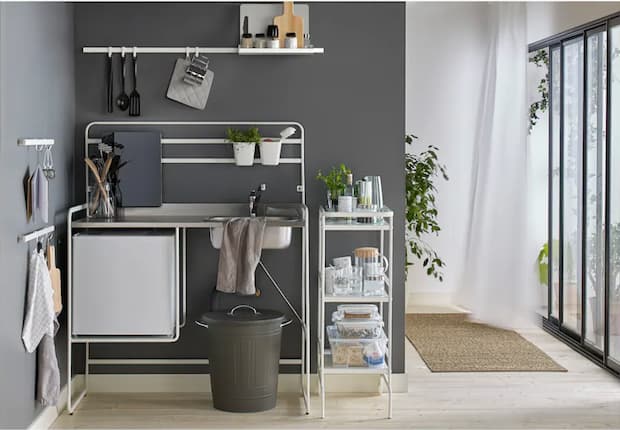 Ikea Sunnersta monobloc kitchen

The Zeus K148 wooden mini kitchen by Mobilspazio is a complete and functional kitchen that can have the appearance of a cupboard if needed.
The monobloc kitchen opens and closes as needed.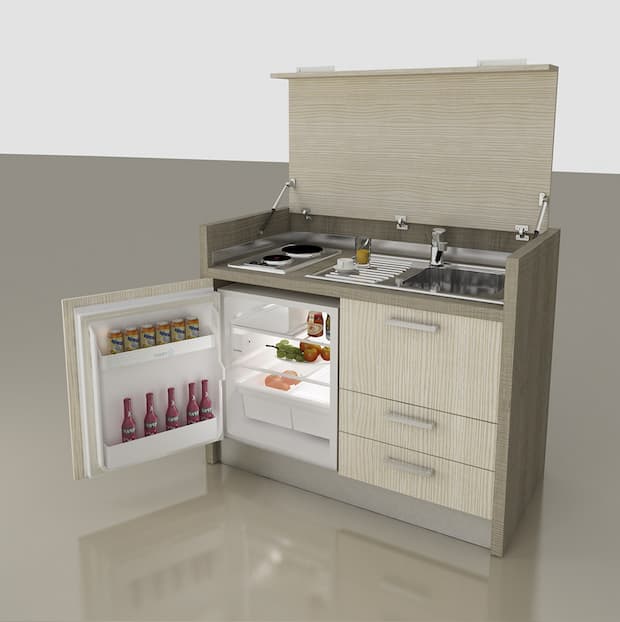 Zeus K148 compact kitchen by Mobilspazio

When open it looks like a kitchen and when it's closed it has the aesthetics of any piece of furniture.
The monobloc kitchen is extremely easy to assemble, is very functional and has a wiring of less than one cubic meter.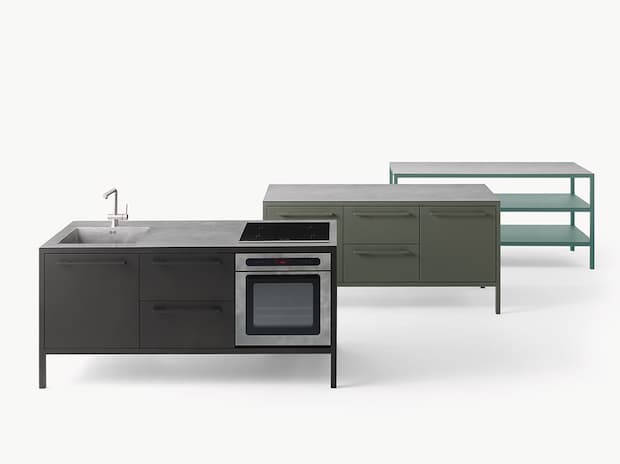 Fantin by Frame mini kitchen

Fantin is an Italian manufacturer of metal furniture with a refined design, has thought of a freestanding kitchen module with an essential and modern style: the Frame model.

The Frame tall units are proposed in two heights and in two widths, and can be equipped with doors, drawers and appliances, without compositional limits.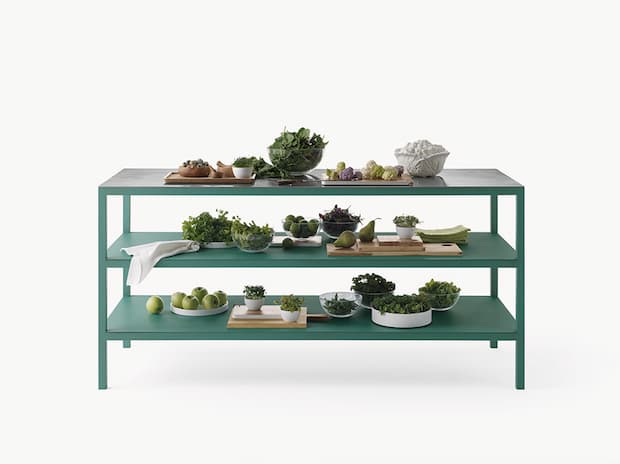 Mini kitchen shelf Fantin Frame

Fantin products take care of technical and aesthetic details, which is why the furnishing elements adapt to the most disparate contexts.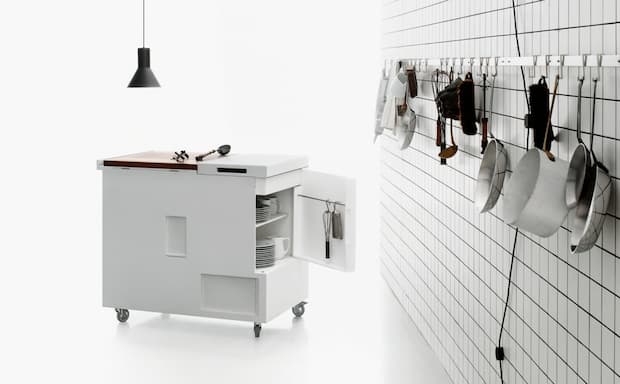 Monobloc mini kitchen Boffi

The other luxury choice is Minikitchen by BOFFI which consists of a structure with 360 ° swivel wheels with two brakes.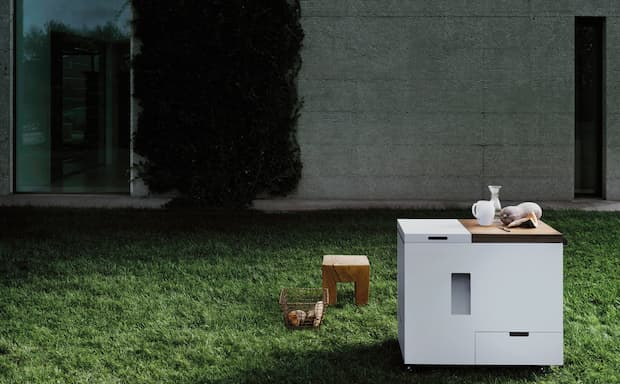 Compact outdoor kitchen by Boffi

It has all the functions of a mini kitchen: hob, mini fridge, doors and drawers, power sockets for small appliances, cutting board and pull-out service top.



Mini kitchens: the elegance and charm of a futuristic style

The mini kitchens are ideal for all kinds of houses, especially if the residential spaces are limited; the essential style and compactness make the concealed kitchen also suitable for occupying the central position of the living room.


Concealed monobloc kitchens Affilato Hide by Sanwa Company

Affilato Hide by Sanwa Company is a concealed kitchen designed for small spaces and for those environments that combine several functions.
Its peculiarity is the ability to completely hide the work area in moments of inactivity, or when it is not in perfect order.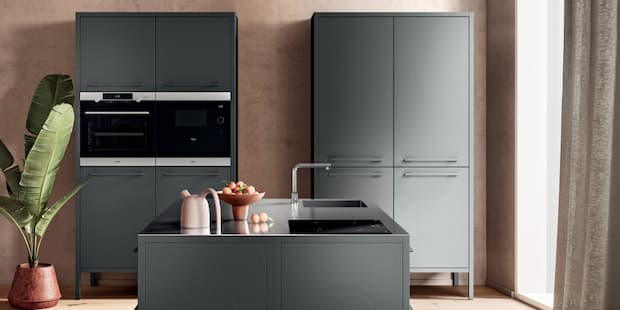 Mini kitchen model Frame Fantin

The Ceragino ceramic mini kitchen always bears the Sanwa company signature which answes the need to create a comfortable space by following the minimalist philosophy.

Designing the smart corner for a mini kitchen has become a challenge for many architects and designers.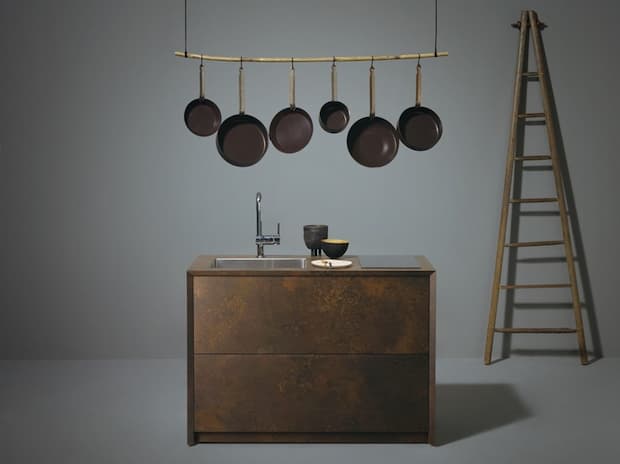 Ceragino Kitchen cabinet Sanwa Company

Elisa Ossino worked for Sanwa company EO 01, creating a cooking unit that could be placed in lofts, coworking spaces, studios and small homes.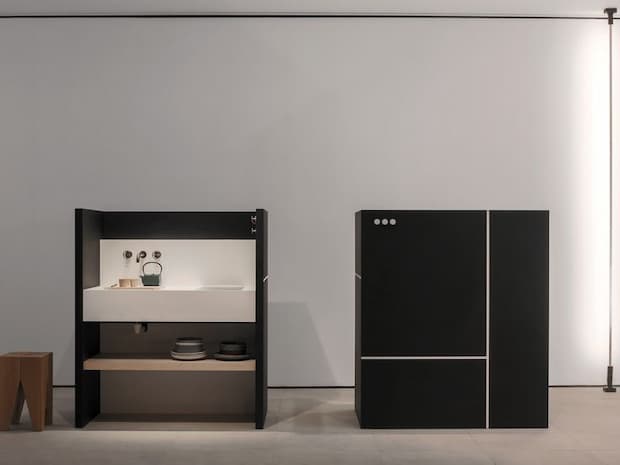 EO 01 Kitchen cabinet Sanwa Company photo pinterest

EO 01 is in fact hidden behind a partition wall, the architect has followed the key ideas of the Japanese tradition of living: the invisibility of functional elements.


Thanks to the synergy between form and function, the minimalist unit of the kitchen cabinet can be easily set in different areas of the house.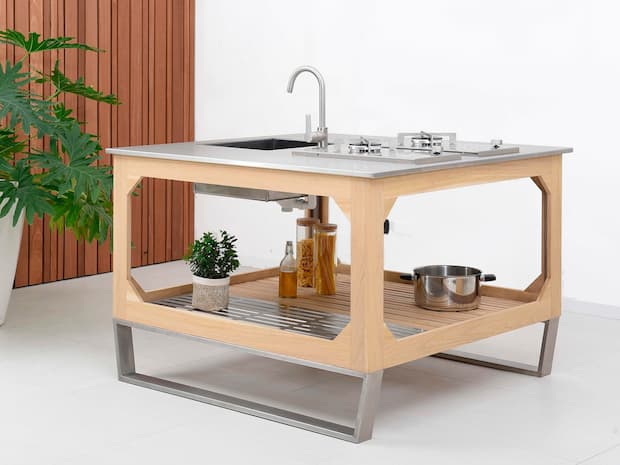 Window C3 isolates by Lgtek

Window C3 is the Lgtek mini island kitchen with clean and contemporary lines. Originally created to furnish outdoor spaces and make them functional, it is now also available for indoor spaces.

The island solution allows a better use of space and the kitchen becomes the focal point of the house, best summing up the concept of conviviality.