Bright colors for the kitchen environment: a perfect choice

The kitchen is definitely the most lived-in environment in the house, it is without a doubt the place where we usually spend most of our time. As we keep up with the new architecture and interior design trends, as the new idea of open space, we tend to choose kitchen models that create balance and harmony with the living area.
The choice of style and model is very important, we all know that, but the choice of the right color for your kitchen doors, according to your taste, needs and desires, is fundamental as well.

Lovers of bright colors know that orange is at the forefront of strong and visually striking colors. When we talk about orange, we mean both choosing it for the entire kitchen, therefore for all of its doors, or only for some elements.



Orange color: a peculiar and extremely interesting choice

If you choose the orange color you're certainly aware of its meaning. In fact, it is a warm color that attracts a lot of attention and at the same time makes the environment more welcoming.

Despite its characteristics, using it in the kitchen may not seem so easy.



Orange kitchen solution, Venus model by Snaidero

Before choosing orange elements for your kitchen, you need to know that an unbalanced use of this color can lead to an aesthetically unpleasant result, so it is good to use it in a thoughtful way and combine it perfectly with other elements already present in your kitchen.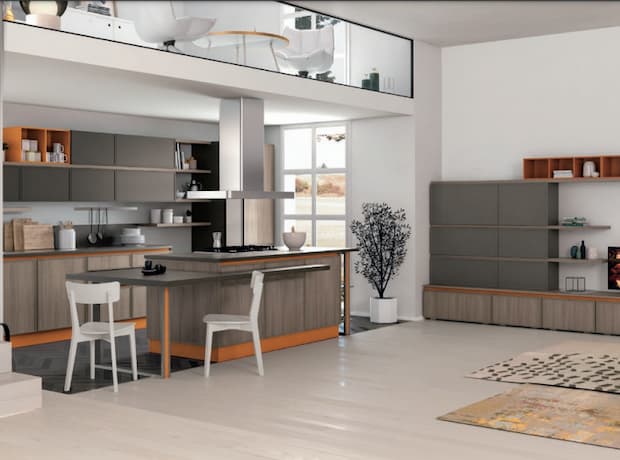 In the photo: example of colors that you can combine with orange, Creo Kitchens

You can opt for a kitchen with all orange doors, for a kitchen with only some orange elements such as a refrigerator, freestanding kitchen and perhaps open shelves or shelves that provide dynamism to the environment and to the entire composition. You also need to pay attention to the colors you decide to combine your orange kitchen with.



Orange kitchen: some solutions

Numerous companies offer colored kitchen solutions, especially orange ones. One of these is Veneta Cucine with its Lounge system, which belongs to the Essence world, in which functionality, quality and everyday life interact perfectly.

This kitchen model certainly makes the environment more welcoming, functional and aesthetically satisfying. It is characterized only by the basic furniture of the orange peninsula where the sink is located.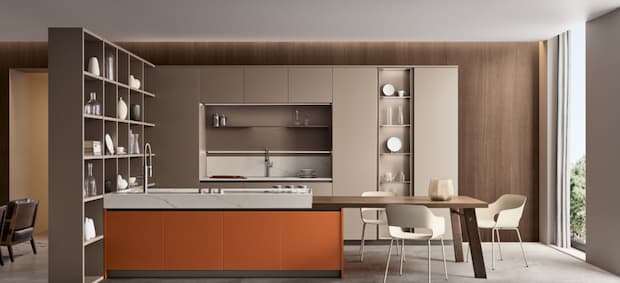 Orange kitchen composition, Veneta cucine solutions

This is an extremely interesting example from which you can draw inspiration if you like to give a lively color only to a few elements of the composition, through which the environment is characterized with a touch of dynamism.

This kitchen was certantly well built, the elements are simply perfect alongside the orange matt lacquered color. In fact, the peninsula has been combined with wood-colored essences that are also warm colors and blend perfectly with the orange color.



Be inspired by orange tones

Cucine Lube proposes kitchen models characterized by the orange color. There is a model taht you can find in the Lube and Creò official stores where each door of the entire kitchen is orange and glossy.

It is a very interesting proposal, where the orange color is combined with the white of some doors of the wall units, the steel color of the handles and the gray of the worktop.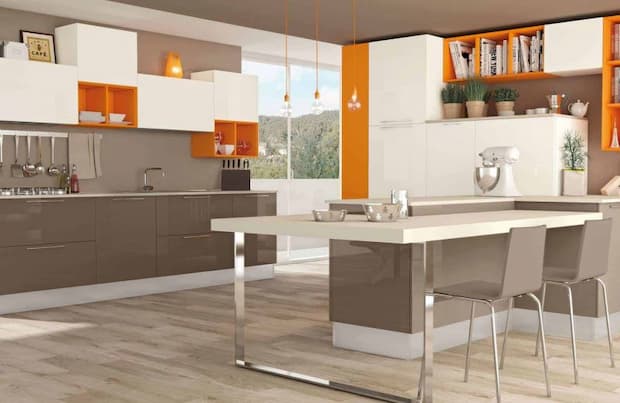 In the photo: orange objects in the kitchen, Lube solutions

For those who prefer to insert only a few colored elements in a composition, Bertazzoni offers various models of orange-colored freestanding kitchens to embellish your home.

This is a very important element that inserts itself within a composition and strongly characterizes it drawing attention in a decisive way.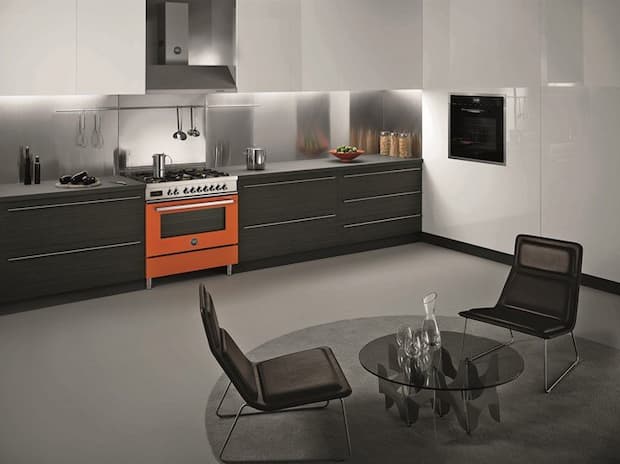 Orange freestanding kitchen, Bertazzoni model

These freestanding kitchens can be combined with various colors that go well with orange, such as black, white or dark gray.



Characterize the kitchen composition with orange elements

CREO Kitchens, if you're still wondering about which is the best color you can combine with orange, also offers examples of compositions where orange is combined with wood in order to make the environment more welcoming.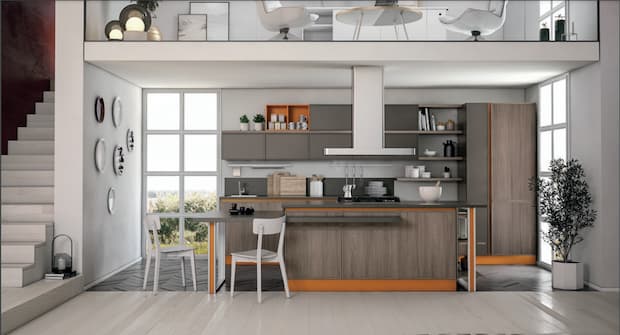 In the photo: an example of a composition with orange elements by Creo Kitchens

The compositions include orange elements such as open shelves, shelves, kitchen plinth, and design finishes that characterize the environment with a certainly less strong visual impact, but still of great elegance and originality.

Another company that invites you to be inspired by unique and original solutions is SNAIDERO.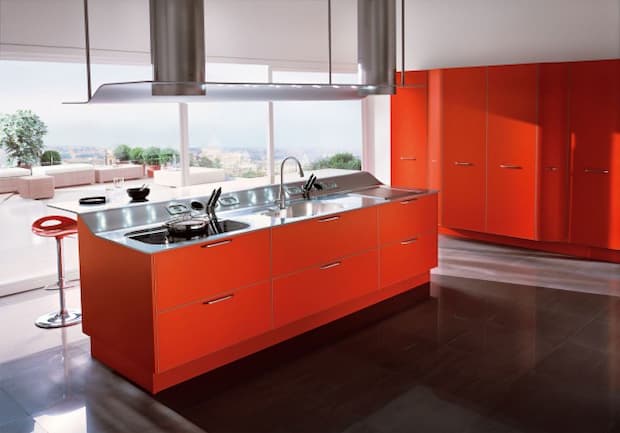 In the photo: an example of an orange kitchen, Venus model by Snaidero

Venus is a kitchen model with a strong visual impact, ideal for those who want to freely express their creativity.

Thanks to its great planning, Venus offers maximum freedom of composition and customization, in fact, it is a kitchen with a strong distinctive and visual impact, with fluid and contemporary spaces.



What colors go with orange?

If you want to focus on the colors with which orange goes well, it is good to remember that one of the ideal colors is white, which is even better if it is combined with the glossy orange color, so that it can compete with white for the light reflection.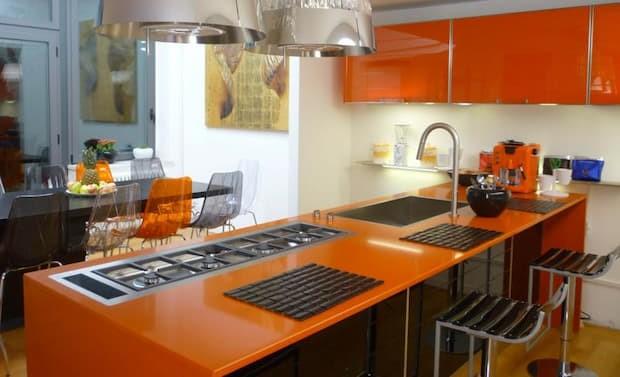 Orange kitchen, Lucy orange model by Lube

The lively effect of the orange color in the environment is almost unmatched as it gives a feeling of great brightness, especially if you choose a shiny material.

As already mentioned, you can choose both, the entire furniture or just a few orange elements if you don't want to dare too much.

If you then play with the combination with some colors, you can get special effects, to give life to a truly unique environment!

Orange also goes well with black, through the contrast of which it is highlighted even more and gives full rein to its energizing and lively charge.