Porcelain stoneware in the kitchen
Porcelain stoneware is one of the most avant-garde materials in the business: in the past it was used only for the construction of floors and walls but now many people choose it also for the creation of kitchen worktops.

The porcelain stoneware kitchen top was born thanks to the development of technology over the years. It is composed of a mixture of natural materials cooked at over 1,200 degrees and is extremely resistant to thermal shocks.
It is composed of sheets of ceramic glued to a multilayer support through resins and has a monolithic appearance: it seems a single continuous block that gives a sense of continuity to the entire kitchen composition.

The choice of the kitchen top focuses above all on the material of which it is made as the kitchen is an environment lived at 360 degrees, which is why it is good to opt for a material that is certainly aesthetically pleasing, but also resistant and long-lasting.



Here's why you should choose the porcelain stoneware kitchen top
Like all the choices you make, even in the case of purchasing a porcelain stoneware kitchen top it is important to know the product and the material well, in order to be able to make a correct choice and understand what the advantages are.

The advantages in choosing a porcelain stoneware kitchen top are: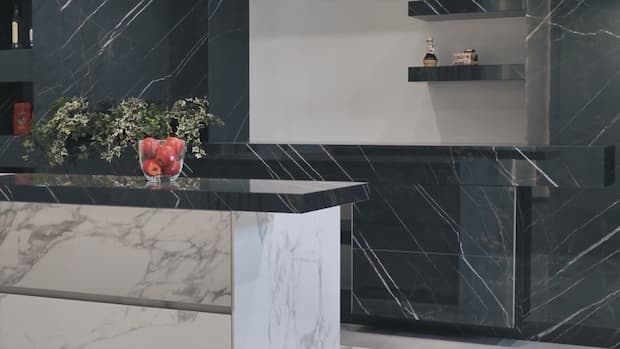 Porcelain stoneware kitchen worktop, Marmoker by Casalgrande Padana


High resistance, which makes it immune to shocks, to the heat of the pots, impermeable to water, humidity, dirt and does not change color over time. So it can be said that it represents a perfect combination of resistance and functionality.


Ecological material, therefore recyclable material that respects the environment.


Single block, it doesn't have those odd-looking junction points that very often are not particularly desired elements by lovers of perfection.


Scratchproof and hygienic, therefore easy to clean.



Proposals at Cersaie 2021: AtlasPlan porcelain kitchen countertops

During the Cersaie 2021 fair in Bologna many companies presented porcelain stoneware for the kitchen tops.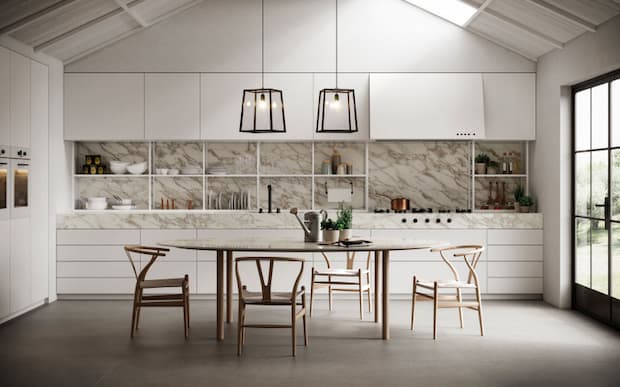 In the photo above: marble-effect stoneware worktop, Calcatta Royal by atlasPLAN

One of these is Atlas Plan which presented various porcelain stoneware tops, such as the marble effect that represents a great classic revisited with originality for the kitchen, the concrete effect ideal for modern environments, the stone effect to give environments with a touch of naturalness, the solid effect and the metal effect for industrial-style environments.

Porcelain stoneware is a material that is suitable for both indoor and outdoor environments. AtlasPLAN also offers ideal slabs for outdoor kitchens, thanks to the fact that they are resistant to wear and attack by atmospheric agents.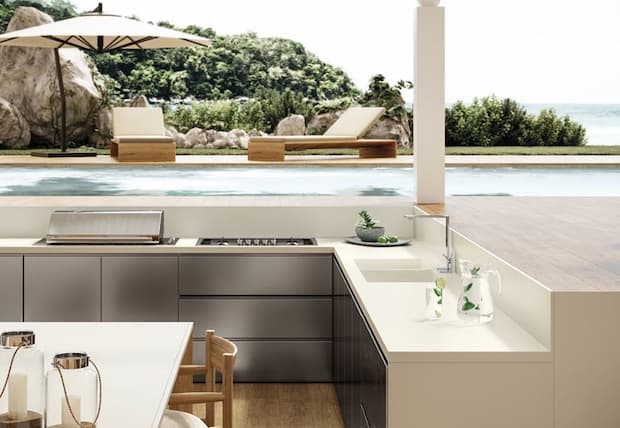 Kitchen worktop in solid-effect porcelain stoneware, Absolute-White by atlasPLAN


One of the slabs is Absolute White, ideal for modern and elegant environments where the white color manages to dialogue perfectly with other colors, materials and effects.

The solid effect slabs have a size of 162x324 cm, with a thickness of 6mm in the matt finish and 12mm in the silk finish.



Kitchen worktop in porcelain with statuary marble or black stone effect

AtlasPlan offers a single porcelain stoneware top size (162x324 cm), available in different finishes and three thicknesses (6, 12 and 20 mm).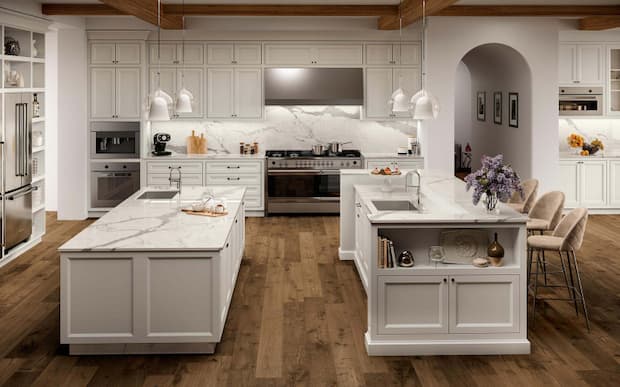 In the photo: marble effect kitchen worktop, Supreme statuary marble by atlasPLAN


There are also porcelain stoneware slabs with a statuary marble effect which allows you to obtain a very refined and elegant look, thanks to the white background enriched with gray veins.

Another interesting effect is the black stone effect with the Black Zimbabwe line that gives every surface great intensity and elegance.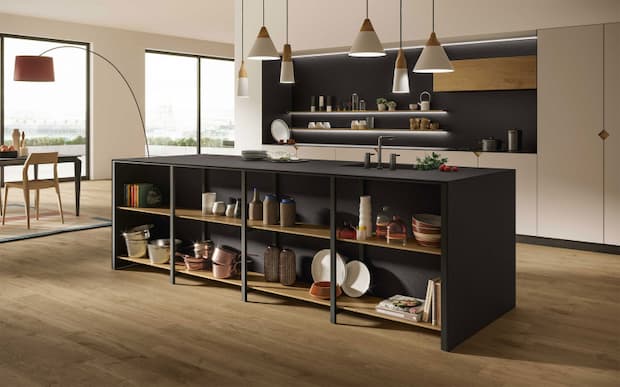 Black stone effect kitchen worktop, Nero Zimbabwe model by atlasPLAN


The Nero Zimbabwe stone effect slab is available in a matt finish with a thickness of 12 mm, is characterized by a great sense of homogeneity and is also ideal for kitchen island backs and tops.

This choice is perfect for lovers of black and elegance, but above all for those who love to furnish and characterize environments by creating numerous visual contrasts that give an original and refined look.



Kitchen worktop with marble effect and stone effect

Another very interesting type of porcelain stoneware top is Cream Prestige, characterized by delicate veins and suitable for any style, both indoors and outdoors.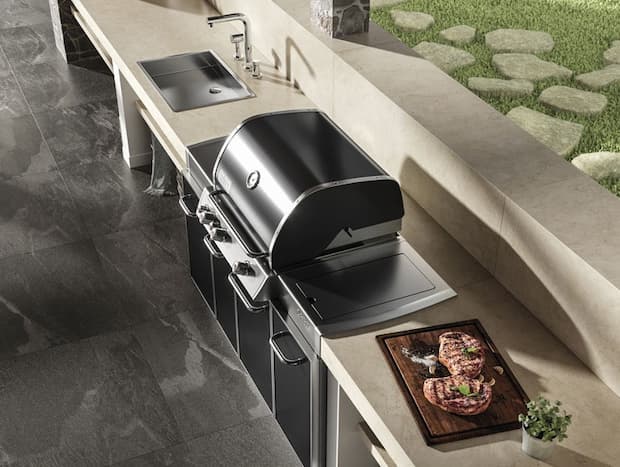 Worktop in marble-effect porcelain stoneware, Cream prestige by atlasPLAN


It is available in large format slabs for kitchen tops in marble effect in porcelain stoneware, that is 162x324 cm with 12mm thickness and silk finish.
It is ideal for covering tables, kitchen islands and worktops.

The Travertino Sand is a large porcelain stoneware slab for stone-effect kitchen tops characterized by a sand-colored background, a neutral and refined shade, ideal for any type and style of furniture.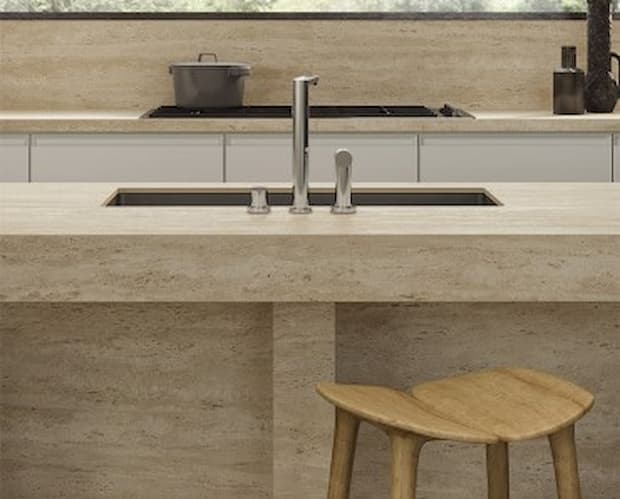 Worktop in stone-effect porcelain stoneware, Travertino sand by atlasPLAN

It too is available in the 162x324 cm size with a thickness of 12 mm and can be positioned with kitchen tops both indoors and outdoors, thanks to the technical characteristics inherent in porcelain stoneware.



The Marmoker proposal by Casalgrande Padana

Casalgrande Padana, featured at Cersaie 2021, offers the Marmoker collection which reinterprets the classicism of marble in a contemporary key.


The Marmoker collection in porcelain stoneware is available in various sizes, finishes and colors, for a total of 39 different textures, 10 sizes (from 30x60 to 60x60, up to the large sizes 60x120 120x120 cm, 120x240 cm, 120x278 cm and 160x 320 cm and from 45x90 cm up to 90x90 cm and 90x180 cm), 3 thicknesses (from 6.5 mm to 10 mm up to 12 mm), honed and polished surface.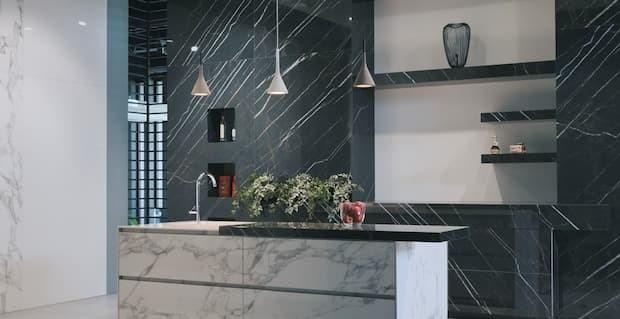 In the photo: pop in porcelain stoneware, Marmoker collection by Casalgrande Padana

This porcelain stoneware collection gives life to original, welcoming and elegant atmospheres: It is a versatile solution that adapts to various environments characterized by a contemporary or a classic style.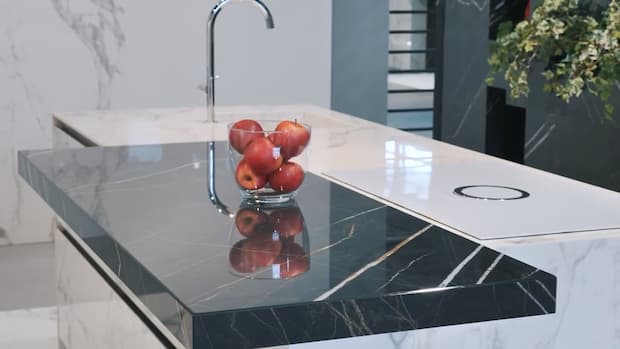 The Marker line is also an ideal solution for covering kitchen tops, thanks to the large sizes available, aesthetic quality and the excellent technical characteristics of stoneware, including the inalterability of the color tones over time and hygiene thanks to technology. Bios Antibacterial, which allows easy maintenance.