Vintage appliances: a return to the past

Nowadays we are mainly oriented to look for the latest model of household appliances available on the market but it is also true that the style of the past will never disappear.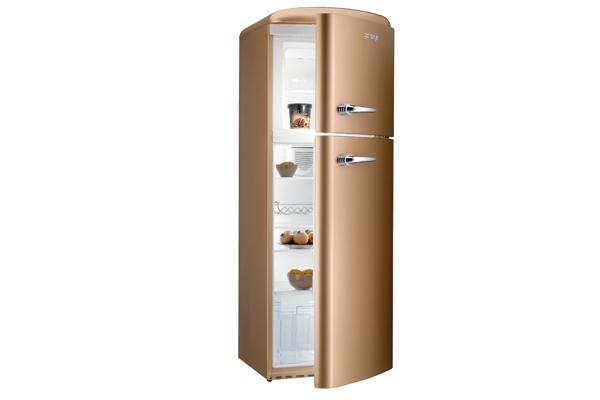 Vintage, in particular, is a furnishing trend that suits perfectly the kitchen area, and the refrigerator is one of the pieces that best meets the need for a retro-style look.



Vintage refrigerators: hyper-technological but with a retro look


Vintage refrigerators have nothing to do with their hyper-technological 'brothers', although modern ones still have all the technologies necessary to work at their best and guarantee the same energy savings as the others.
It is the look that is essentially different: materials, style, design, colors and much more.

A combination of features that gives to the kitchen a very detailed and refined look.
They actually are real furnishing elements that take us back to the magical 50s, the years in which American homes began to equip themselves with all the comforts necessary for the new way of living. The appliances of those years recalled an image of solidity and the economic well-being that distinguished families of that time.



Furniture in the 1950s


In Italy the 1950s are an epic era as well when it comes to furniture.
Serial design was actually born in the fifties: simple objects that can be used by everyone.
In that period, architects and designers reinvent what were war tools, adapting them to everyday life and transforming them into furnishing objects.
Furniture that today is still very common, as it represents the Italian style in a great way.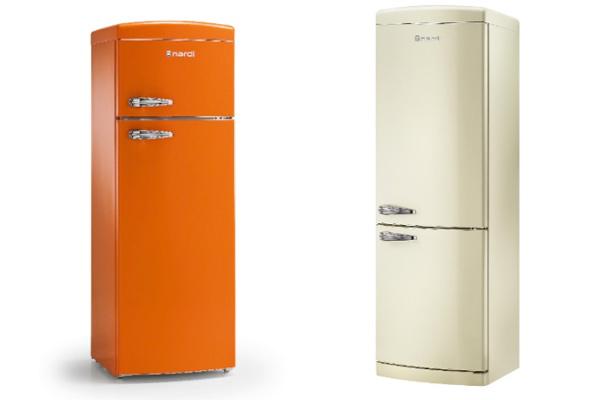 The upholstery at the time was in coarse-grained fabric, but also very soft leather, very much in vogue in that period. The structures had inclined but solid lines and the colors could be mild or focus on strong and very contrasting colors. What about the appliances? Well, as we said, at that time the focus was on functionality, objects were invented very often and they were useful to any middle-class family.



Vintage refrigerators: some of the models


Several major brands of household appliances have reintroduced the vintage style in recent years, following the wave of a fashion that does not seem to want to go away. Smeg, for example, has an entire line of 1950s appliances.

The vintage refrigerators are characterized by an unmistakable retro design, in which a strong personality, sinuous old fashion lines and bright colors are combined with the latest generation technology.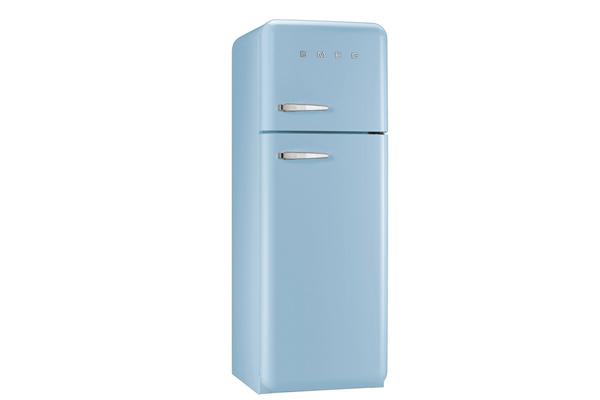 With this line of refrigerators, which includes different models, Smeg has set aside the industrial style that characterizes modern household appliances, in function of a very particular design. An example of this is the colorful FAB28, the true progenitor of Smeg's vintage aesthetic. A refrigerator that is able to characterize the environment in which it is placed.

There is also the FAB32, a cream-colored vintage refrigerator which combines the technology of an A++ energy class with the cleanliness of vintage lines. It is a ventilated refrigerator, with a total gross capacity of 342 liters. It has a quick freeze button and an auto-start defrost function. It comes with three adjustable glass shelves, a green glass shelf, a bottle rack and a fruit and vegetable drawer.

Very valuable also FAB30, pink, with two doors and in energy class A++ as well. It has all the comforts of technology but with a decidedly retro look.
For those with limited space, there is the FAB10 vintage refrigerator, with a gross capacity of 120 liters and in energy class A +.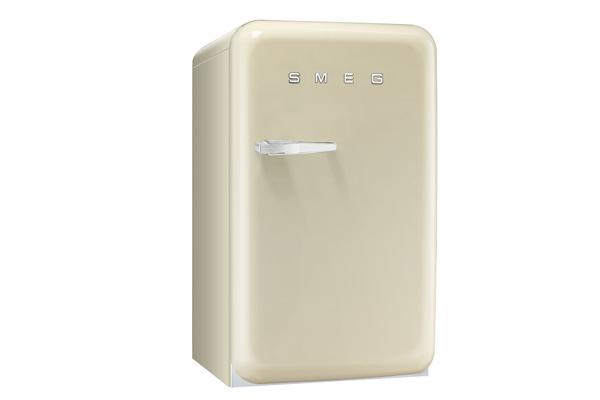 Gorenje offers a wide range of vintage refrigerators, which are all part of the Nostalgia collection. The RB6288OC is one of them and it is a freestanding fridge, in energy class A +, equipped with an automatic defrosting system and a quick freeze button.
The appliance rests on adjustable feet and externally it has a decorative panel. Internally it has side lighting, five glass shelves, bottle holders, a fruit and vegetable container and two egg containers.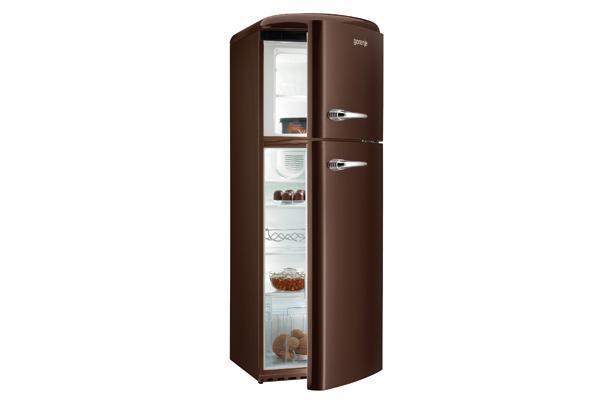 The brothers are pretti amazing as well: the Frigo RF60309OCH and the Frigo RF60309OCO, they also offer a self-closing system and a large bottle balcony with separator.

The extension of Nardi's range of retro refrigerators is recent, which offers: NFR32RNF, NFR35R and NFR37, three new models with new colors. Real furnishing items with a 1950s design, with the most advanced technology, the greatest energy savings and the highest efficiency. The vintage refrigerators, with a typical retro taste, in the classic ivory or orange colors, play the role of true protagonists of the kitchen.

The combined class A + freezer cabinets, NFR32RNF, have a no frost system that distributes cold air, ensuring optimal food preservation.
They are completely frost-free vintage refrigerators, with a freezer compartment at the bottom; have a total gross capacity of 320 liters (refrigerator 231 liters and freezer 87 liters).

NFR35R and NFR37R, in class A +, have solid shelves, bottle holders, 4-star freezer compartment.

NFR35R, on the other hand, has a freezer compartment in the upper part and boasts a total gross capacity of 330 liters (net refrigerator 281 liters and net freezer 30 liters). NFR37R also has a total gross capacity of 315 liters (refrigerator 241 liters and freezer 70 liters).

Let's not forget to mention Tecnogas, with its Frigo 1952 line: a series of 1950s-inspired vintage refrigerators, for truly unique furnishing solutions.
They are appliances characterized by rounded lines and unique colors which bring a real breath of style into the kitchen. Models are available in black, red, gray and beige, but also two-tone: pink and white, light blue and white, orange and white, pistachio green and white.

The details that characterize the Tecnogas Frigo 1952 line are unmistakable: they are equipped, among other things, with an analogue thermometer; this alongside state-of-the-art technology, guaranteeing cutting-edge performance, the class is A + and the internal capacity of 318 liters. Inside they have unbreakable glass shelves and bottle shelves adorned with chrome finishes. These models also have a special anti-black-out device, which safeguards the conservation of food for about a day in the event of a power failure.

The technology that characterizes these models is called Total-No-Frost and guarantees perfect food preservation.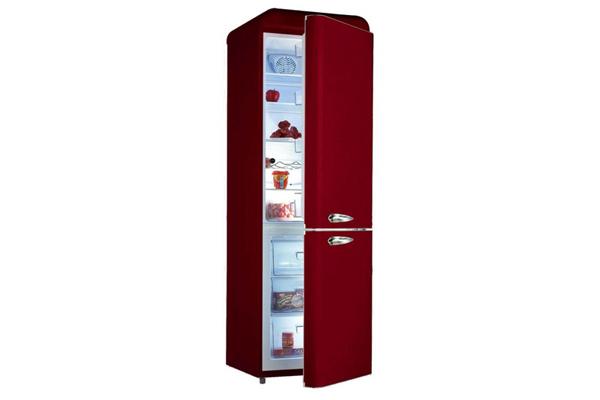 Quareco, on the other hand, offers an amazing vintage refrigerator model: the Daya cream-colored vintage combination refrigerator (DCBV300HT), with chromed steel handles. It has an energy efficiency class A + and a capacity of 300 liters (91 the freezer).
The same model is also available in burgundy color.