Password: method! Only in this way will be able to deal with the move in a calm and not get caught up in anxiety here so any suggestions for starting on the right foot.



Needed to prepare the move


What can not be missing in those who are going to organize to move? First you need to purchase a number of cardboard boxes of various sizes: to save a bit ', which never hurts in times of crisis such as this, an idea would be to ask your dealer to keep the boxes of cartons used to contain goods, which are usually large enough and resistant.

It should then get a couple of rolls of scotch packaging, for instance the brown, which will serve to close the boxes once filled, and a large tip pens to use to write on the boxes closed their content. Finally, we should get some 'sheet of bubble wrap, paper with bubbles that used to pack fragile items, a bit' of old newspapers and a notebook in which she recorded the number of boxes and their contents. Now that we have everything you need, roll up our sleeves and get started!



Basic rules for organizing the move


Now that we have everything you need, we can begin to plan our work: the first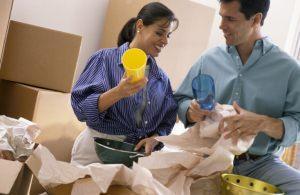 advice is to leave the room unless used so as not to upset the family habits from the start. In addition, to facilitate the subsequent arrangement of the objects in the new home, equally demanding task, you should fill in the boxes respecting the original placement of objects: a kind of organization to a room, in fact.

Where it is necessary to store heavy and light objects in the same box, heavier ones are put under and the lighter ones on top, making sure to mark the box to turn it upside down. It would be good practice to not exceed 20 kg per carton otherwise it will be difficult to lift it up: for example, in the case of books, can be a good solution to the divide them into several boxes, so that they can also be recognized immediately. Once closed the boxes, as already mentioned before, it is possible to write their contents on one side or numbering it is possible and note on a notebook of the contents to the corresponding number.

A Separate mention the packaging of plates, glasses and other items that you can easily break: they must be wrapped with bubble wrap to protect them from bumps, taking care to fill the cavities, such as the inside of the glass, with sheets of crumpled newspaper. Valuables should be placed in smaller boxes so that they can control more easily.

As for the clothes, they must be placed in transparent plastic bags or in special boxes containing the appropriate clothes, at least the most sensitive, for obvious reasons, should start from the clothes that do not belong to the current season!



Some practical advice


In preparing the boxes, especially those that contain material that may break, remember to never leave blanks: You can avoid this by using newspaper or plastic bags to fill those spaces so as to cushion the inevitable blows during transport.

It 'should prepare a box or a bag containing everything that needs to be at hand and as little equipment - screwdriver, hammer, screws, gloves, necessary first aid - both as necessities - towels, soap, spares - not forgetting to find a safe place to store documents and valuables.

Also in this case the network is of tremendous help: it is in fact possible to purchase on-line the number of boxes necessary for your move by accessing the website of Boxitalia or, through Traslochi.st , choose between a number of kits comprising all the necessary to translocate at best.