Advantages of solar lamps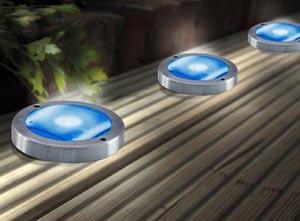 Although the solar panels have now reached a good energy efficiency and a very affordable cost, and also are placed effectively in buildings or on outdoor structures (eg pergolas or shelters) with aesthetic results generally appreciated, their use is not very suitable for the simple lighting of outdoor spaces as courtyards, gardens and driveways.

In these cases, the optimal solution is in fact constituted by the installation of lamps with integrated photovoltaic panels.

The advantages over other systems of outdoor lighting are in fact evident, since:

- As for all other installations with photovoltaic panels, they do not require the purchase of electricity from the network providers, resulting in dramatic cost savings for lighting;

- Unlike normal photovoltaic panels, each lamp is self-sufficient from the energy point of view (as it has its own photovoltaic panel) and therefore its installation is extremely economical, because it does not require the predisposition of any power plant;

- Also the costs of maintenance of the lighting fixtures are very small, because the absence of a complete electrical system and especially the widespread use of LEDs makes malfunctions very rare events;

- It is a very flexible system, because it is quite easy to move the lighting bodies in case of rearrangement of the garden.



Floor photovoltaic spotlights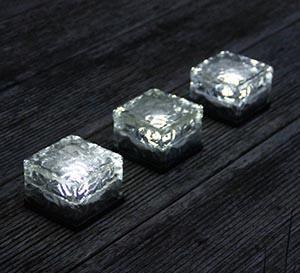 One of the most innovative products currently available on the market are definitely the recessed LED spotlight with integrated photovoltaic panels, specifically designed for outdoor lighting.

They are in fact very versatile (though not very powerful), because - integrating seamlessly with each floor or type of soil - they can be used for edging the flower beds or walkways, for the creation of real paths of light (very special and beautiful) or also - by arranging several in succession - for writings and drawings.

Their cost is also very moderate, because each kit - generally formed by at least three complete spotlights - is available for example on Amazon for less than fifty euro.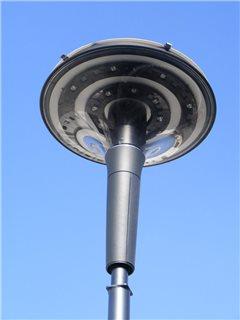 Of particular interest is the model Blue Solar Deck, minimalist in its appearance and attractive: these LED spotlights with blue light, diameter 10 cm, thickness of 5 cm and a stainless steel ring. Thanks to an internal sensor, it switches on and off automatically at dawn and dusk.

Very interesting are also the markers in the photo top left: they look like ice cubes - and therefore they are perfect to illuminate the edge of a fountain or pool - and very small (7x7x5 cm), emit white light and have a range of about 6-8 hours, roughly corresponding to a summer night.



Photovoltaic street lamps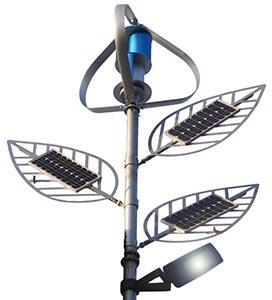 For lovers of more traditional products, are available on the market real photovoltaic street lamps.

The catalog of the Company SEI Elettrotecnica we find for example the model Stud, a street lamp with LED lighting with power of 20 watts (for maximum light output of 2000 lumens), integrated photovoltaic panels for an island type installation and batteries lithium for the conservation of energy produced.

Always the same company also offers a unique and innovative product, consisting of a real photovoltaic tree: each leaf (with maximum dimensions of 137 centimeters in length and 70 in width) contains a panel. Various leaves can be assembled efficiently in a structure similar to a tree, the top of which is a street lamp: with their appearance, the artifact manifests therefore its contribution for energy saving.



Effectively install photovoltaic lamps

However, to obtain maximum efficiency from these devices, is necessary to follow several precautions, because the integrated photovoltaic panels, being very small, do not have a very high power.

Therefore, if possible, it is more convenient to install the photovoltaic lamps in the most sunny places (eg fronts south and west) and obviously out of the shadow of trees or buildings: in fact, in the case of limited sunshine to a few hours of the day, the lighting could have a very short range or even almost nothing, in fact negating the benefits of this system.

Obviously this concerns especially the recessed spotlights, which, being small and placed at ground level, can be inadvertently covered by plants also very low (or even the tall grass) and items of furniture such as benches or planters.